During a recent fishing trip, I had a lad & dad pop up asking what we were catching on as they'd struggled a few bays down & only had one Whiting. I said mainly frozen Black,to which I got a response I've had a lot over the years. 'I don't like frozen black, they go like sacks of c**p when they're thawed out & drop off the hook.' So I went though my routine with my baiting needle for prepping blacks for the hook to show them , and thought I'd get a couple of pics in case it helps anyone else popping in for a look.
Blacks can go very baggy and limp on thawing and are like skin bags. They're still a cracking bait presented right,especially if they're fairly fresh frozen.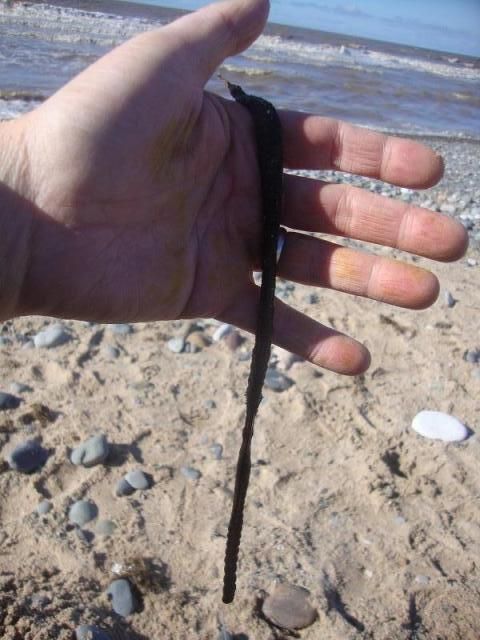 Take the worm and a baiting needle. I know many like the bait contraptions on the market now but I've tried 'em & returned to this as its quick, neat & dead simple. Insert the baiting needle til about 1/2 the worm is threaded,assuming as with most blacks that when thawed they're about 12″ long, often more. Pop the baiting needle through the worm & double the unthreaded half back on the needle.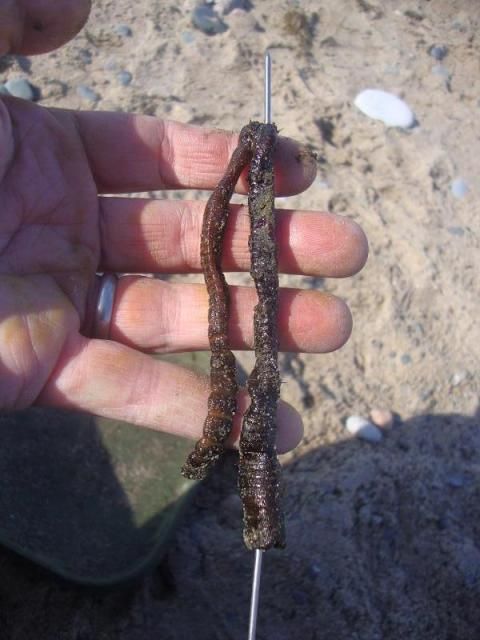 Using fine bait elastic whip this comprehensively to the baiting needle til its embalmed & held tightly in place.

Its as simple as that really, then place your hook point in the hollow end of the bait needle and keeping the line tight as shown just thread the worm 'wrap' round onto the hook til its completely on the hook and clear of the baiting needle.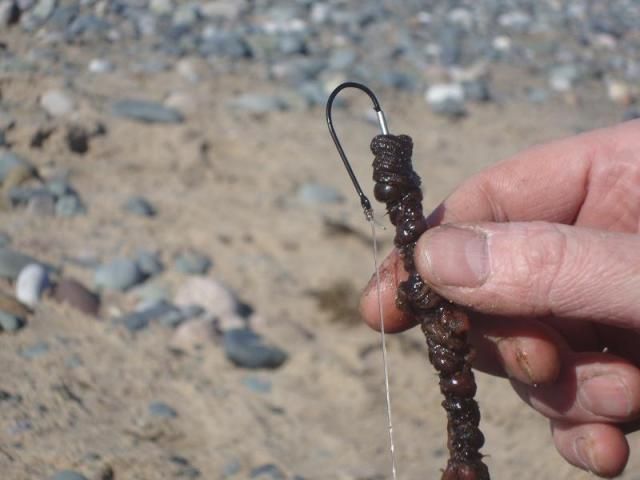 This one's a small Pennel bait I put on just to illustrate it to the chap who asked, not a museum piece but adequate to illustrate the benefit quickly to a novice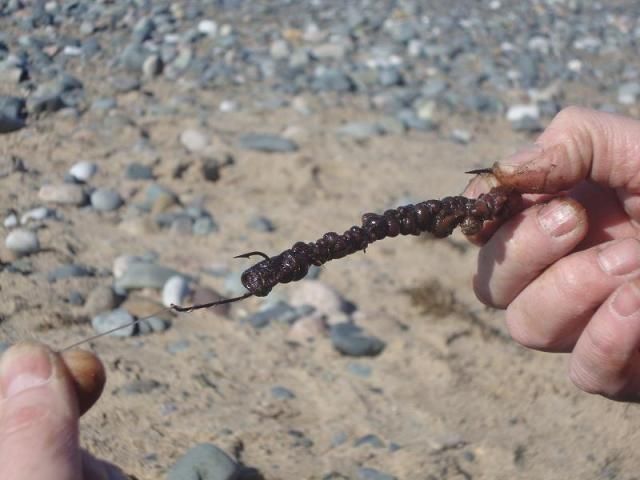 Different sized baits are obviously possible if you want a 12″ x 1″ sausage but this on a 2/0 Pennel does the trick for most things I encounter, even a pin Whiting or Dab will get it down if they choose. It won't go anywhere when casting and might just even stand a few extra minutes against the old claw wielding bait robbers 


Anyhoo, hope its of help to somebody,I know many will think it was patently obvious but many haven't used bait needles so maybe someone will glean something from it,the guy who asked had attempted to microwave some blacks and stank his kitchen out (who hasn't?) Like many he felt by cooking them to firm them up he'd lost the benefit of the liquids,who knows, I've used both but if you're not wanting to chance the arm with the wife's white goods it just illustrates they're easy to present like this .
Related Articles
Share
About Author
(7) Readers Comments