It's been a while since we have posted a blog as we have had lots of things going on behind the scenes.
With Chris putting together catalogues dealing with new suppliers and advertising schedules the blog has taken a back seat .So I have taken over the blog from him, as I believe you our loyal customer would like to know what's going on.
So a little about myself.
My name is Darren I have worked at Gerrys of Morecambe for over 20 years and worked my way up from tea/bait boy to shop manager, it's safe to say I know a little about fishing. In this space of time I have built good relationships with some of the country's top angler's .So if I cannot answer your questions I'm sure I will know a man or woman who can!
The format of the blog is going to stay similar to before .Full of information about new rigs and techniques that we are using or hearing about, reviews of new products etc
I am also going to run a monthly Problem solving clinic as such, whereas every month I will pick a fishing related question you have submitted to me via e-mail and will post the question and also the solution to the problem, if I cannot solve the problem .
I will get somebody more knowledgeable than myself to answer it for you
This is not just for you sea anglers, as I am also good friends with a number of the country's top freshwater match and specimen anglers as well as having access to a good network of charter boat skippers all willing to help out.
I will also be posting about the fishing trips we all dream of.. I'm just putting together a post on a recent cod fi
shing trip in Arbroath done for me by Gareth Griffiths ,Plenty of cod where caught ..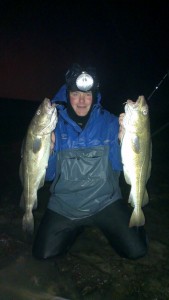 We have also had a move around upstairs in the shop clearing up moving shop fittings
and clothing racks to gain more space For More Tackle.
So I will sign off and thank you all for taking the time to read this.
Yours
Darren
Get those questions mailed over as every now and then we will pick a question to win a voucher to spend on line or in the shop!!
Related Articles
Share
About Author
(4) Readers Comments