It is currently 16 Oct 2018, 04:19

I arranged to meet up with MikeT for a low water sesh at Morecambe, Mike brought his mate Will.O (now a member on here) for his first ever fishing session
Boy was it cold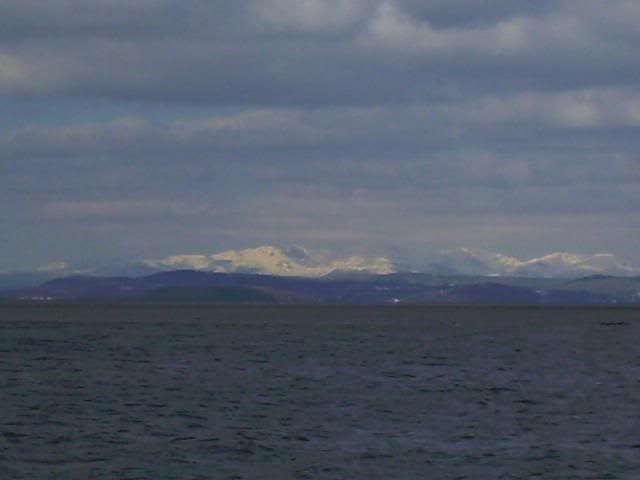 Talk about a bitter wind whistling off the hills, by the time you'd baited up it was difficult to cast out with totally numb hands

Anyway, we launched our frozen black (put on with our frozen fingers) into the water and waited. First cast produced a clonker for me.....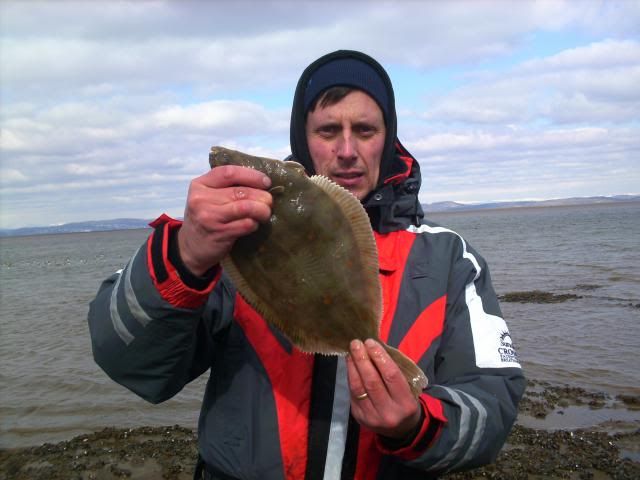 A bonny fish....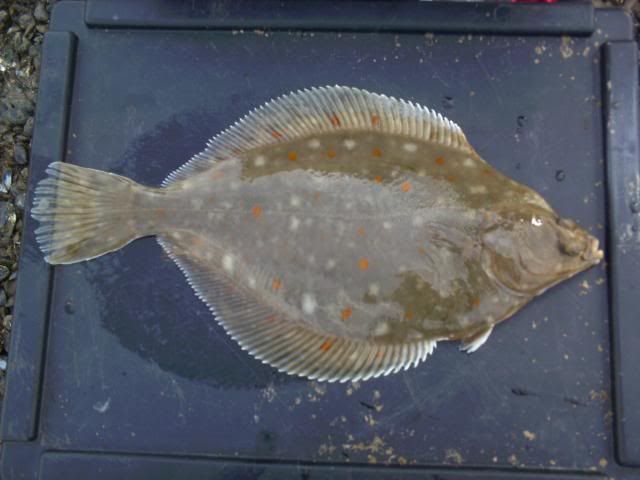 I advised the guys to drag their baits along the bottom to entice the fish and soon enough Mike pulled in a belter of his own....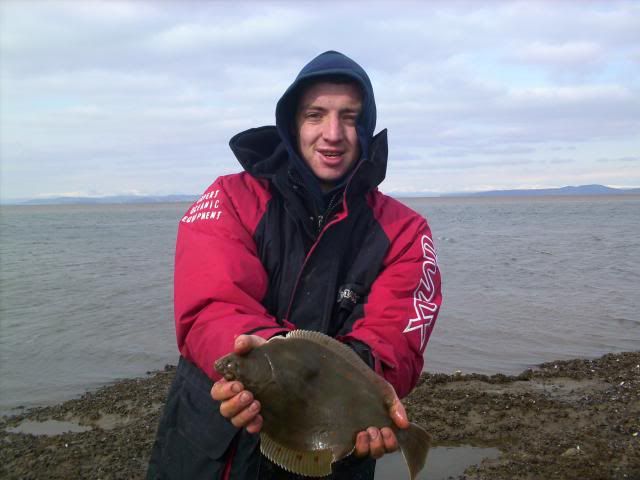 It went dead over low water as expected but once the flood started the fish came on the feed hard. Will, who had never caught a fish before, pulled in the fish of the day of a stonking 44cm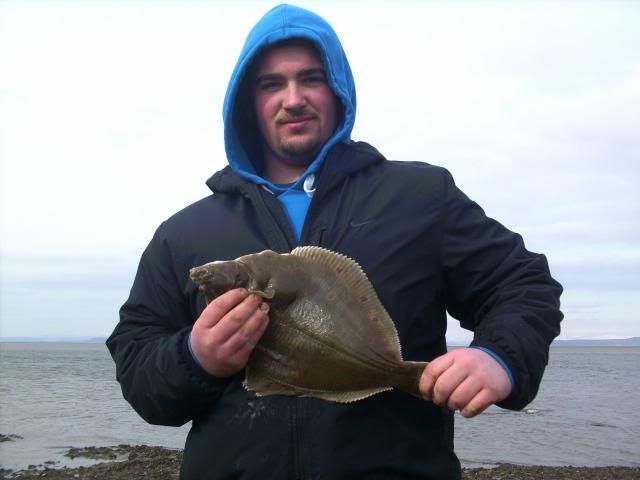 The tide was flooding hard now and pushing us back quickly, but the fish were coming thick & fast...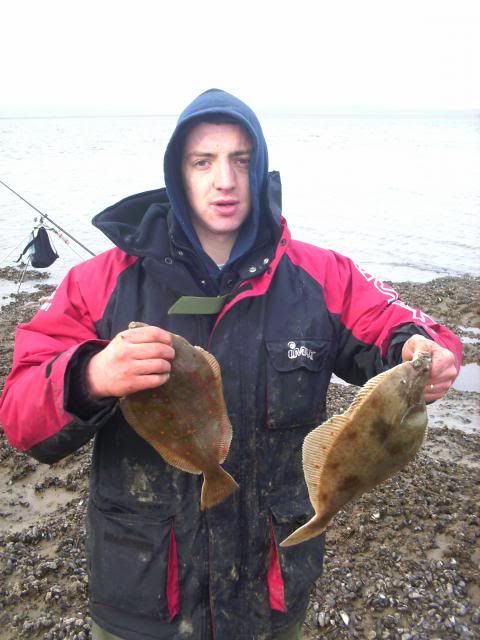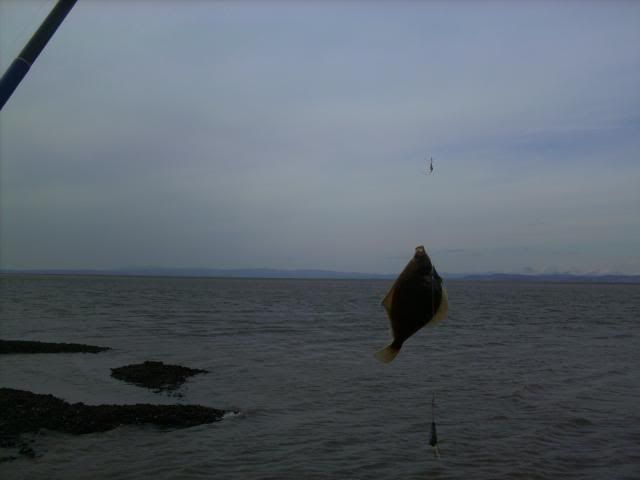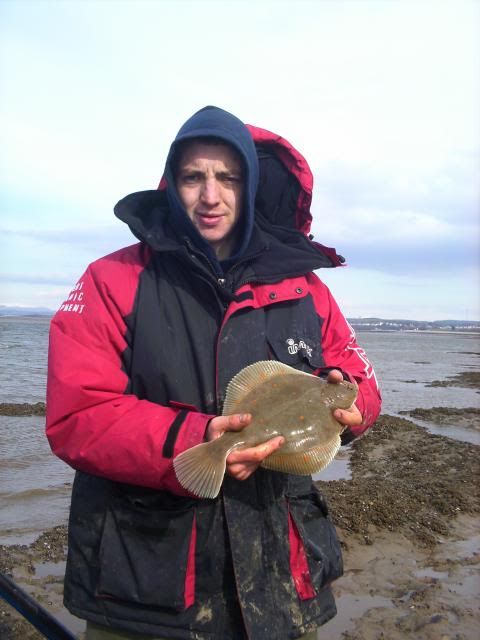 I ended up with 5 keepers, Mike had 6 and Will 2 including the fish of the day

there were other smaller fish put back, including one flounder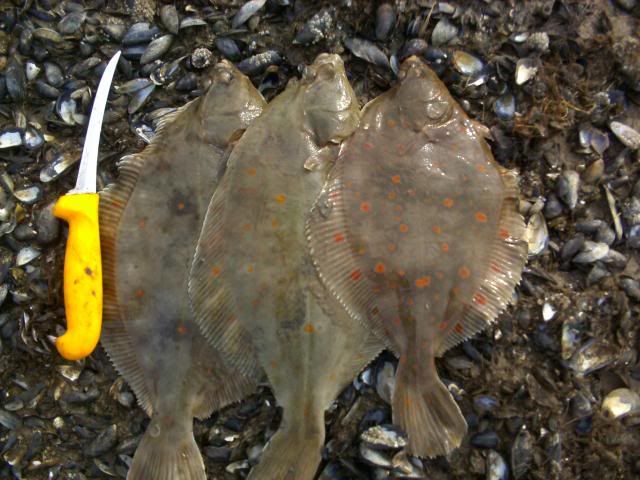 Mike's and Will's haul....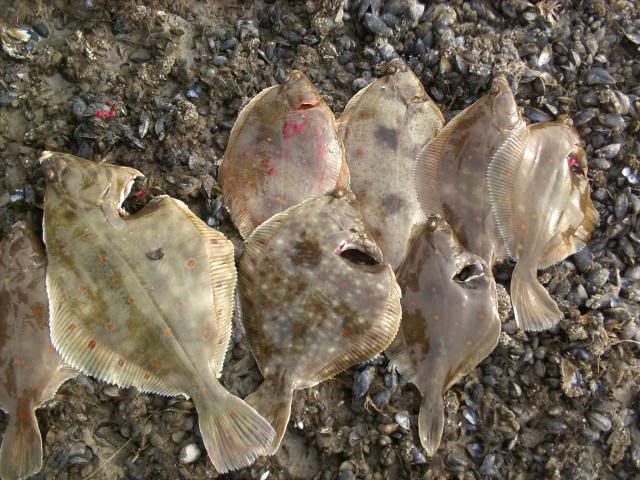 A good day out in good company, but hells bells it was cold....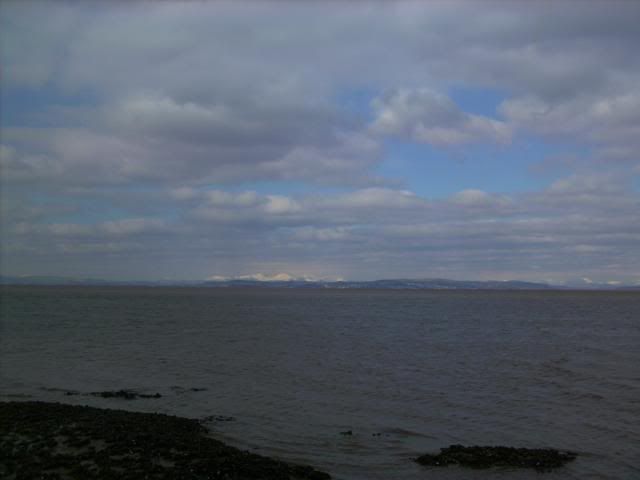 Make a difference - take home one piece of someone's angling litter next time you are out fishing
---
---
That was a great session mate enjoyed the banter and the fishing was good. Only just warming up now tho lol haha wills fish was a belta mate.

Cheers for advice and and a good freezin cold afternoon mate lol. At least the peas warmed u up lol

.
2014, species, codling, whiting, dab, blenny, flounder, bass 41cm, thornback ray on lrf tackle in morecambe bay off the shore. smoothound in heysham. plaice 2lb 1oz nasty weaver.
---
top session lads! some great early spotties - hopefully bodes well for a good summer of plaice?


great report thanks
species 2012 - cod 4lb 10oz, dab, whiting, flounder, more flounders, eel Species 2013 - dab, plaice
---
At last a post with



in it








.
you braved the

and got your prize TOP FISHING LADS



Born to fish Forced to work
---
That was an interesting read... What were those browny coloured flat things you were holding up..

? Haven't seen those before..!!!
Well done guys, I was sat behind a very big umbrella today and I was frozen so you must have been nithered..!!!
Top session with some wopping fish..!!!
There's more to fishing than catching fish...
---
It was a good day but a bloody cold one

Cheers lads.
species this year 2013.. Plaice, Dab, Flounder, eel, Dogfish, bass, 5 Bearded Rockling codling and Whiting.
---
Fantastic account of your days fishing Lads

, Good to see the plaice showing, Good sized too


Great report Dave


---



Great sesh for you all and some cracking Plaice in the


condition's........
Welcome to AA Will


---

its nice to see you out fishing again dave and catching some nice fish as well



welcome WILL to AA and well done on catching your first fish






2018 SPECIES HUNT
Dab, Whiting, Cod, 5 b rockling, Plaice, Thornback Ray, Flounder, Doggy, Turbot, Dover Sole, Gurnard, Tope, Starry Smoothhound, Bass, Weaver, Eel, Shanny , Pollock , Coalie ,Rock Goby,
---
will.o wrote:It was a good day but a bloody cold one

Cheers lads.
welcome to AA Bud

2018 SPECIES HUNT
Dab, Whiting, Cod, 5 b rockling, Plaice, Thornback Ray, Flounder, Doggy, Turbot, Dover Sole, Gurnard, Tope, Starry Smoothhound, Bass, Weaver, Eel, Shanny , Pollock , Coalie ,Rock Goby,
---
---
Return to North West Sea Fishing Reports
Who is online
Users browsing this forum: No registered users and 2 guests