For the last 5 weeks the local area has been over-run by Smoothounds. I havent heard of there being so many before so lets hope they continue to come every year. Although there are plenty out there I have had quite a few customers asking about what bait, rigs and general tackle to use to catch this fine species. I thought it would make an ideal blog post, so here it is.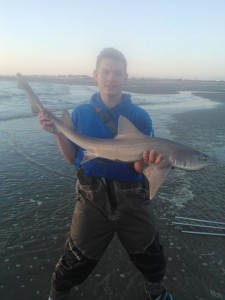 Venues –
Usually the quality fish are either flukes or at people 'secret marks' but not with the Smuts. From the shore the best place to go has been Cleveleys. Low water has produced the best results with the best catches I have heard of are 21 fish in a single session and the biggest specimen a whopping 17lb. My best has been 11lb 2oz this year.
You dont have to travel to Cleveleys to catch them though, just have a think of the ground your fishing over. They like a decent flow, clean sand with a bit of broken rock and plenty of Crab. I have caught a few small ones around Heysham at low water, several reports from the North Wall and even Throbshaw point. They dont like big swells but like all Sharks, they usually feed more at night.
Rods & Reels –
Either Fixed spools or multis will be fine just make sure your drag is set, if you hook one over 4lb it will strip line, if not it will snap you off. Rod wise, you dont need a broomstick to catch these fish. I have caught them bait fishing with my lure rod. You just have to play the fish a little more. Its fantastic fun on the lighter gear and I would recommend it to anyone, just make sure you set your drag.
Braid or mono is fine. Just remember the braid has no stretch so the fight feels harder.
Again, there isn't a special rig to catch the Hounds but think about the fish. They have have relively small mouths for their size, I wouldn't recomend anything more than a 4/0 size hook. Snoods no less than 20lb, if your using clipped rigs, up the strength for the additional pressure. These are powerful fish, dont underestimate them.
Bait –
Its simple CRAB, CRAB, CRAB. They do get caught on other baits but if your targeting them, use crab. A good bit of advice with your crab baits is to keep it neat, no legs, claws or shell. Smoothound have relitively small mouths for their size and can be put off by big baits. A good visible hook point is essential due to their hard mouths.
Good luck to everyone. Im not to sure how long they will be here for this year but if you havent had one yet I would recomend you get out for them sooner rather than later.
If your still unsure about them please pop in or call us on 01524 422146 and we can guide you to the right tackle.
We have plenty of peeler crab in stock at 85p each. Might sound steep but there all good crab and they will catch you a Hound
Related Articles
Share
About Author
(2) Readers Comments