Smoothhound Fishing in Swansea South Wales aboard Lady Jue III
The weather forecast screamed go to the 3 Master Baiters who had booked a trip with Rob Rennie on his LADY JUE III.
LADY JUE III is an Evolution 30 long cabin. She is designed to take parties of 8 with 2 crew, on long range exclusive charters. Powered by twin Yamaha 285hp turbo-charged engines through duo-prop stern drives to give speeds up to 40 kts, with a comfortable cruise speed of 25 kts. She has a state of the art Simrad electronics package and fishes 6 comfortably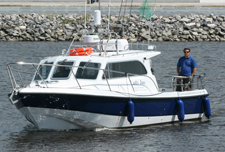 Bait was collected from the various sources around the Swansea Area. However there was a distinct lack of peeler crab in our prefered tackle shops of Anglers Corner, mainwarings even the usually very reliable Gareth in Swansea Angling was struggling. Therefore the lads had to go to a source they are always reluctant to use as they seldom seem to have a good deal.
Anyway the peeler that was acquired was supplemented with some freshly dug and pumped lug. Some frozen mackerel, squid and sand eel.
We met Rob 7.30 in the marina and was informed that there was to be only one more angler that day. Steve who we had met before and a hell of a nice chap. Great they thought a whole charter boat for four anglers.

A shame for Rob mind you but hey ho!
A quick discussion was had and a semi consensus was reached on the plan for the day. We'd do a bit of flatty bashing for the first few hours and see what happens from there.
New traces were tied with smaller hooks as Rob made his way to and positioned the boat near the mixen buoy on a prominent sand bar on the Mixen shoal.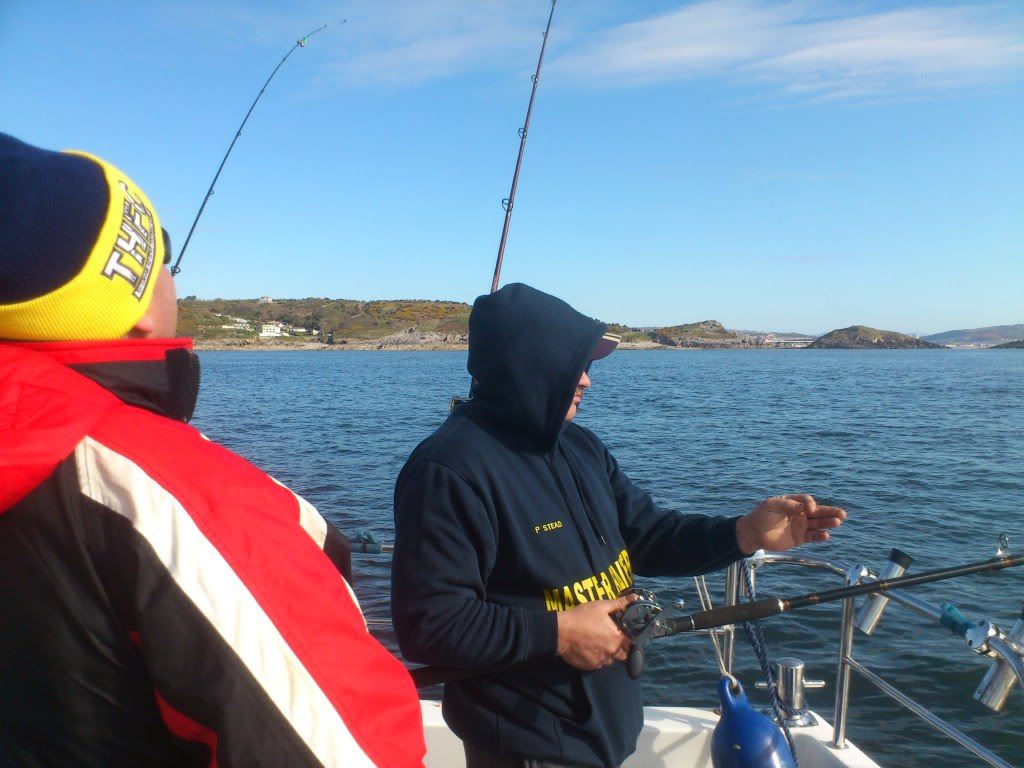 So the first hour which happened to be the last hour of the ebbing tide we seemed destined to catch dogfish. When slack water arrived Rob repositioned the boat over the sandbar once more. not much action over slack water then when the water started to flood we started getting some flatties on board. A few nice Turbot for Rob, Lee and Steve. Rob lost i a nice turbot on the surface. As the trace came off a dodgy swivel was quickly blamed. Stead then got a his first plaice of the season.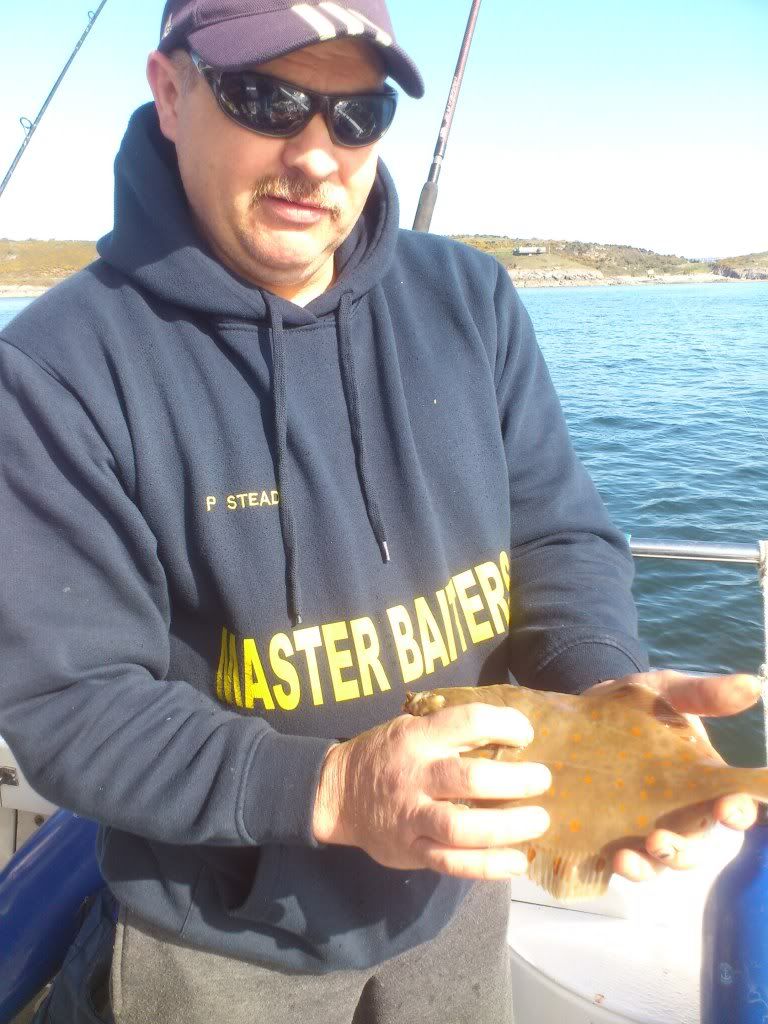 Lee had a nice knock and in came Robs trace and turbot. As Rob leaned to retrieve, Lee gave a sneaky little shake and back it went.

To everyone except for Robs amusement. It nearly had as much a laugh as when Ian told the story of catching a huge red turbot on this bank last year. He'd meant Gurnard and felt everyone should have known that


Fair play to the man he still kept making the tea and the sausage sandwiches we even had venison sandwiches at one point
The fishing remained like this for the next 90or so mins not great but hey ho ! Then Ian had a telephone call from his mate Simon who informed that he had heard news of a few nice smoothhounds coming in neat Porth cawl. Ian repeated this outloud for rob to here, who was obviously interested so were the rest of the master baiters, we just had to convince Steve it was a good idea. Yawwwnnn!! A bit crap here. Pheeew slow here init? Come on fish bite!! were amongst the words uttered. In the end Steve gave in and off we motored up to the porth cawl area a good 30 mins steam at 25 kts. Fair play to Rob He doesn't mind burning the diesel.
It wasn't long and lee was into the smoothhounds.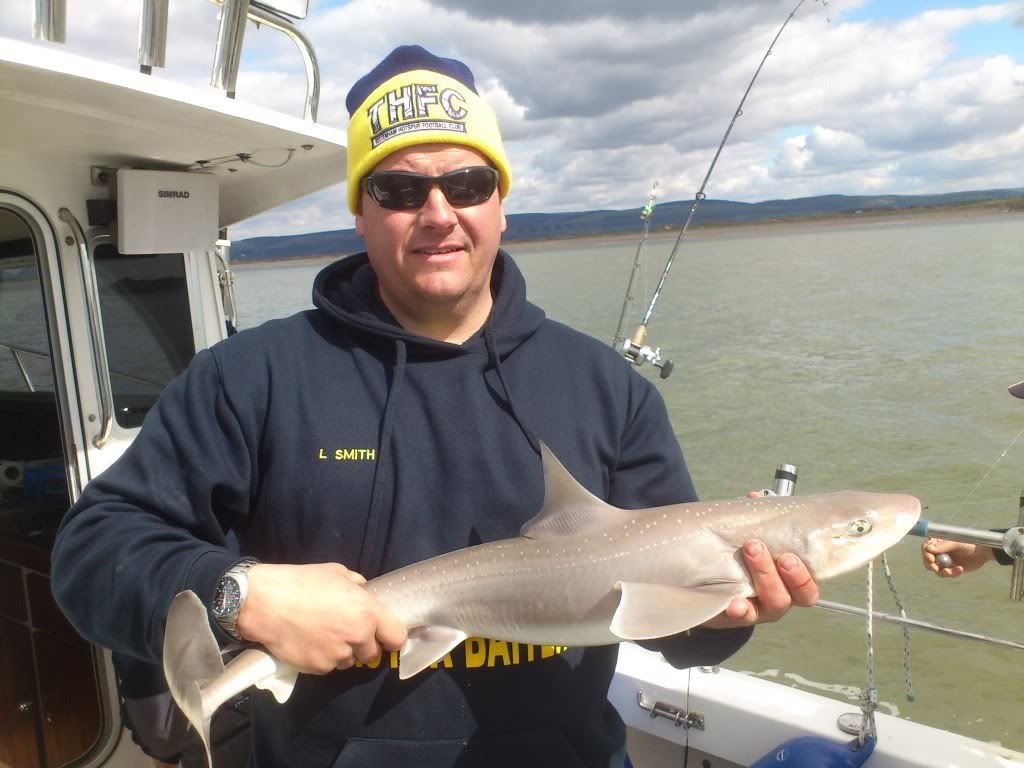 Then another smoothhound for Lee.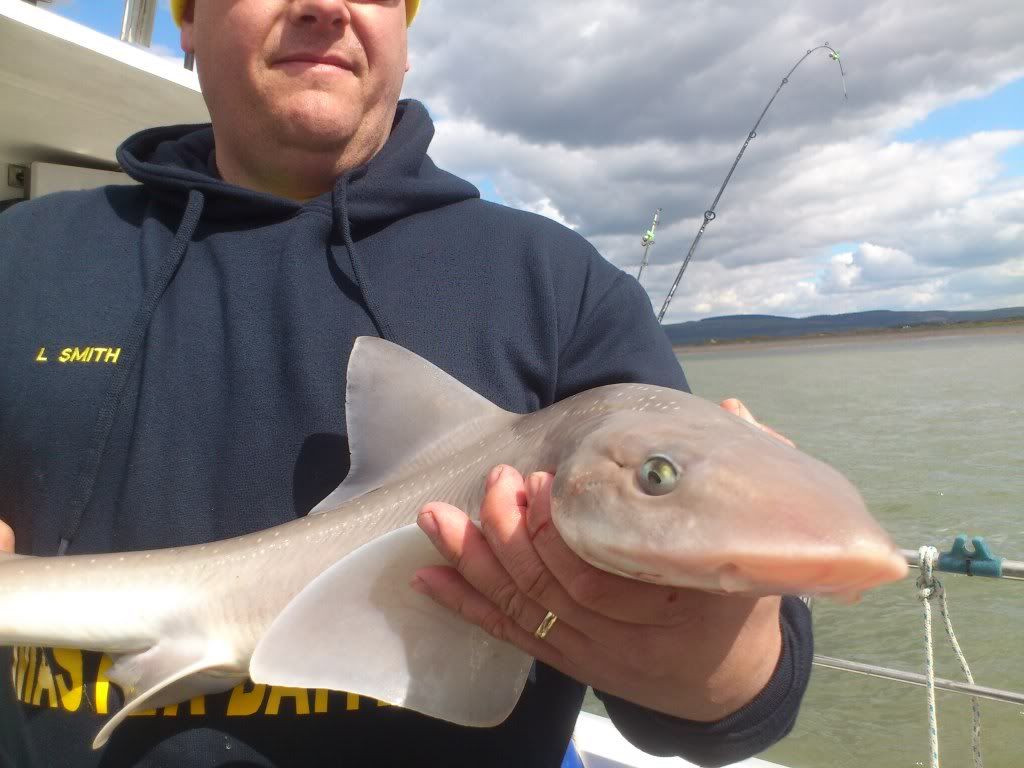 Then another. Everyone else were getting a bit grumpy by now. Then Rob and Steve was in, finally Ian got one which coincided with Lees 4th Smoothhound!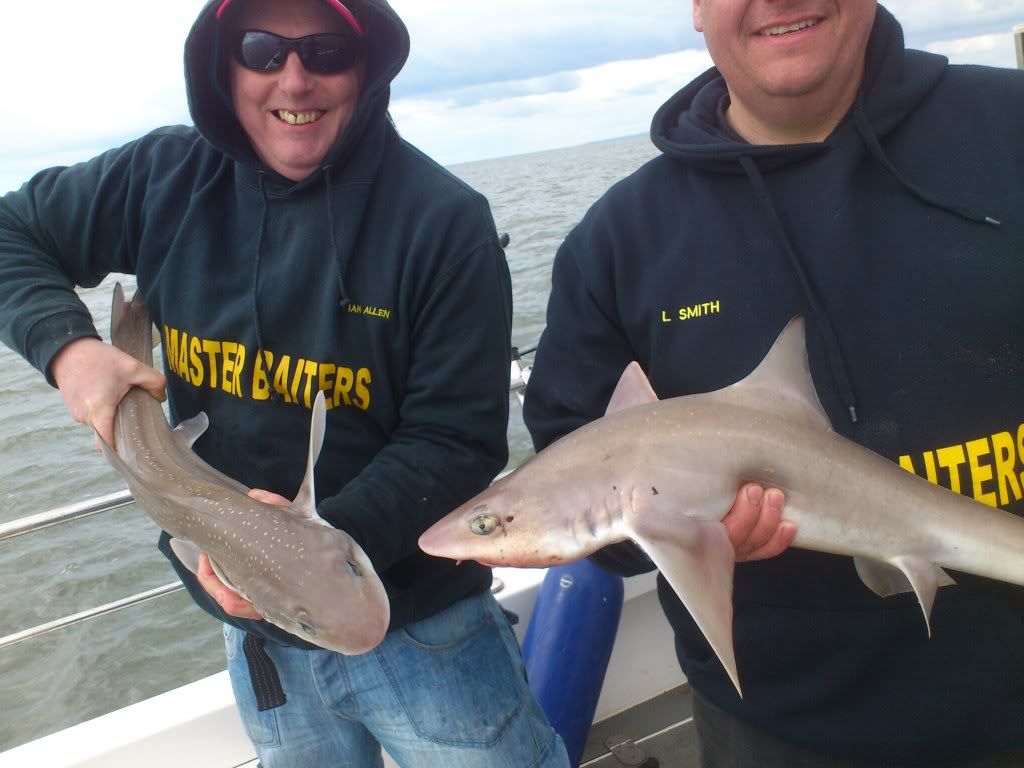 Stead started to panic a bit now. fish were coming in right left and centre.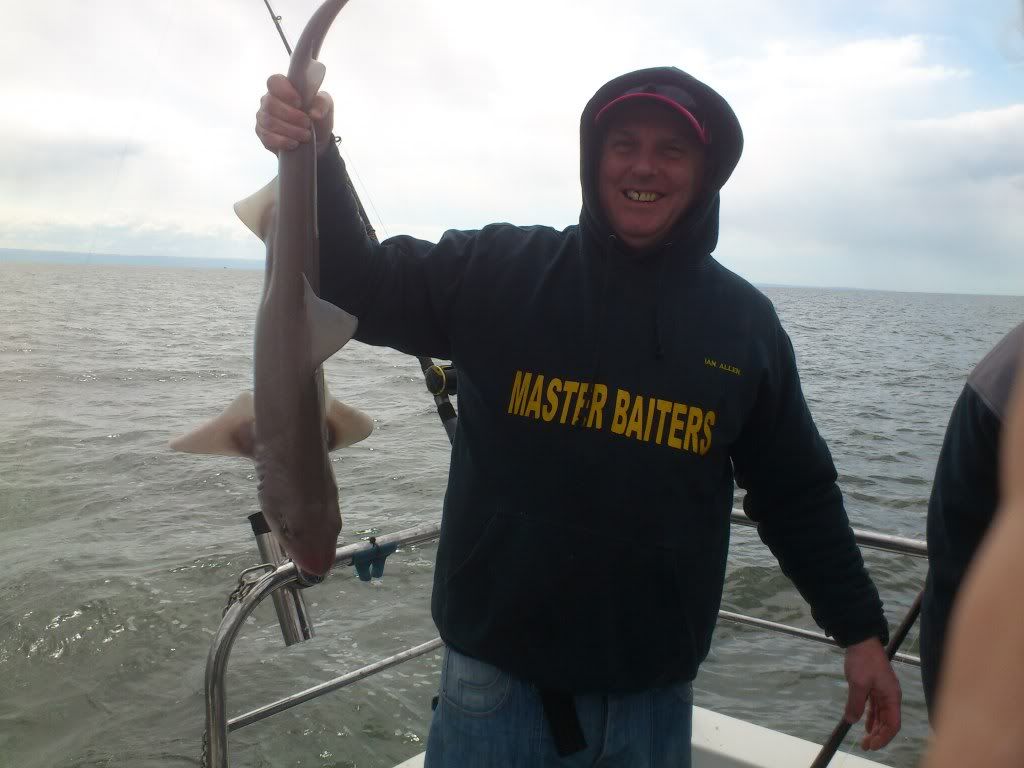 This nice smut for Rob at almost 12lb
By now Stead was nearly crying especially as he was being ribbed mercilessly. He finally asked Lee to put the bait on for him. Which he did. The bait hadn't touched the sea bed when bang! A lovely bite for stead. Ha ha ha Stead laughed as he reeled it in. Get the camera ready he shouted as the fish neared the surface. Just as the leader knot was leaving the water off it came. Laugh!! Well the boys nearly cracked their ribs they laughed so hard. That was until we saw the veins popping above Steads eye. Ooof he's close to flipping. so down to business. It wasn't long before Stead was finally in but By now lee was on about 7fish and ian about 5.
a relieved Stead with his first ever smoothhound.
He soon had his second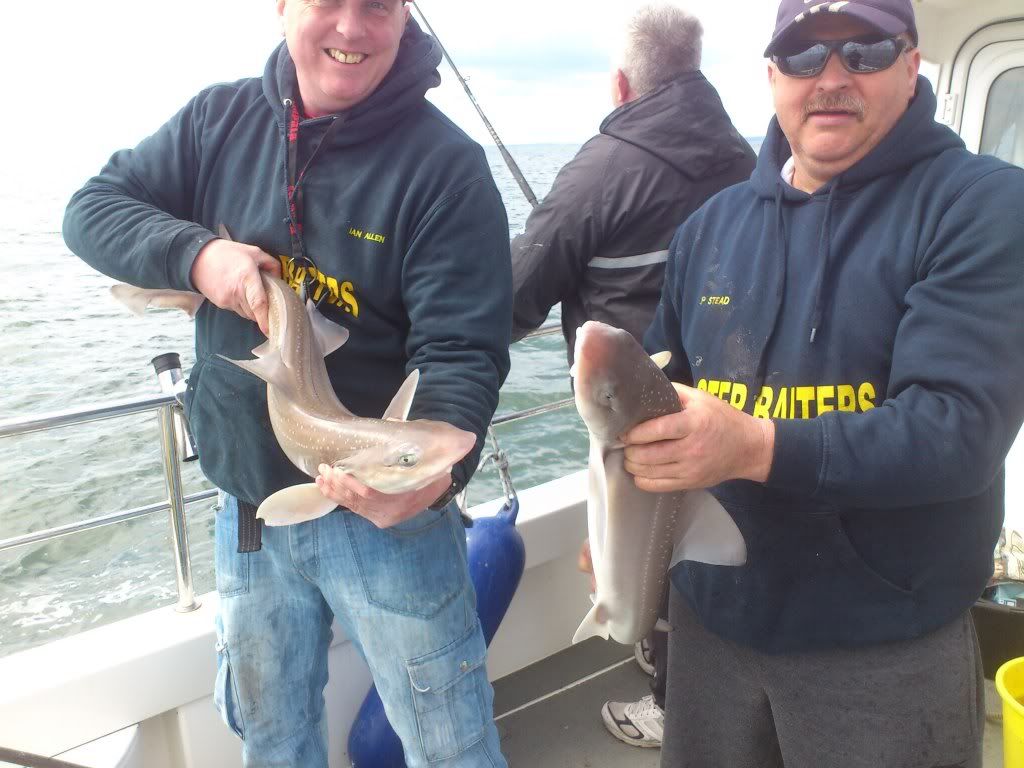 This continued until the slack water at hightide and we all changed tactics to try and catch an eel. We had run out of crab for the smoothhound by now anyway. Ian had a strap conger then this one which is not too strappy.
The smoothies kept coming to all baits, squid, mackerel and worm all caught Smoothhounds. Each angler had both types of , they do know that they are identical genetically but until its clearer they are calling them separate species on their species list for the year.
As the tide started to run a bit harder a few cod came aboard all the while the smoothhounds continued to feed hard.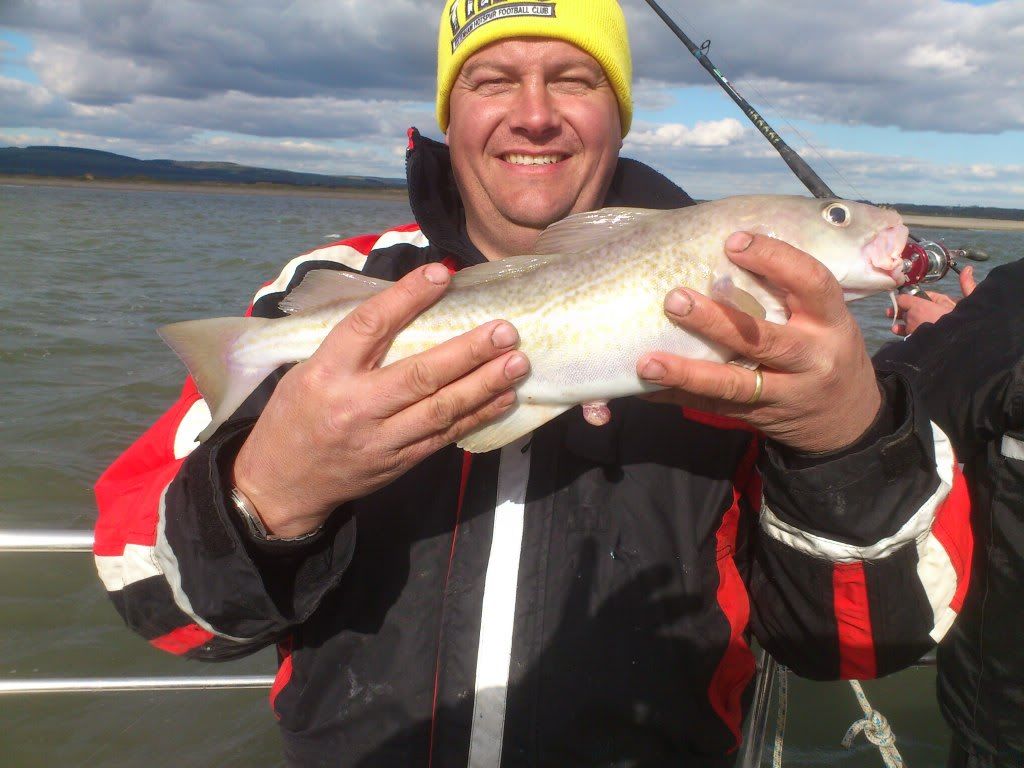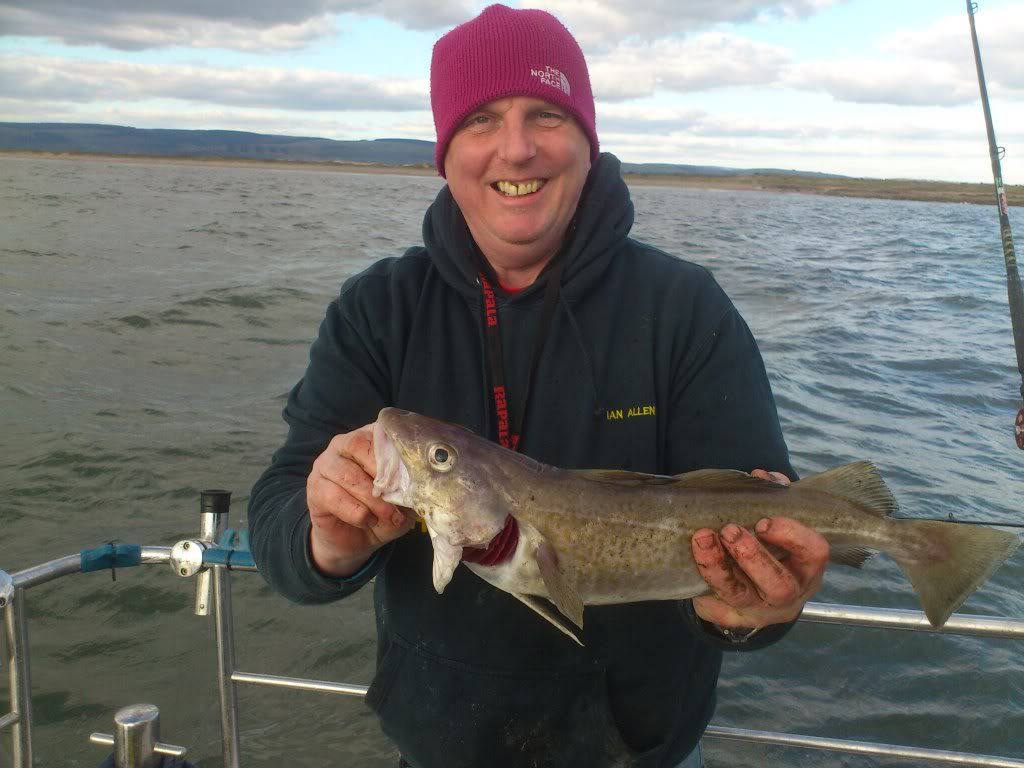 This nice fish was last aboard by now it was 6.30and time to set off home.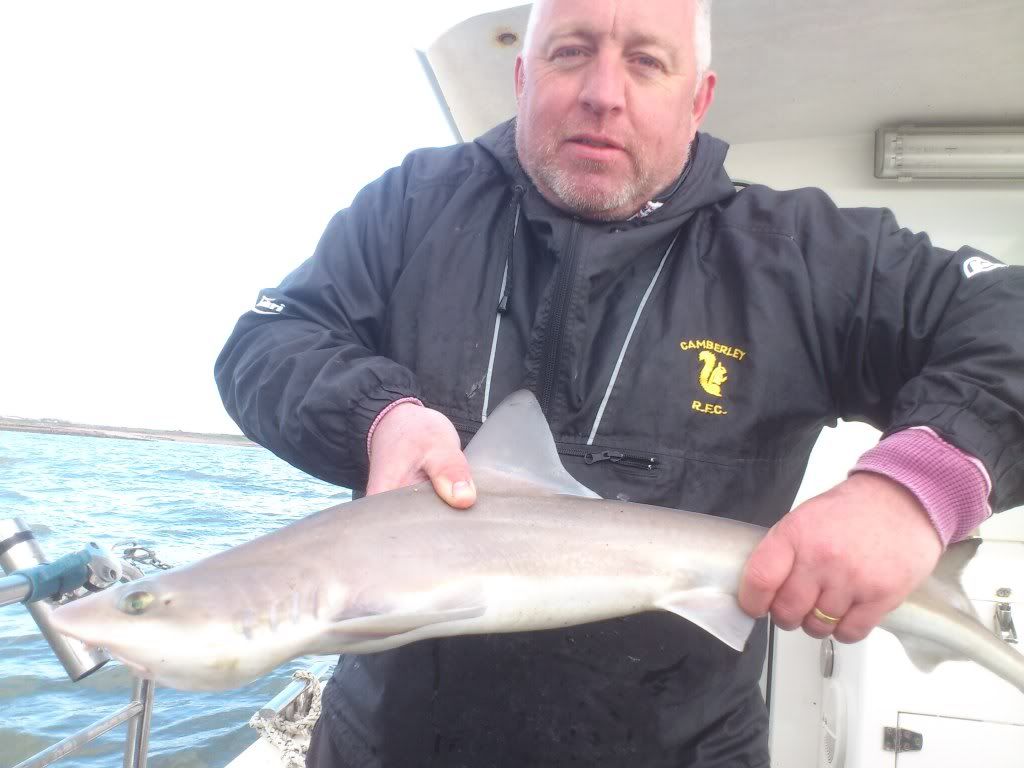 A rough gestimate was that the 5 anglers had over 45 smoothhounds aboard that day mostly 8 or 9 lb fish Lee probably the most with around 12 -14 ian 11-13 . and the others around 6 – 8 each
Smoothhound fishing in Swansea South Wales
Related Articles
Share
About Author
(0) Readers Comments