It is currently 21 Aug 2018, 12:42

Spot On - Busman's Holiday
Milnrow Sea Angler's annual Pollack trip to the South West gained a couple of extras in the way of a couple of Rhyl charter Skippers on a Busman's Holiday. Whilst fishing the Mersey in January we were chatting with our skipper Anthony Parry skipper of Jensen about our future trips, He was interested and asked if we had any places on our March Trip to Brixham which we had so a plan was hatched. Anthony and his son Simon Skipper off Suveran were to join us on our 2 day charter board Ross Parham's boat Spot On.
Ross who builds boats during the week is the builder of Cougar Cats and had built Suveran about 5 years earlier so the skippers knew each other already.
7 members of Milnrow Sea Anglers were already booked on the trip those being MD GD PW JA JF MB and GW, and we travelled down to Brixham on the Friday ready for our 2 days afloat over the weekend.
The trip was on but the wind was a bit on the strong side, with gusts to 20 MPH but Ross was confident we would be OK.
We sampled a few pints and a meal in the Blue Anchor before an early night as we were up for 6 am and sailing at 7 am.
Our B&B is great and really looks after us letting us have Coffee Toast and Cereal and also a take away Bacon butty, Thanks Carol the lads appreciate it.
Ross was waiting for us on the ferry steps and we loaded the gear, took our cars back to the digs and walked back to the boat ready to sail for the channel wrecks.
We tackled up with our Lighter rods, 15, or 20/20 lb class rods and reels loaded with braid, leads were around 12 ozs and we used flying Collar type rigs, of in some cases 20 foot but these were reduced to around 8 foot later in the day to Ross's recommendation.
The sail out was fine with a few slammers as we covered the 30 or so miles to our chosen wrecks in the Channel, we were amongst the shipping lanes and in the company of French and Belgium pair trawlers after the herring Mackerel and Sprats, but that's what the Pollack were after as well, we were soon starting our first drift. The fish were a bit slow to start and we tried another wreck whilst the tide eased a bit.
The next wreck was better with fish coming to our Sidewinders, Redgill's, Vibro shads and Eels.
Pollack in fine fighting form were soon making their way to the net. The fish were averaging around 8 lbs with only a few smaller fish which were returned to grow a bit bigger,
Si was first into a better fish with a Cracking Pollack of 12 lb, 13 ozs a new PB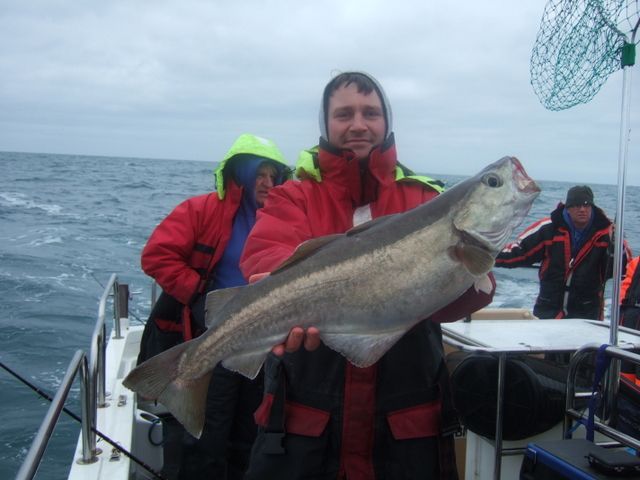 We tried a few more wrecks sailing further west and the Fish were still feeding but the boat was slowing on the drift and Si thought he would try some baited Hokki's to see if there was anything else about, he soon found out when a Pouting and a cracking Whiting of 3 lbs 8 ozs came to the surface, this was another PB for Si he was way made up.
More Pollack and a few more Pouting came to the lads before we headed back to try a few more wrecks on the way in Next wreck and were again into some cracking Pollack with Mark Douglas getting the best a t 13 lbs 4 ozs which was to be the best of the weekend.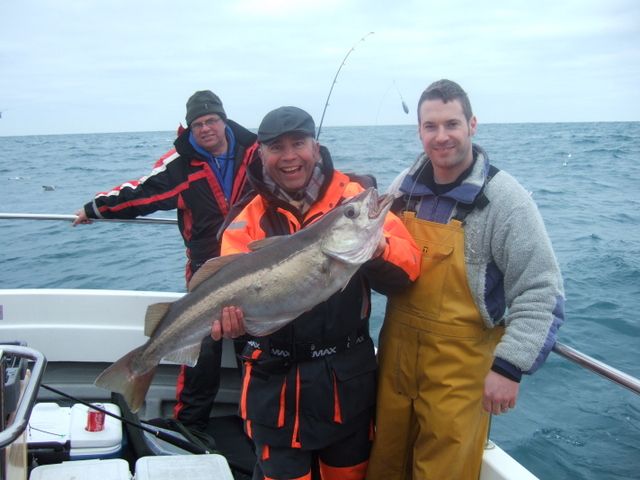 We tried more wrecks and as we kept catching Ross was happy to carry on , we eventually had a drift with only one fish but by this time it was gone 5:00 pm so we called it a day.
I must thank Nathan the skippers mate and Ross for their help and advice on the trip and the cracking job with the net and marking each angler's fish, and making brews when we got a minute.
The weather prospects for Sunday were not much better and perhaps a bit worse with SE gusts to 25 mph forecast for later in the day, but we agreed to give it a go and make it a shorter day if it did blow up.
We were back in to Brixham after 7:30 pm and Ross and Nathan iced down our catch for us.
We were back to the B&B Showered and out to the pub next door before a short walk to the Town centre to the Blue Anchor where we met up with Ross and Nathan for a pint and a curry at the nearby curry house which was very good. Back to the B&B for 11: pm ready for another early start, 6:30 am on the boat.
We met up with Ross and made it to the boat which was on a pontoon and set off for the wrecks again, it was a bit lumpy but the 40 ft Pro charter was up to it and the cabin was big enough to take us all.
We were into fish on the first drift of the first wreck and good quality fish they were, Ross recommended a fast retrieve to 40 turns and he certainly knows his stuff the Pollack nailed the lures. They were showing a preference for Yellow and Red or Rhubarb and Custard, Blue or Blue and White Sidewinders Redgill's, and Vibro's but the main thing was wind fast and have your clutch set right.
I lost a couple of good fish when reeling a bit too fast as the boat was rising on the swell, but still managed 6 fish close to double figures with the best going over 13 pounds
Mark Benger managed another 13 pounder but everyone else had managed double figure fish.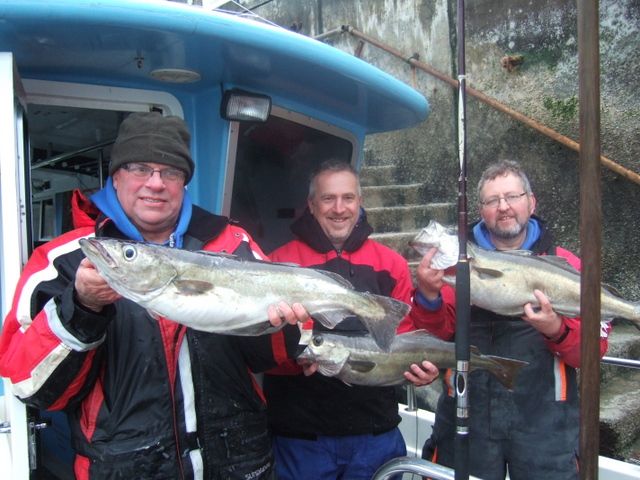 There were some cracking fish coming in even though the swell was building and the boat managed the swell very well without any rolling.
At slack water we tried some Squid bait but all we got was loads of Pouting some over 2 lbs, so we changed back to the artificial Eels to finish off with a few more Nice Pollack
Early start and long days the fresh air does this to you
We were back in port for 4:30ish and started to filet the fish ready to be iced down as we were staying one more night
Another great night on the town for a few pints and a meal at Ernie Lister's hotel, Followed by a visit to the Maritime pub to see the Landlady, her dog and Parrot who will all have a go at you, but what an atmosphere. Tony got on well with the landlady as she is a Scouser in her later years and there will be no changing her, You may have seen her on the TV programme Fish Town.
Anyway all good things come to an end and we retired to the B&B for an last night and a cracking Full Breakfast in the morning.
We will be back again in May for a crack at the Plaice on the Skerries and if the Weather is Right a day's wrecking with a Try for 100 lb plus Conger (which is what Ross has his sights on), Can't wait better get the big rod out.
As for next March, we will be back and Ross is Building one more boat for himself a 10 metre Cougar Cat with all the trimmings, and I think the Busman's Holiday may be repeated.
One last thought, "It's the first time I have called a Skipper the night before a trip and told him the Trips is on" makes a change Eh!
Last edited by
mstangler
on 07 Mar 2013, 22:35, edited 1 time in total.
---
---
What a cracking read..?? And an excellent trip for you all with some belting fish..!! Must admit, the tummy did jump a bit with the mention of 25mph winds and swells..!!!
Congrats on a great couple of days out..!!
There's more to fishing than catching fish...
---
a great trip , good looking fish , nights oot as well
---
---
Return to Boat fishing reports
Who is online
Users browsing this forum: No registered users and 1 guest