It is currently 19 Apr 2021, 07:59

So my lad hands me the phone and says "It's Paul for you about going fishing"........I looked at him puzzled, Paul?

Hmmmm, the names familiar but I can't think of anyone with the name Paul that goes fishing.....is it a new member off the forum? Maybe THAT Paul? Surely not.......well blow me down, it WAS Paul, you know the one......and he wanted to go kayaking!

how could I refuse?


After much perusing of the weather sites we decided Sunday was the best option and headed off down to our usual launch site of 5 gar gate. Thankfully the weather boffins had got it right for once and light south easterlies and a flat calm sea greeted us at the beach, it was HW and a quick (ish) paddle out about a mile saw us preparing to drop anchor...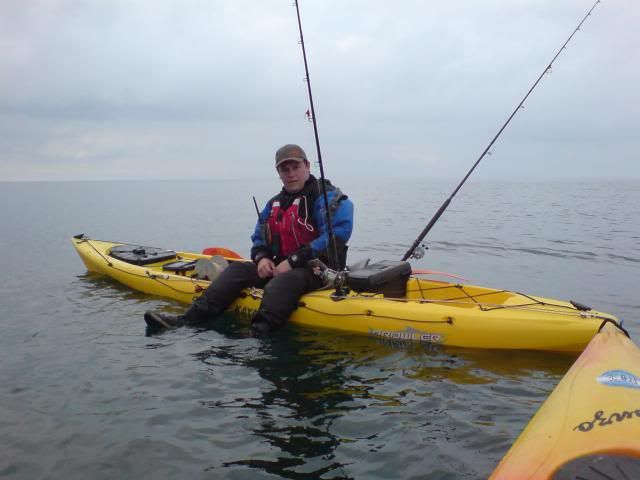 Big crab baits were the order of the day as we were after the smoothhounds which should be around in numbers by now. First drop and a bit of a run for Paul resulted in a nice surprise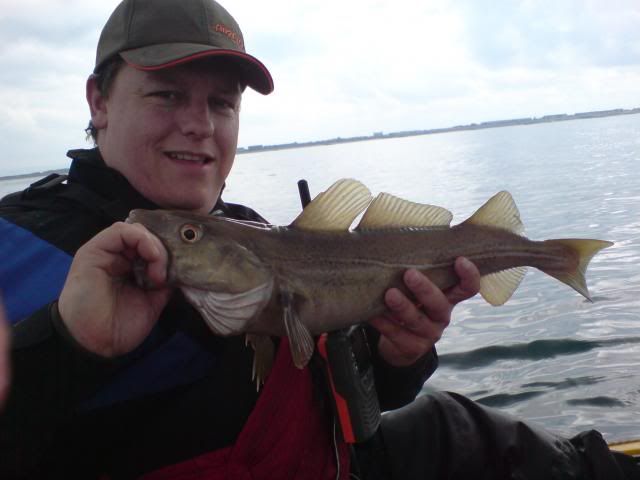 A plump codling of around 3lb, this got us thinking we might be in for a cod bonanza!
The other rods hadn't been in the water long when I got a really strong run on my rod which was bent double and dragged the kayak all over the show, what a tussle which resulted in a cracker......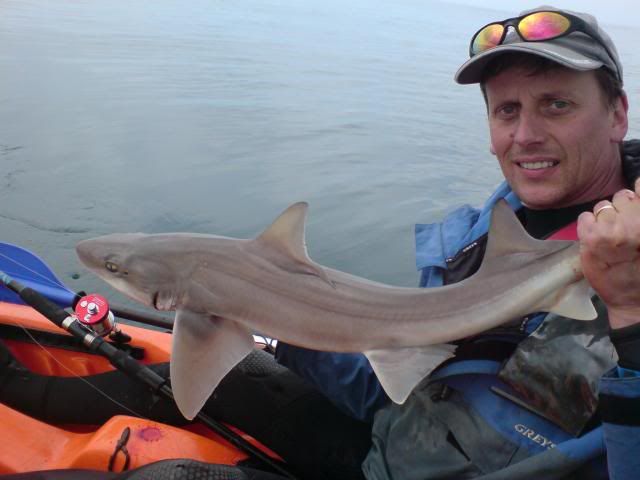 The picture doesn't really do it justice, and it put up just as big a scrap in the yak

they are one seriously powerful fish
We were then plagued with codling of all sizes, up to about a 1lb or so in weight and a good sign for later in the year

both myself and Paul got a couple of smaller hounds before a better fish came aboard...
Paul was into a batter stamp too....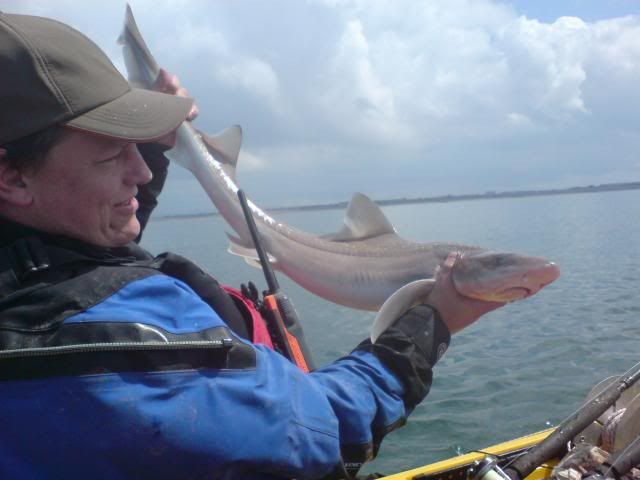 followed by another......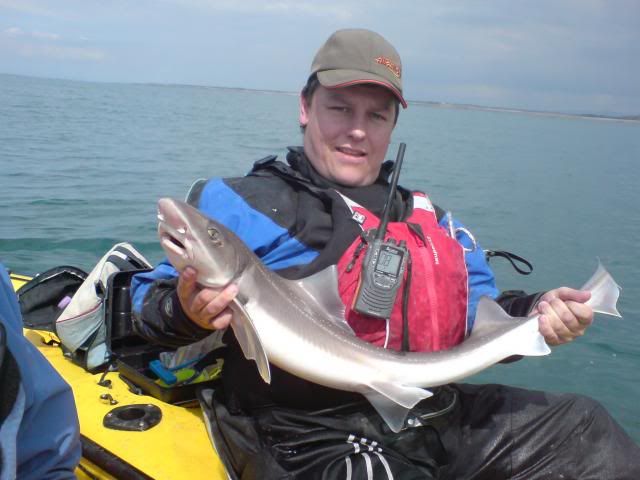 As low water approached we had a couple of moves further out which paid off with a few more smoothies coming out.....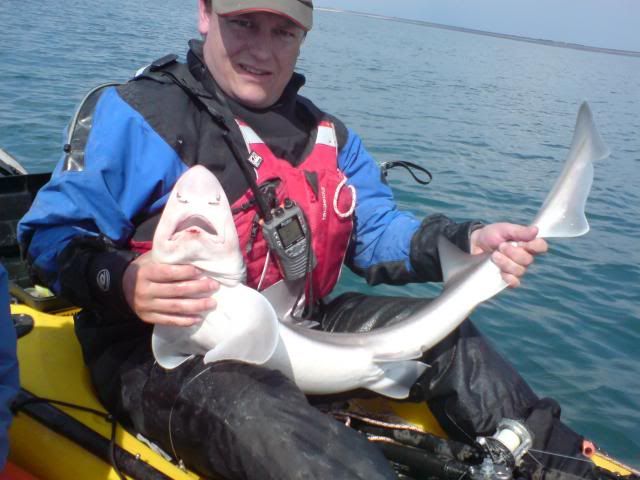 The hounds weren't prolific in numbers, we'd had better days but they found our baits in a steady stream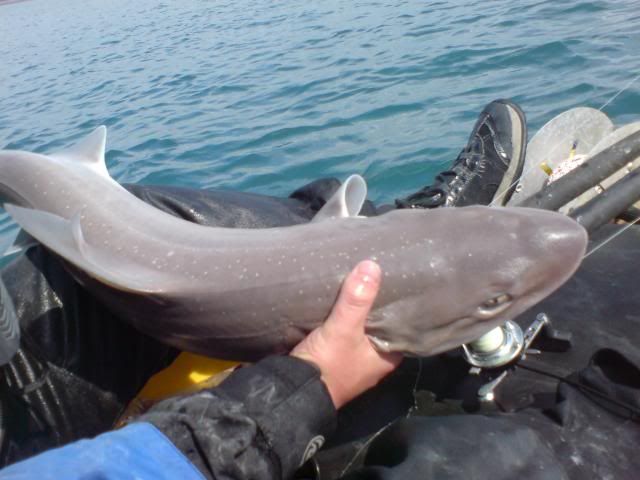 With low water arriving, the inevitable slowing down of the fishing and having been afloat for 7 hours we didn't need any excuse to head back ashore especially with the weather closing in....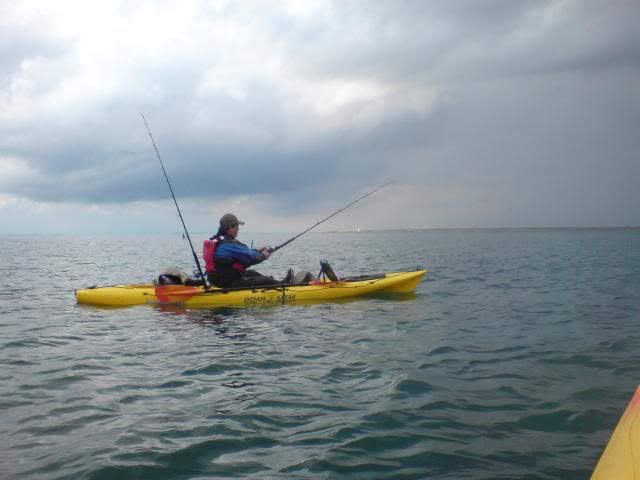 A good day afloat with plenty of fish not photographed including dozens of codling, the inevitable dogfish and dabs. I don't think we had a single whiting which was strange. We had a half hearted attempt at Tope but the mackerel bait just attracted dogfish. We came back in just after low water and the start of the rain.
Make a difference - take home one piece of someone's angling litter next time you are out fishing
---
---
Not content with catching hounds from the shore you go afloat and do it, top angling chaps fantastic pics
truly a

Born to fish Forced to work
---
Good stuff fellas nice cod for Paul and plenty of them smoothies , well done .
---
Brilliant days fishing Dave that little bloke you were fishing with does look familiar

15lb Salmon Bolton Market
A box of kippers <Lsle of Man>
Acouple of Mackeral Asda
Cod at our local chippy
---
Cheeky sod....

Top day afloat, feel battered and bruised now, feel like I've gone ten rounds
Its amazing how pictures never seem to do a fish justice.... a couple of those hounds were really good fish.
This one looking at the top of the hounds head shows it a little better....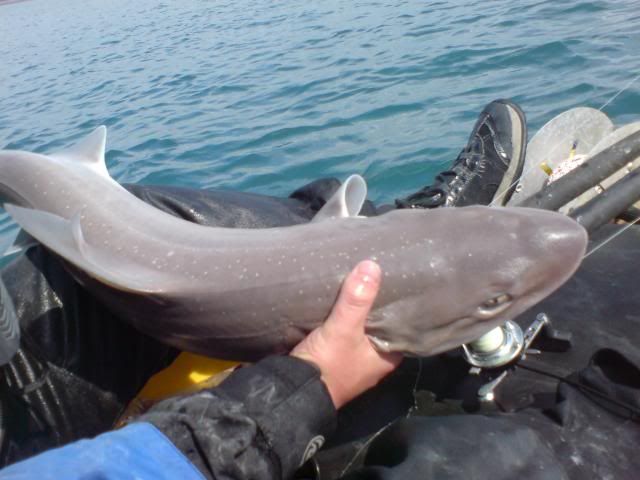 Pure muscle!!! You just think they are done and they go for another run, you finally get it "aboard" and it kicks the crap out of you, the kayak and all your gear thrashing about.... you finally get it in a reasonable position for a picture (after ten attempts!!) put it back in the water and then get excited when you hook another one for it to beat you up again


Strange hobby fishing!!
Really think they fight the hardest from the yaks too....Really should film it!! You get dragged all over shop....AWESOME!!!
Ill try not to leave it as long between trip Rushy

---
Well in boys..!! Great day out.
There's more to fishing than catching fish...
---
well done Paul and Rushy for getting into the smuts and codling some nice fish about mate hope they come in shore soon how far out was you Dave
-------------------------------------------------------------------------------
species 2015 5 bearded rockling, whitting, flounder,eel,codling, bass,plaice,sole,dab,tope pup,
---
We tried a couple of spots yesterday, 3/4 of a mile to a mile out really, its just a case fo finding some rough ground out there. About 3/4 mile you are well onto rossall patches.
As you paddle along you can see from the surface of the water that its really undulating down there with light and dark channels across the water, it kinda flattens off the surface in the deep spots..... at our furthest mark it was only around 12ft deep at low water (on a smallish tide!!) I bet on a massive tide you could almost stand up at dead low in some spots.... weird!!
Pretty sore this morning.....and shattered!! And my little lad wanted to get up at 6am!!






---

great pics, looks good fun, good session guys thanks for the post.

:-) DaveT
---
top effort guys some cracking doggies

---
---
Return to Kayak fishing reports
Who is online
Users browsing this forum: No registered users and 0 guests