It is currently 17 May 2021, 05:32

Well the big day arrived, all the anticipation had reached fever pitch with myself, Paul, Kev P, (fisherman)Dave, Steve (trogdog), James (1984), Lee and Frank (Bill Bodger) all arriving at the quayside simultaneously to find the charter boat the Osprey skippered by Ray Spotswood waiting to come alongside for a 7am pick up.
With light winds forecast hopes were high of a cod bonanza, with a huge array of fresh & frozen baits waiting to tempt Mr Cod.
We were soon steaming to the first mark just up from Sandford Docks, and we tackled up our uptiding rigs with fixed grip wires to combat the fast running tide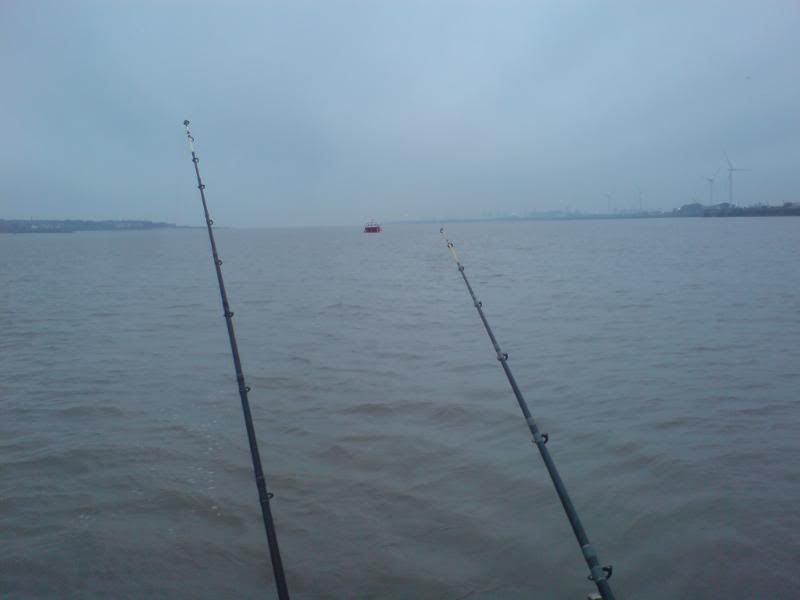 Dave & Steve poised like ninjas waiting to strike....
Lee, Kev P eating a butty with his lug stained hands, the animal, and Frank a model of concentration......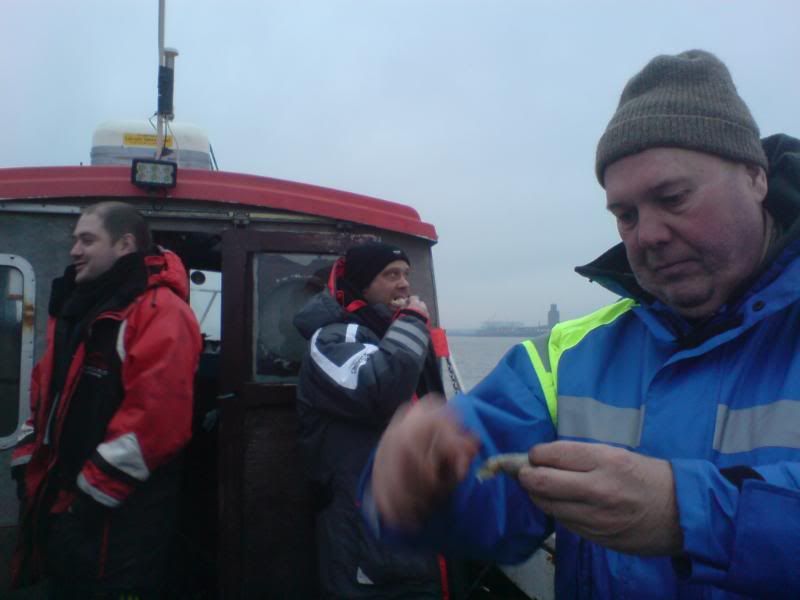 Fresh & frozen Black, fresh yellowtails, frozen peeler, mussel and squid were the baits of the day..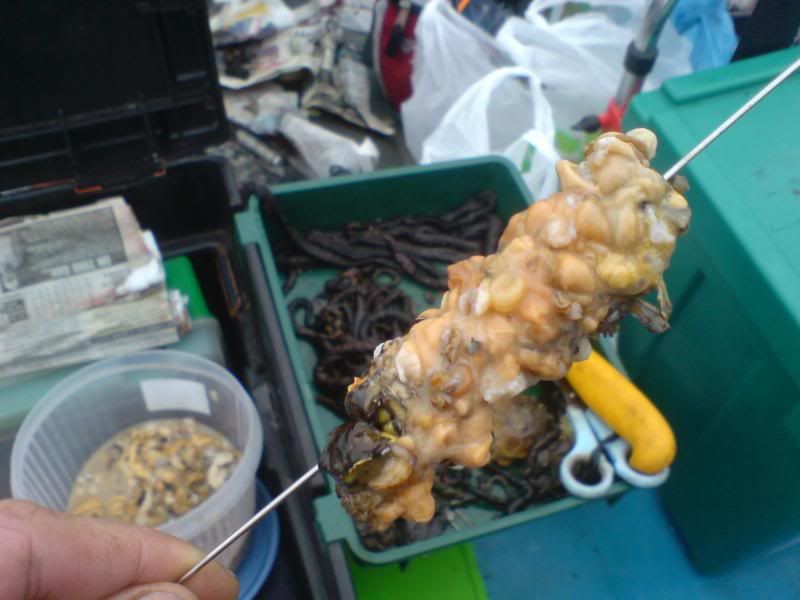 It was quite a busy day with most of the charters out on the river and quite a few private boats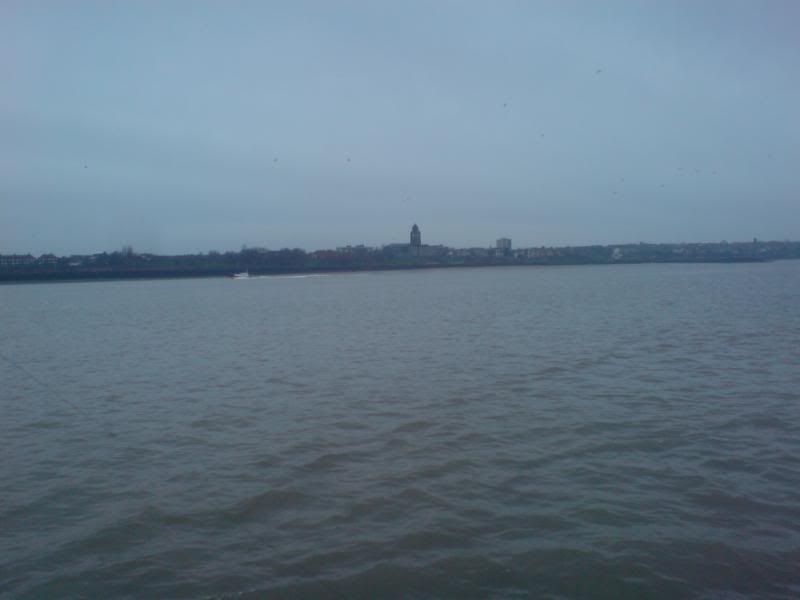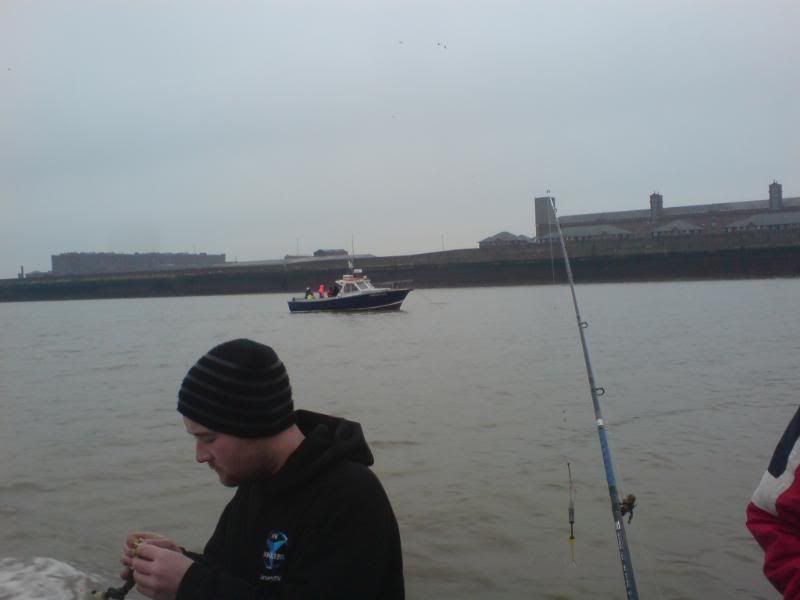 With it being the last hour of the ebb, the fishing started off slow to say the least, with nothing showing at the first mark. Skipper Ray suggested a move further upriver, which seemed a popular decision as most of the other charters in the immediate vicinity followed suit .
We passed a famous old landmark (not Bill Bodger!)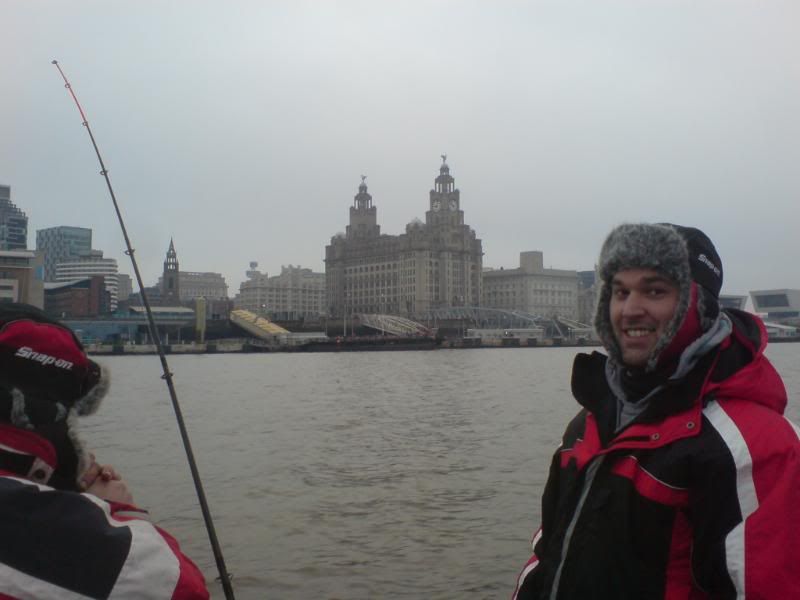 We arrived at the mark just as the tide was starting to make, which meant the boat was trying to swing around into the tide but was being held back by a bitterly cold stiffish breeze which had sprung up. This left the boat swinging at anchor which made deciding were to cast a bit of a lottery for a time.
Not that James was complaining as he was soon into a welcome codling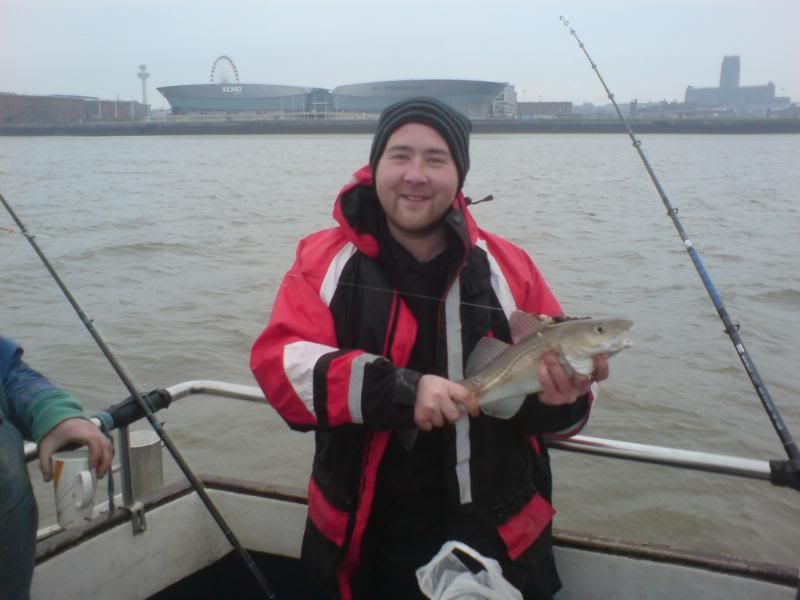 This meant he had to wear the comedy wig as punishment
Fresh black tipped with a sliver of squid did the trick,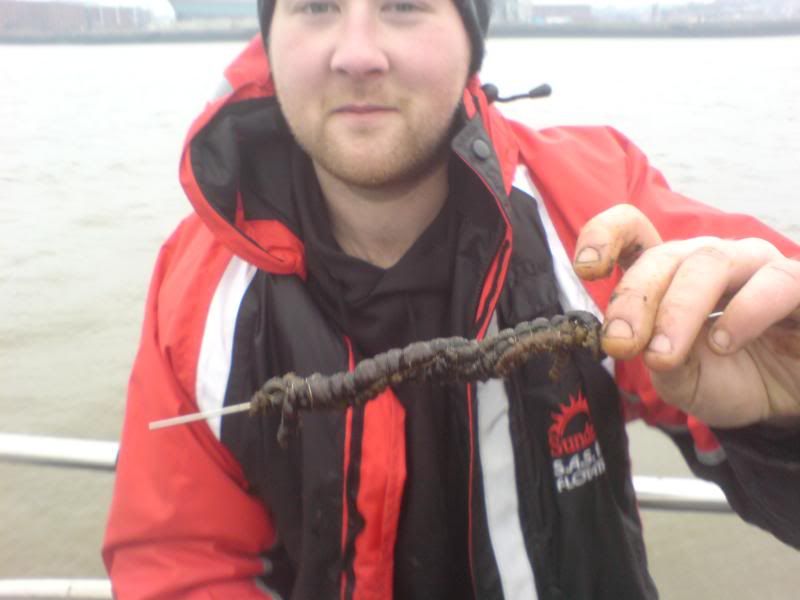 and he was soon into another, spawny jammy bassturd!
...
This lifted the troops spirits that the cod were starting to come on the feed with the flooding tide. We were joined by other charters who hoped the same.
Morale was given another boost when Paul managed a similar sized codling of his own...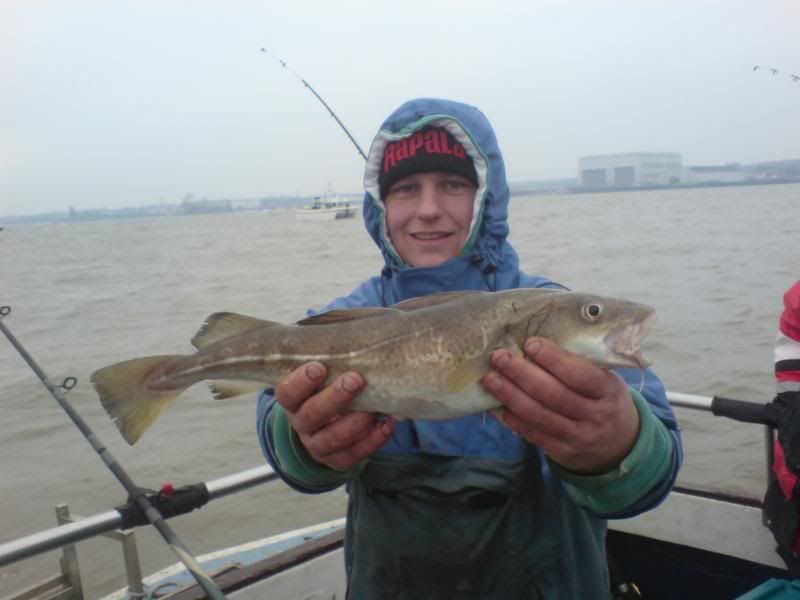 I did my best to knock it off with the net, but the spawny get landed it aboard
Unfortunately due to the ferocity of the incoming tide, we started dragging anchor so we had to move inshore slightly to combat this. Surprisingly, the flooding tide didn't have the impact we had hoped for and it went very quiet for everyone with very little happening, apart from p*sstaking and banter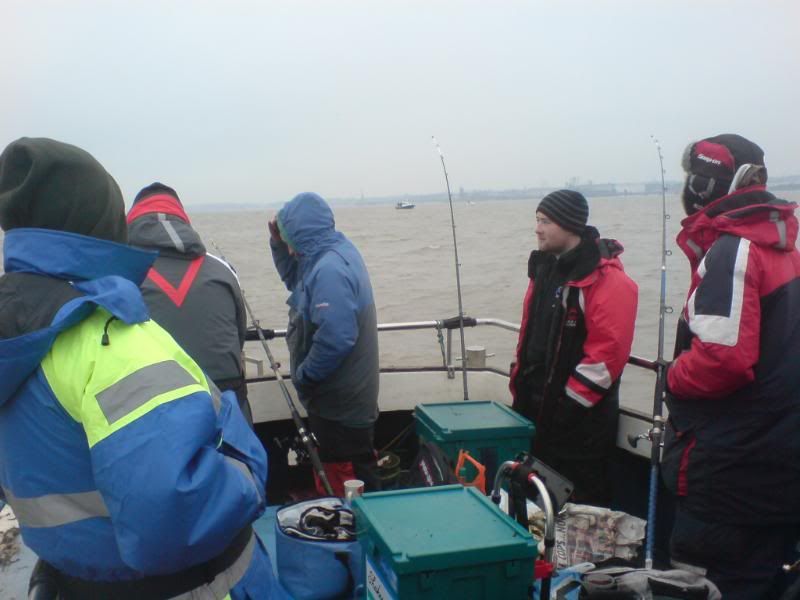 "Eighteen carat"
Kev with a whiting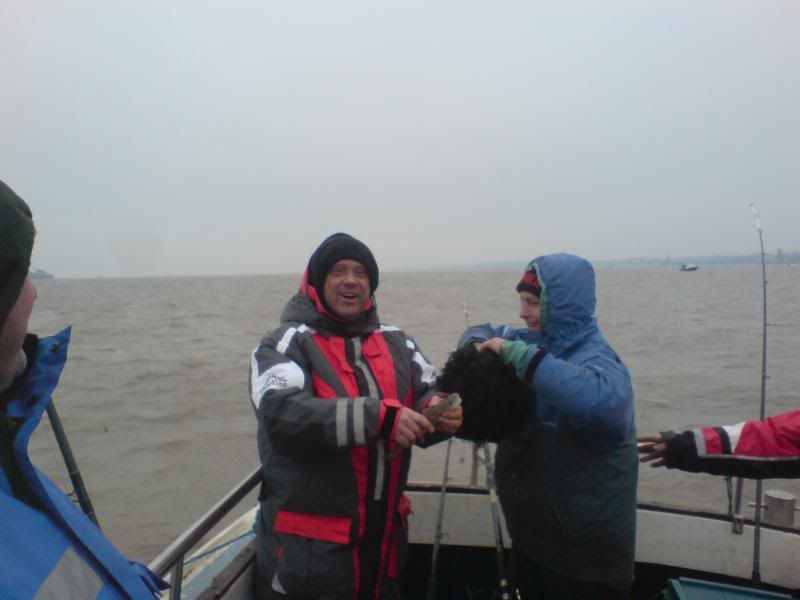 Frank saying hello to Ralph & Huey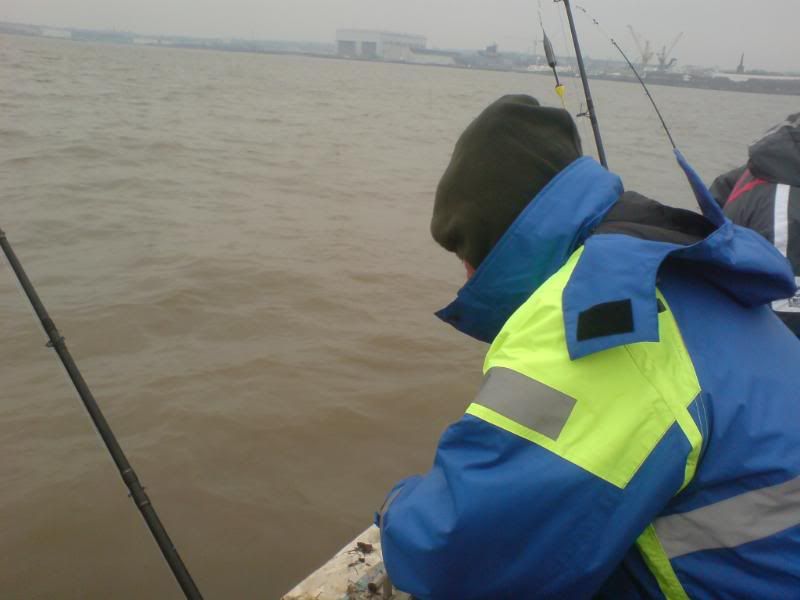 Don't laugh at an elderly gent
Actually, maybe we should
.....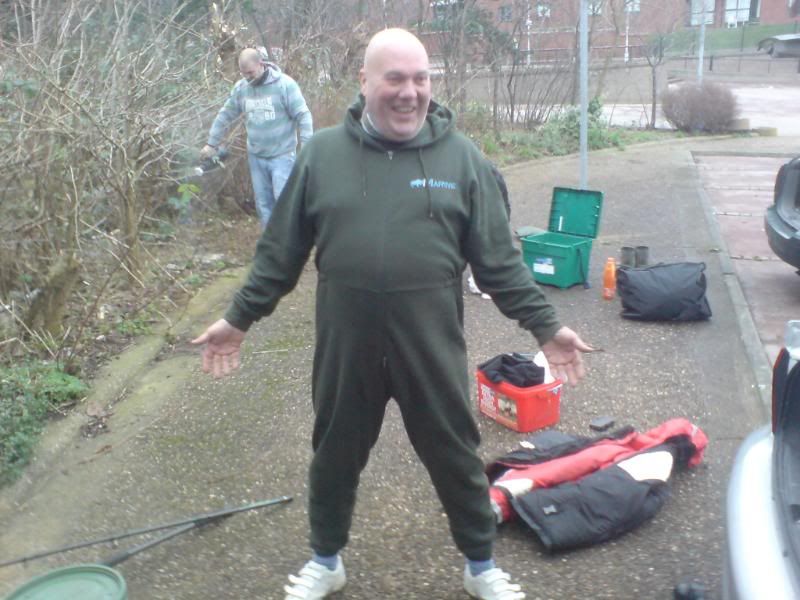 You're a star Frank
The fishing was horrendously slow, the skipper Ray did his best and kept us royally entertained with banter and hot brews to keep out the bitter east wind........and we all did our best, fishing hard with quality baits nailed to the sea floor....but it was one of those days and we came in disappointed.
I personally really enjoyed myself, despite the lack of fish. In hindsight we probably went out a month late but that was out of our hands due to the cancellation of the previously booked trip due to bad weather.
Other charter boats had similar tales to tell with a smattering of codling amongst them all, with Mersey Lass taking the days honours with an 8lb fish.
A few more pics of the day.......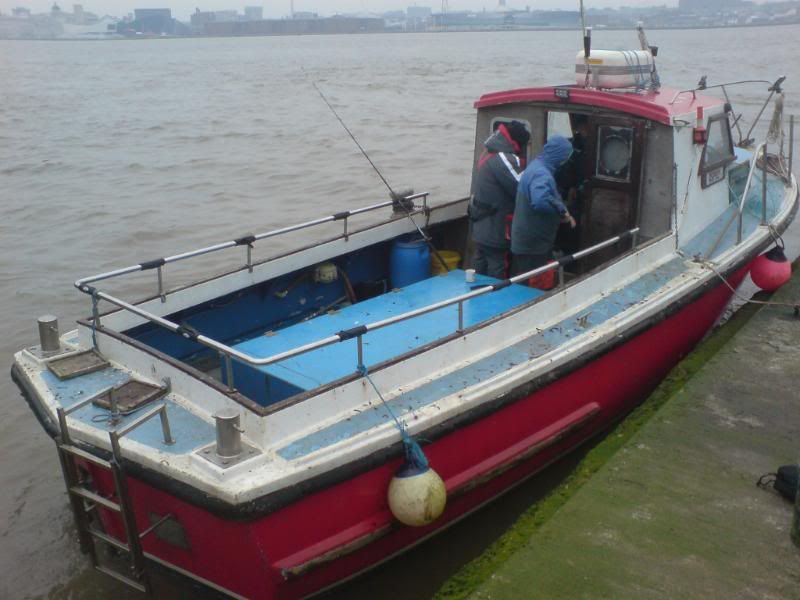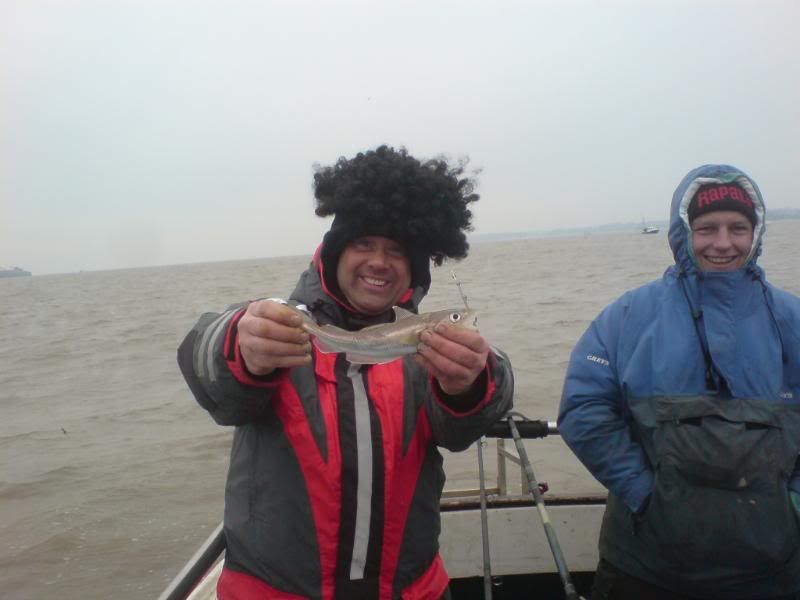 Big thanks go to Kev P for organising the trip and doing the honours of driving us down, massive thanks big fella
Make a difference - take home one piece of someone's angling litter next time you are out fishing
---
---
First class report Squidworth
Still can't get warm now
Many thanks to Ray of www.LiverpoolCharters.com for looking after us today.
Huge thanks to Kev P for arranging this for us
---
fantastic report, shame not more cod around for you guys...There is always next time!!

I blanked this evening, went and met kyle for an hour at the end of the jetty...my rod never moved so maybe the fish are starting to move further out to deeper water!!
---
A great report as usual Dave looks like the banter was good nice pics too shame no decent cod better luck next time
15lb Salmon Bolton Market
A box of kippers <Lsle of Man>
Acouple of Mackeral Asda
Cod at our local chippy
---
Bloody hell, didn't know george doors was going with you
Lmao at Frank
, shame the fishing wasn't better for you guys but the report sounds like you all enjoyed yourselfs
---
Thanks for the flattering pics Dave. I'm thinking of changing my username to Billy 3 chins or just plain Fat Bar steward. To top off the humiliation I got dragged into McDonalds in my romper suit, went for a pee then stood in the queue with my flies wide open. I wondered what the girl behind the counter was smiling at!
I really enjoyed the day despite the lack of fish and the light hurling session
. Good craic right through and great to be supplied with tea and biscuits courtesy of Ray (skipper) and Kev P.
Thanks Kev for organising the trip and the rest of you piss taking gits for being there.
BB
Good things come to those who bait.
---
a cracking report dave laaaaaa the banter makes up for the lack of fish mt
boy it must of been
great to see you lads making the best of it
and frank in his bison romper suit (i got one of those
. and well done lads on getting a few fish out
Add san miguel on facebook and follow the 3 buccaneers jags batey lucky

http://www.buccaneersbac.com
the boat angling community home of the san miguel
---
Nice one fella!
had to have a kip when I got in I was fooooooooooockeeeded!
still fancying KFC!
---
Nice to see some smiling faces,
fishing is not all about catching fish,although the top anglers can sort them out
can see you lads had a cracking day out,think the cod are thining out now,mates have got a boat in the liverpool marina but i think we lost the best of the fishing while the lock gates where getting sorted,looking forward to next year,thanks for the report
---
looked like fun
great pics despite the lack of 10 lb cod
lets face it the poorer trips make you appreciate the cracking ones even more ! as for going into mcdonalds wearing that romper suit
that i would have loved to have seen
eastcoast raider
---
---
Return to Boat fishing reports
Who is online
Users browsing this forum: No registered users and 2 guests