It is currently 07 May 2021, 11:53

Friday morning & the sunshine bus arrived full of happy chappies all ready to do battle with a double figure fish or two
got my gear loaded & we were off to Shetland with a stop or two on the way for grub.
Pete came up with the idea of going to Glasgow angling as we had plenty of time so in we went (be rude not to) & bought loads of gear we didn't need but being fishermen we had to have
for them that haven't been that is some serious sized shop its huge like walking into a supermarket.
So a few pounds lighter on cash & a few pounds heavier with tackle off we went again. We arrived in Aberdeen & still had loads of time so into the pub for a beer or two it was.
We met brothers Bruce & peter in there who were on our boat. A great couple of lads they turned out to be after a beer or two & plenty laughs off again on to the ferry for more beer & grub have a snooze up early for breakfast loads of it which was very good for ferry food.
Then off we went again for the other ferry to yell. We Arrived at our digs to unload our gear then shot off to the boat where Kenny our skipper was waiting aboard Oberon which was where we found out there were to be eleven of us onboard.
A bit naughty but we managed First drop chippie peter straight into an absolute belter of a fish which was making him struggle & pull all manner of faces with the strain but boy did it make him smile when it hit the deck 30lber first chuck ooops drop
a happier chappie you've never seen.
I never thought I would see a thirty in my life so what a sight. Rods were bent over all round the boat as everyone hit cod from 15lb to upper twenties single double treble shots & tam up front had a quadruple hit on one drop the pain on his face said it all needless to say he chopped a lure or two off next drop good job too because then the coalies arrived & boy were they serious size
.
My biggest coalie had been about 7lb now all of a sudden I had a fish that turned out to be 25lb on the end intent on spooling me you just have to hold on & let them go then gain line where you can the lads had warned me about them beforehand god job too they were huge god knows how pete went on with his double shots he was getting 26lb 27lb then 27lb 28lb 29lb.
The Scottish lads tam Colin Jim + brothers peter & Bruce & Chris from Evesham all into top twenties coalies Kenny decided to get us out of the coalies
& we tried a different spot a few ling came up but not many then it was time for in to recuperate for Sunday.
A Quick change & off to the pub for a very good meal & lots of beer with the islanders who turned out to be a really friendly bunch of beer monsters
just what the doctor ordered
Sunday came & I thought I had seen the best but was pleasantly surprised after a really arm wrenching battle by a 32lb cod thudding down on to the deck
what a happie chappie I was the day continued to produce massive cod & coalies then came time for the turbot.
That was to be the only disappointment none brought aboard although both Stevie & Chris lost a fish
so it was our second day came to an end with eleven grinning but aching blokes & a grinning skipper (who I decided to rename Kenny the torturer) heading in to fillet fish & get it on ice what an experience
The best weekend ever with the best possible company (well nearly as it seemed strange not having Andrew with us get yourself well for the next one matey)
A very big thanks to pete for organising it all & getting us all safely there & back in one piece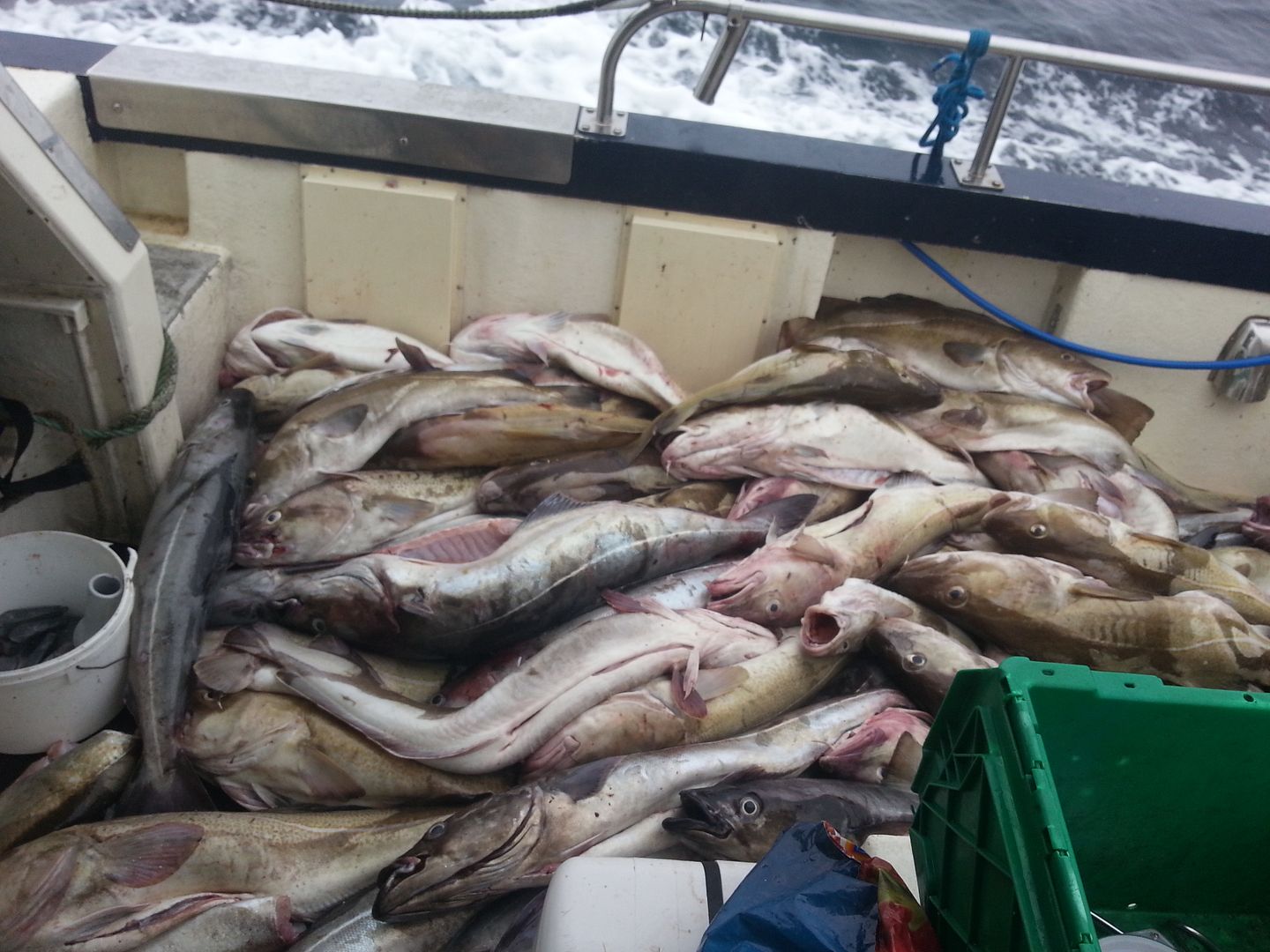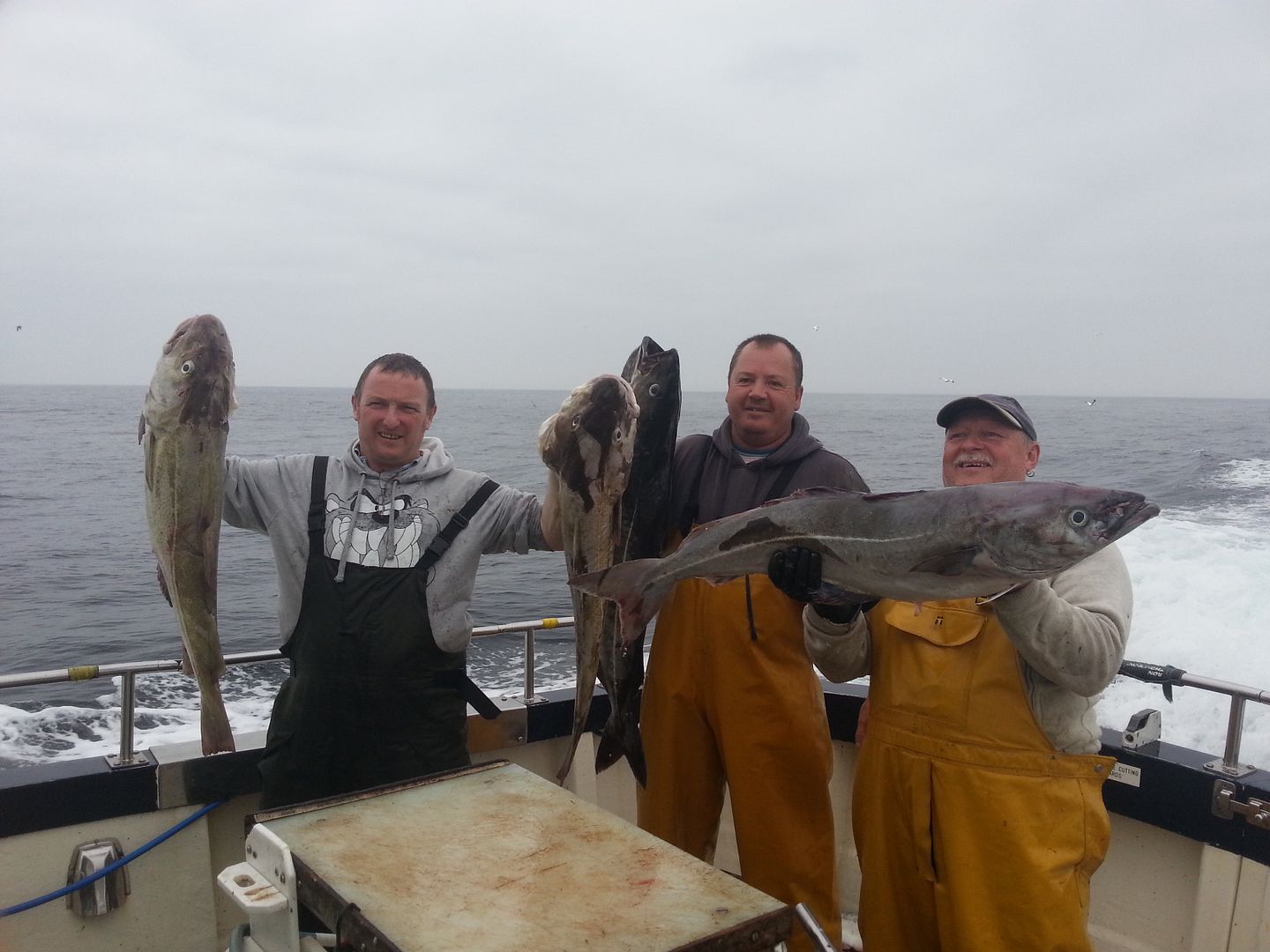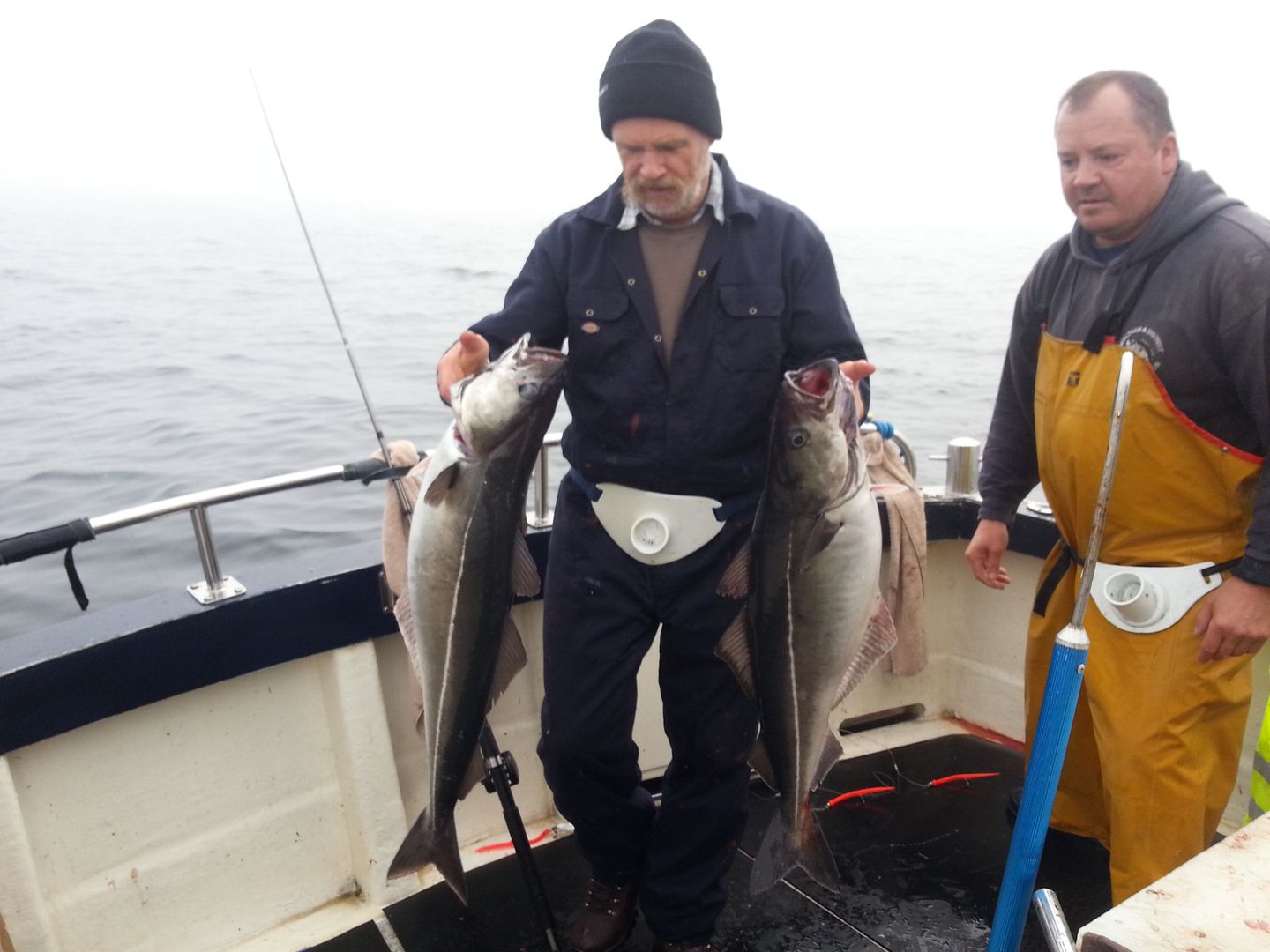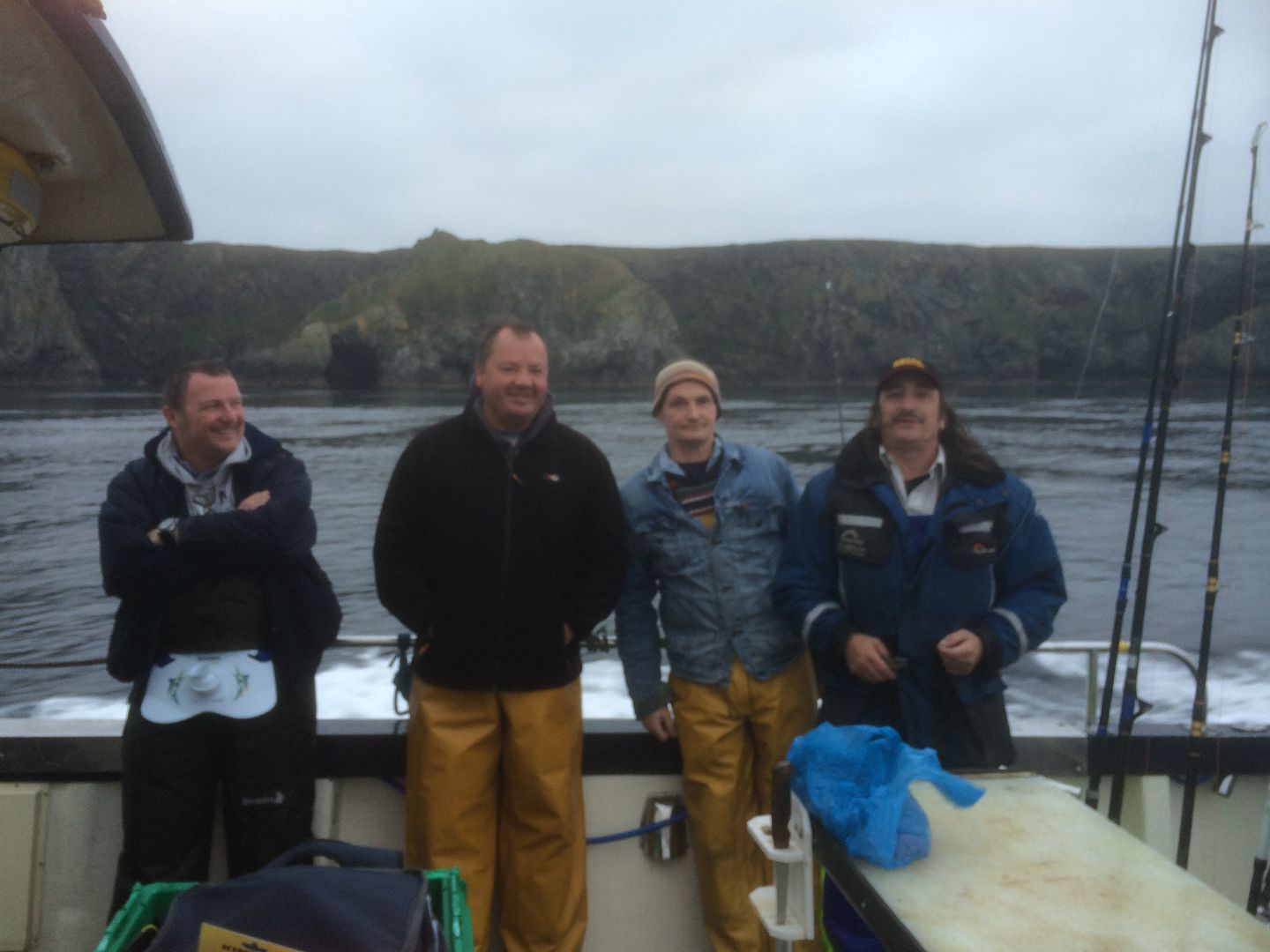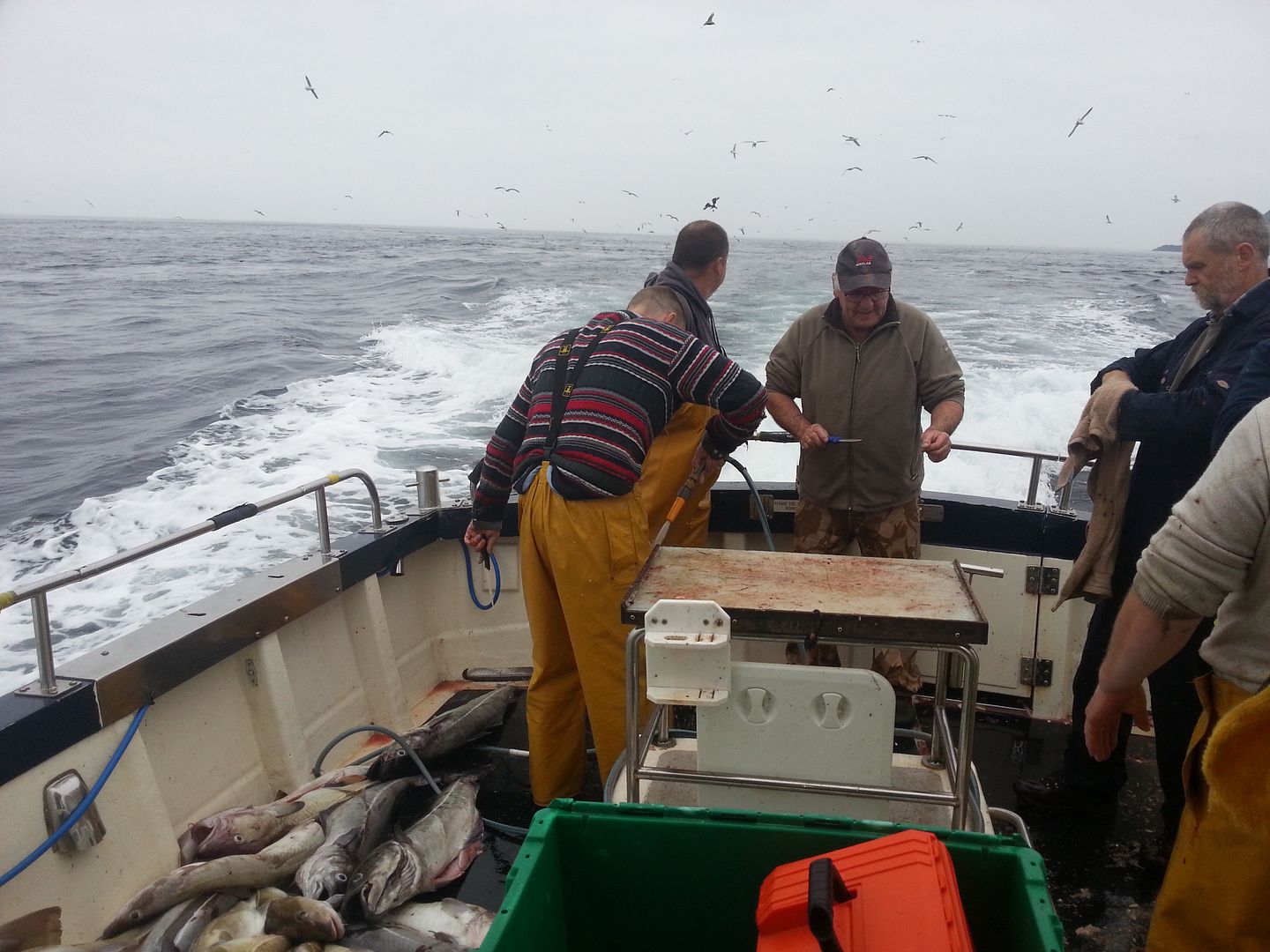 ---
---
what a session mate!
absolutely superb fishing!
well done all
Great pictures and report
Do or do not, there is no try..... YODA
---
Wow, now that's great fishing thanks for the report.
Everything is OK
---
Incredible fishing guys, one to remember for a long time..!! Great report and pics cheers..!!!
There's more to fishing than catching fish...
---
Brilliant spot of fishing there , who needs Norway when we have the Shetland`s , Orkney`s and the Western Isles on our doorstep . Cracking fish you caught
---
Real fishing
Bet you're all knackered too after all them lumps!
---
Was reading the report Tatch,thinking it all seems too good to be true,monster cod..??
Then the pics rolled in to view
Cracking report mate and cracking fish with cracking chums....Just cracking
Species hunt 2016 Saltwater -
Species hunt 2016 Freshwater-Perch-Roach-Bream-Common Carp-Tench-Rudd-Gudgeon
---
As an aberdonian I'm pretty homesick,proper fishing,brilliant
Hardcore Addict

Posts: 3630

Joined: 10 Aug 2014, 08:49

Location: Bolton,the town without a sea(but very expensive trains)
---
One question, how is it going to fit in the freezer?
---
Zander wrote:One question, how is it going to fit in the freezer?
Easily all neatly stacked & we gave a load to the islanders Potters use the carcasses so no waste whatsoever
---
---
Return to Boat fishing reports
Who is online
Users browsing this forum: No registered users and 2 guests