Short but sweet rossall session

Posted:
30 Oct 2013, 12:49
Well I spent the afternoon debating whether I can be bothered to drive from Sheffield (where I work) back to Stockport (where I live) then to rossall to have a go for a fish or 2.
I finally made the call that I was gonna knock off work slightly early and try and get through to west coast tackle to pick up their last remaining lug before it closed. 2 1/2hours later and the last 20 fresh lug were in my bucket along with 50 frozen.
So headed for a mark I had not fished previously (only fished rossal twice lol) to be greatest with some pretty strong winds and some big seas. Any none fisherman would be think "sod that" I thought "there's cod in them there waters" lol.
Headed down the beach to my chosen spot for about 6.15.
With 5 mins both rods were in the water. One rod had a 4/0 pennel and the other, a pennel on the bottom and a single 2/0 at the top.
The wind and surf was making it pretty hard to pick up any bites but low and behold. A slight nod occurred on the pennel and after a couple of mins my first cod was dragged up the beach. Well I was happy just to be off the mark within 15 mins of arriving but as soon as that rod went back out, the other had dropped some slack. Another slow retrieve and low and behold, a double shot of cod lol. Well that was a first for me anyway lol.
For the next hour I was kept busy with alsorts including a nice bass of about 3lb that dropped a massive amount of slack. He posed for
This pic then was sent back to fight another day :-).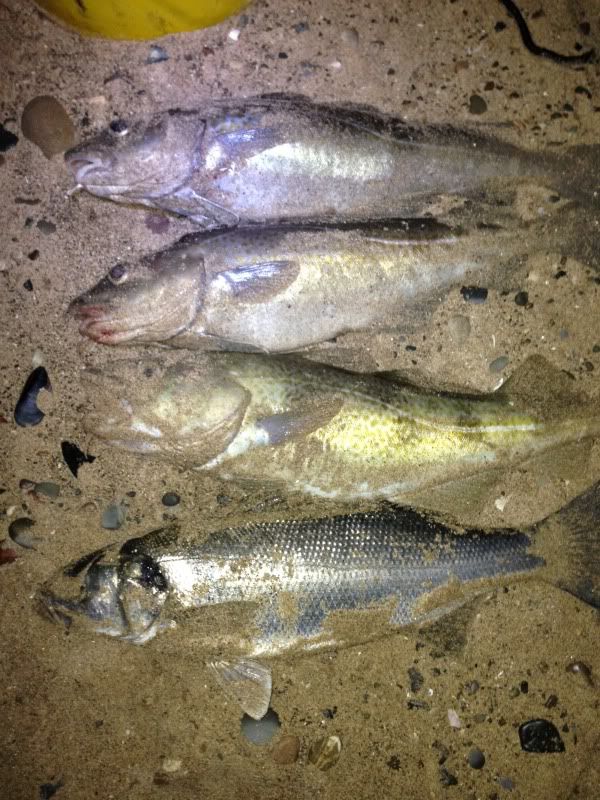 I fished on until 9 so in less than 3 hours fishing I had caught. 6 cod, 1 bass, 12 whiting, 3 dabs and 2 dogfish.
Think I only had one cast without a fish in that time and most 2 hook rigs were coming back with 2 fish, including 2 whiting on the pennels lol.
Ended up keeping the 4 best cod ready for tonight's dinner :-)