It is currently 25 May 2018, 09:43

Sun 4 Feb Burry Port Beach
With the third blank on the bounce in the offing Ian was more than glad to hear that the clubs venue of Llangenech was frozen over. Advice from the lads in anglers corner suggested that Burry Port beach was still fishing relatively well for the time of year. So the switch was made.
The two Dai's, Rob, Ray, Rich, Apples, Ian, Lyn, Jonny and Martyn made it 10 anglers that turned out and spread along the length of the beach. Most anglers had decided to fish light but maybe that was a mistake as the making tides were moving the lighter leads right to left at a rapid rate of knots. If Usain Bolt was reincarnated as a flounder he may have had a chance of keeping up with the bait. So bigger lead was needed, but with everyone using light gear this was not ideal. Easterly winds low tides and temperatures killed the fishing. We had all sorts of bait between us spending more money than Harry Redknaps' dog has in the bank. We fished two up and two back Between us we used all sorts of tactics but there was only three fish caught all day.
Ian had a 34cm flounder for first place and narrowly avoiding the third blank in a row. He thought it was probably the best looking flounder in the world. Initially it wouldn't go back bleeding heavily from the gill area,however he left it iut of the water for an hour or so let the blood clot and it went back strongly. Which was pleasing because she was heavy with roe and just about to pop.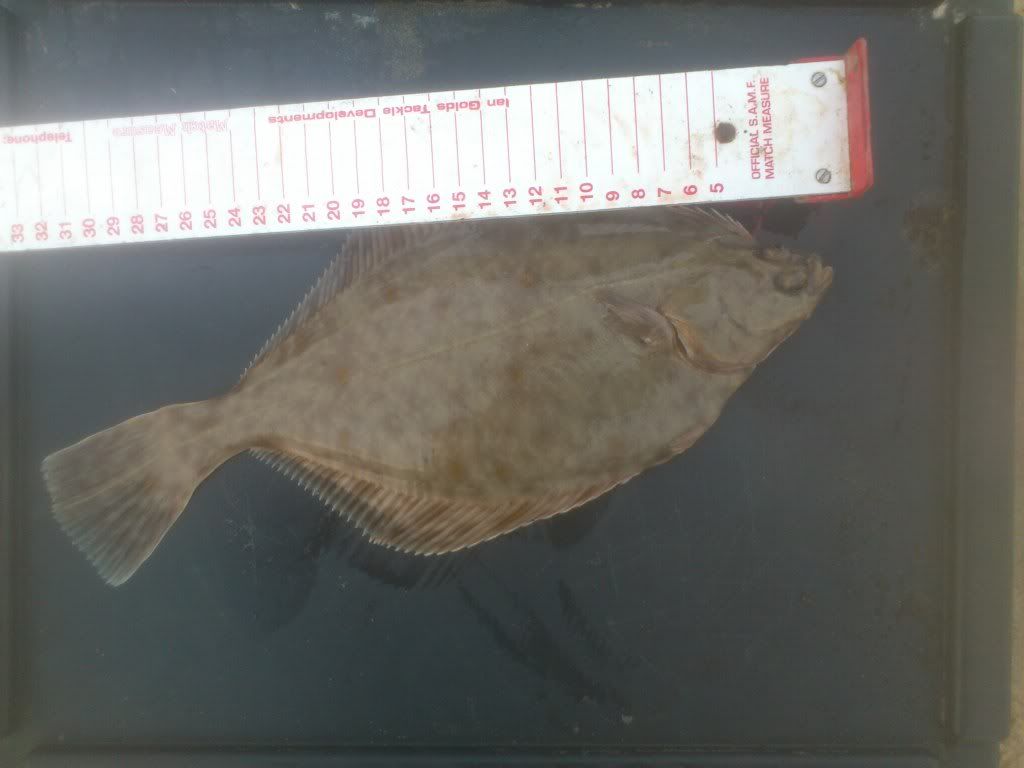 Martyn a 29cm flounder for second and Lyn a 24cm for third place all the other guys blanked and shared the remaining points on offer
---
---
thanks for the report mate saved a blank with the mud shark it gets dire sea fishing this time of year well done for effort fellas


2014, species, codling, whiting, dab, blenny, flounder, bass 41cm, thornback ray on lrf tackle in morecambe bay off the shore. smoothound in heysham. plaice 2lb 1oz nasty weaver.
---
well in lads! cheers for the report!

---
---
Return to West and South Wales Sea Fishing Catch Reports
Who is online
Users browsing this forum: No registered users and 0 guests