It is currently 15 Aug 2020, 11:01

Well I spent the afternoon debating whether I can be bothered to drive from Sheffield (where I work) back to Stockport (where I live) then to rossall to have a go for a fish or 2.
I finally made the call that I was gonna knock off work slightly early and try and get through to west coast tackle to pick up their last remaining lug before it closed. 2 1/2hours later and the last 20 fresh lug were in my bucket along with 50 frozen.
So headed for a mark I had not fished previously (only fished rossal twice lol) to be greatest with some pretty strong winds and some big seas. Any none fisherman would be think "sod that" I thought "there's cod in them there waters" lol.
Headed down the beach to my chosen spot for about 6.15.
With 5 mins both rods were in the water. One rod had a 4/0 pennel and the other, a pennel on the bottom and a single 2/0 at the top.
The wind and surf was making it pretty hard to pick up any bites but low and behold. A slight nod occurred on the pennel and after a couple of mins my first cod was dragged up the beach. Well I was happy just to be off the mark within 15 mins of arriving but as soon as that rod went back out, the other had dropped some slack. Another slow retrieve and low and behold, a double shot of cod lol. Well that was a first for me anyway lol.
For the next hour I was kept busy with alsorts including a nice bass of about 3lb that dropped a massive amount of slack. He posed for
This pic then was sent back to fight another day :-).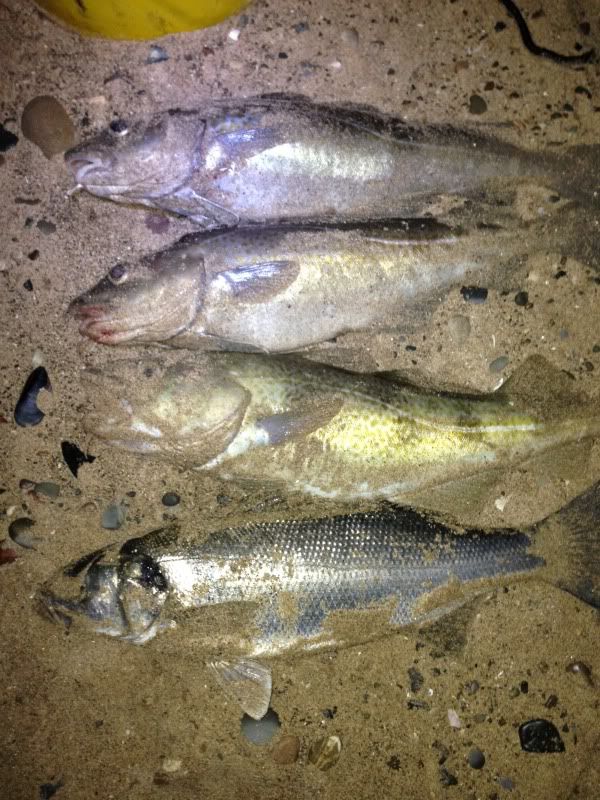 I fished on until 9 so in less than 3 hours fishing I had caught. 6 cod, 1 bass, 12 whiting, 3 dabs and 2 dogfish.
Think I only had one cast without a fish in that time and most 2 hook rigs were coming back with 2 fish, including 2 whiting on the pennels lol.
Ended up keeping the 4 best cod ready for tonight's dinner :-)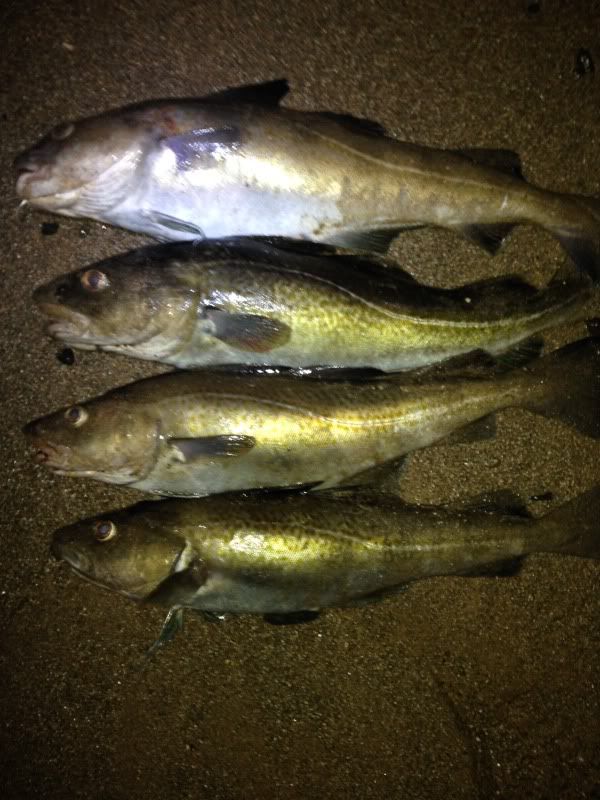 ---
---
Great post and well worth the efforts. Well done for braving the weather and getting your reward


---

and pics well worth the long drive a top session by any ones standards a

a chuck cheers

Born to fish Forced to work
---
Cheers guys

Was one of them sessions where minimal effort was exerted and maximum reward was gained lol
---
Thanks for posting what a cracking session you had well done

---
great session rich and pictures well done

2020 SPECIES HUNT
Whiting. Thornback ray. Cod. Dab. Dogfish. Tope. Mackerel. Starry hound. Weaver. common hound. Tub gurnard. Flounder. Poor cod. Dover sole. Shanny.
---




and Pic's.......
Brilliant result worth all the travelling ......

Plenty of fish and nice Cod supper for you and that's a nice late Bass......



Just goes to show when you think it's un-fishable it'll give you the best result's ......



Thnx for sharing......john....


Wish my foot would let me get out to fish


---
Hell fire what a session! I take my hat off to you just bought a new Sunset 14 ft would be nice to christen it this weekend with a good cod well done mate.
Sent from my iPhone using
Tapatalk
15lb Salmon Bolton Market
A box of kippers <Lsle of Man>
Acouple of Mackeral Asda
Cod at our local chippy
---
Great session well worth all the effort




Species hunt 2019
---
Brilliant session that mate, what a good result!! Well done ..!!
There's more to fishing than catching fish...
---
---
Return to North West Sea Fishing Reports
Who is online
Users browsing this forum: Bing [Bot] and 22 guests