It is currently 23 Sep 2019, 00:16

What with one thing or another (work, family commitments and an illness in the family ) it seemed like an absolute age since I'd last wet a line, so come hell or high water I was determined to get out fishing on Sunday.
My plan was to pump some fresh worm at rossal point but also fish over low water and the start of the flood before meeting up with KevP for up to HW who was fishing down rossal hospital way.
MartinG arranged to come down and meet me later on the beach, though he actually got away earlier than planned and he pulled up as I was taking my gear out of the car. A quick chinwag and we set off over the wall opposite Chatworth Ave.
There must have been 15 or so anglers on the low water mark, fishing & pumping

it seems great minds think alike or it was a match of some sort? Anyway, there was a good enough gap for me & Martin to drop into, and we quickly tackled up and launched our baits out. I was using a clipped down 4/0 pennel with frozen black tipped with fresh blow lug (until I could pump a few, hopefully) and Martin was using a two hook flapper with fresh black tipped with squid.
HW was a reasonable 9pm and a good height of 9.1m which were building towards a big spring tide later in the week. Despite the light winds, there was a good edge on the sea too with a few medium size rollers crashing ashore stirring things up, so hopes were high that the cod would be on the feed.
Martin was first in with a good size whiting, a bagful that size would be welcome, enough for a fish pie anyway, but Martin decided to put it back
Martin proceeded to pull in another 2 or 3 whiting, not as big as the first so they didn't trouble the photographer. I was a bit busy pumping, and not doing too badly either as I soon had 40 or so good size worm over low water which would see me right for the session
The fresh worm made an immediate impact, a bait guzzling dab whose capacity to get a 4/0 down their gobs never ceases to amaze me.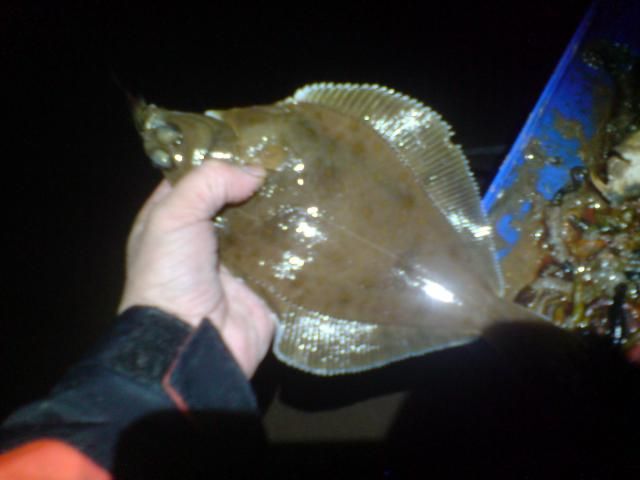 Whilst pumping earlier I came across a good sized hermit crab which I noticed must had only recently peeled, as it claws were quite soft. I immediately thought "that'll make a good cod bait" so as the tide filled the last big gully I whipped it on my 4/0 pennell along with a big full frozen peeler and launched it into the middle of the gully.
I then kept walking back with my gear and tripod, letting line off as I went until virtually all the line was off my spool and we were off the sand and onto the shingle. My big crab bait must have been a good 200yds+ out in the middle of the now fully covered gully, and I left it for 15-20 mins before I said to Martin, "c'mon reel in, let's go and meet Kev........"
I started the long slog reeling in, it felt a good weight, but with a bit of weed coming up the line and no perceivable fight I thought nothing of it until this came scudding through the surf......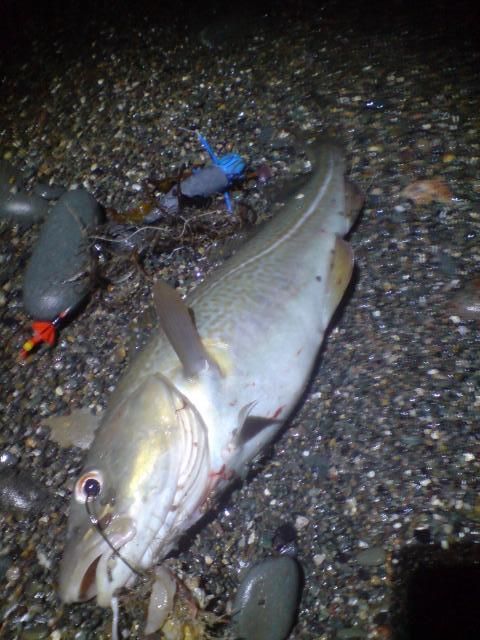 Not huge, but a nice clean fish of around 2lb
This put a spanner in the works, go and meet Kev or stay in case the cod are coming on the feed?

the cod won!

I sent Kev a text explaining we'd just caught and we were going to give it a few more casts and see if any more were around

The tide pushed us up the shingle and we moved into the bay next to the one we'd found ourselves in, closer to the point itself, as we'd noticed a decent gully within casting distance. I t was a fish a chuck for both me and Martin, no cod unfortunately but plenty of fair sized whiting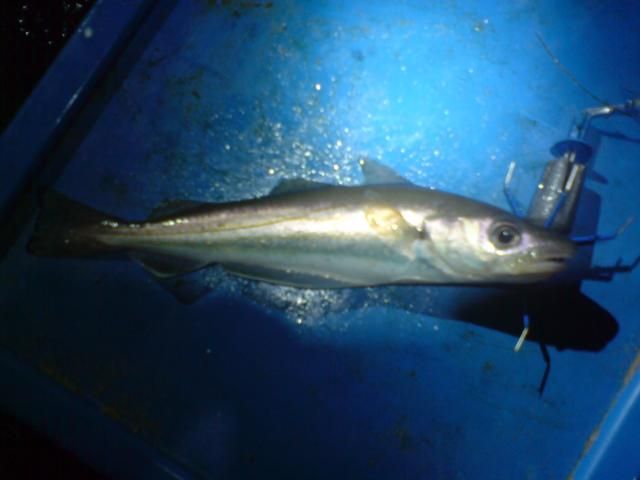 As we got pushed further up the shingle we noticed we'd have to move again as there was a bloody huge tree right behind us!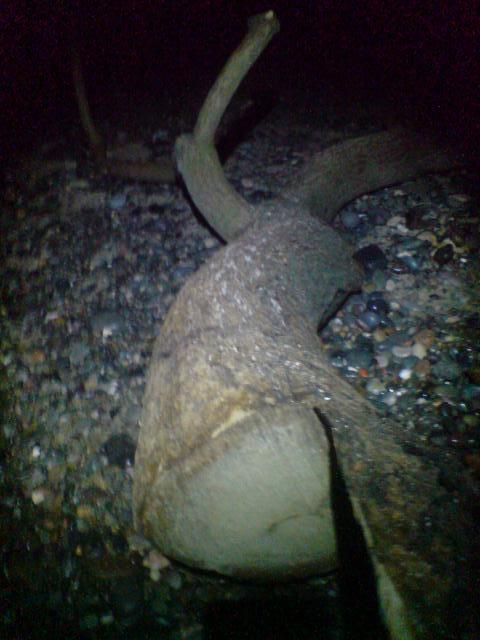 This made casting somewhat tricky, so we moved into the next bay for the last couple of casts before packing up to meet Kev. Again, it was a fish a chuck, but only whiting and we'd just decided to reel in when we saw the guy in the next bay further on pull in a good codling, quickly followed by another........damn, stay or go.....sorry Kev, the cod won again mate!

It got to high water and still no more cod for us, though we were still catching whiting, dabs and that kiss of death fish...... a rockling! Martin had an early start next day, so decided it was time to go. This decision was quickly followed by a phone call from MikeT, who had turned up with Kyle, Phill & Ash. They were down fishing with KevP but the fishing was dire......did I fancy meeting them to fish the ebb at Cadets? That sounded like a plan, so I tackled down with Martin and shot over to the cadet base.
As it turned out, it was bad decision with the tide absolutely barrelling out coupled with the dreaded weed

it was horrendous, just about unfishable so a few casts later it was decided to knock it on the head as a bad job. The start of a few showers, with the lights out at sea disappearing into an oncoming rain cloud, only hastened our brisk departure. I'd just finished putting my gear into the car when the heavens opened and didn't stop for the entire journey home. Good decision to pack up methinks!
So just the one cod, not brilliant but at least I got out and had my fishing fix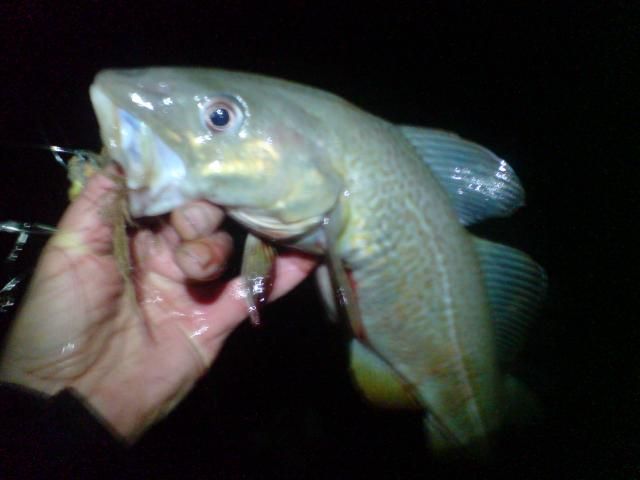 Make a difference - take home one piece of someone's angling litter next time you are out fishing
---
---
cracking report rushy nice coddo mate, was horrible for me lol, great report and pics mate


2014, species, codling, whiting, dab, blenny, flounder, bass 41cm, thornback ray on lrf tackle in morecambe bay off the shore. smoothound in heysham. plaice 2lb 1oz nasty weaver.
---
Superb report mate and the codling was worth the wait


---
well in on the cod.

ray.
2019 Species Hunt...
5 bearded rockling, cod, whiting, dab, flounder, doggie, goldsinny wrasse, pouting, pollock, tope, thorny, sole.
---

Glad to hear you got out and by the sound's of it a busy sesh for you .....And the bonus target of a descent Codling for your effort's....

and pic's Rushy:thumb:


---
Nice to see you owt and reporting rushy:0) well done on the codling mate cheers for the report:0).
---
Welcome back young David;... Nice report, plenty of worm, plenty of fish and dodged the rain... Good work ..!! Nice loosener for Sunday eh..??
There's more to fishing than catching fish...
---
Well done mate and a few fish for your troubles

.
species hunt 2012 dab/whitin/codling/bass/flounder/tope pup/
---
cracking report, great pics, nice coddo

LETS GO FISHING.
---
Cracking report Rushy,that one was bustin' to get out wasn't it!!! Glad you got come Cod action,trouble is it just makes you want to go more,theyre like crack for anglers

Keep 'em coming!!
2015 total : 26 sessions 188 fish
Species : Whiting,Codling,Dab,Flounder,Plaice,Dogfish,Bass,Eel,
---
---
Return to North West Sea Fishing Reports
Who is online
Users browsing this forum: No registered users and 16 guests