It is currently 19 Apr 2021, 06:28

Got a text from Rushy about a session with the plugs, the weather was looking reasonable and with there being a few whiting about we felt confident that an odd bass might be around to snaffle our surface lures.
On arrival the sea was really quite still and so i opted for a smaller 110mm sidewinder chug bug look alike, and dave decided on his old faithful chugbug.
The first fish fell to me on the smaller sidewinder, i think these smaller poppers work better when the water is calm, being a little more subtle. Maybe its all in my head but i feel more confident somehow.
A little while passed and another fish fell to the smaller lure, this fish got a little niging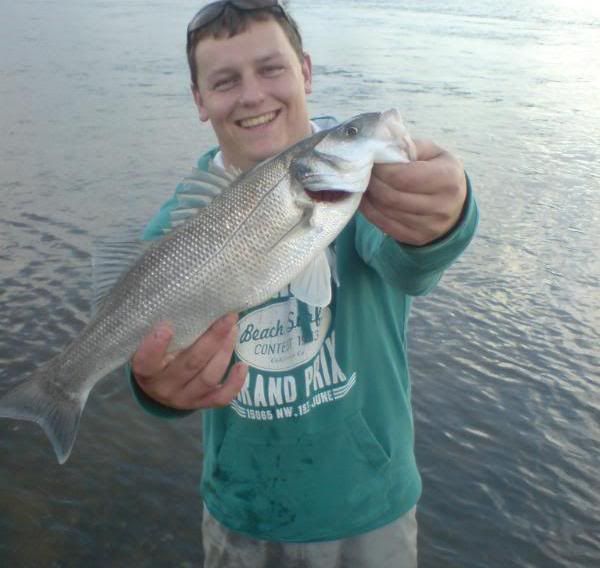 By this point Dave was chomping at the bit and headed over to poach my spot.

This tactic paid off and he caught two schoolies similar size to mine in quick succession to level the tally.
We were chatting away next to each other when a much bigger fish took my small sidewinder, I felt the fish and a split second later it was gone....



Bloody fishing!!!!
Dave was next into a fish, and it was a better size by the look of the bend in his rod.... this turned out to be a fish of around 4lb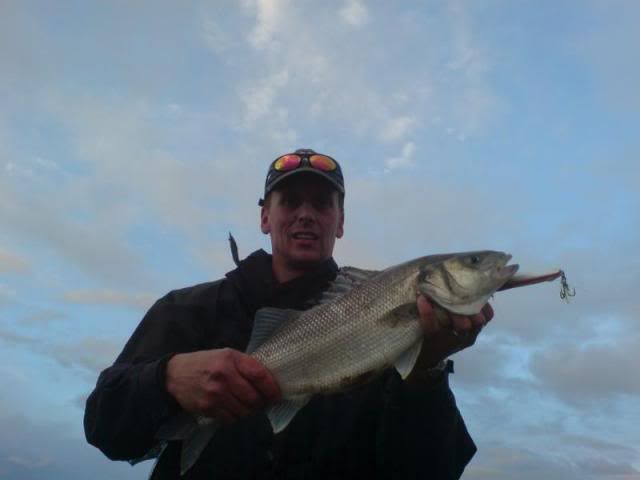 3-2 to Dave, and I had to up my game....
Persistence paid off and I had a slightly better fish maybe 2.5lb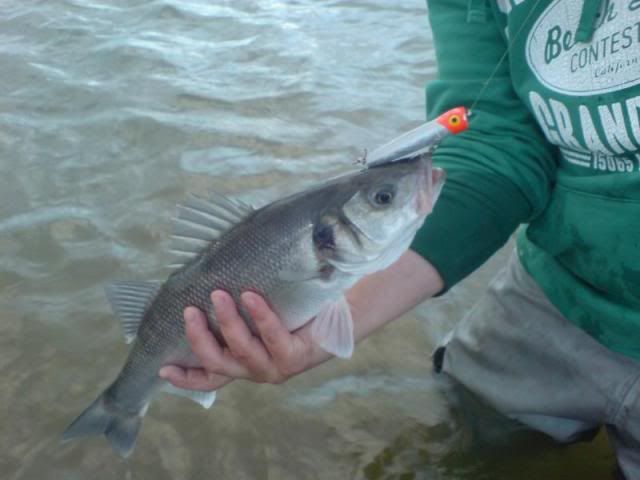 3 - 3....
Again too much chatting led to another pricked and lost fish to me which would have put me in the lead



We both were getting fish chase and follow our lures, swirls behind the plug... which was frustrating at times, but also quite exciting.
The wind picked up and a slight chop formed. Here Dave's larger chug bug came into its own, being that bit bigger and much noisier standing out amongst the disturbance. My worst fears were realised and he managed to hook and land another schoolie to add to his score. I really should have switched to a larger plug but by now I was getting chilly, and leaking waders (a thorn in every pluggers side) meant a retreat just after dusk.
Final scores, Dave 4, me 3. Plus we both had lots of missed takes, and I pricked two other fish.
All in all a great session considering the water was so coloured. I guess when these fish are hungry, other senses come into play and instincts take over. Looking forward to the next session!!! Which might be over the weekend if the Whitby wrecking trip gets cancelled.
Tightlines
---
---
Class fishing!! I keep meaning to give this approach a try. Maybe next time I head south.
---
Fantastic fishing lads,


wish I could of made it now

, don't you just love getting them on a top water plug

, well done for putting them back



---
Really enjoy plugging reports that have been successful - well done

good pics also

---
Nice session gents (Dave told me it was a 5lber



)
---
Brez wrote:Nice session gents (Dave told me it was a 5lber

)
Yeah.....that was the text/pic I sent to Tez to wind him up even further! It was probably 4lb and a beautifully conditioned fish, fat as you like

I was pleased we had a decent session as it's been a while, and the water was particularly coloured as well which proves you don't need gin clear water to catch a bass on a lure

I was stood in a foot or so of water and couldn't see my feet, which is as bad as it gets really
All fish were returned to fight another day....or swim into a gill net




Make a difference - take home one piece of someone's angling litter next time you are out fishing
---
Excellent plugging session well in chaps .
ps
youve left the GPs co-ordinates on the photos .

---
Well done both



...you know the GPS coordinates of my pm when you both going plugging next

---
What a session

Well done, wish I could catch on a plug

---
---
Return to North West Sea Fishing Reports
Who is online
Users browsing this forum: No registered users and 8 guests