It is currently 09 Apr 2020, 11:40

Sixty of the country's top anglers descended on Morecambe west end beach to fish the NWSA match sponsored by
Gerrys of Morecambe
......well, when I say sixty it was actually only 58 because me and StevieG fished it as well!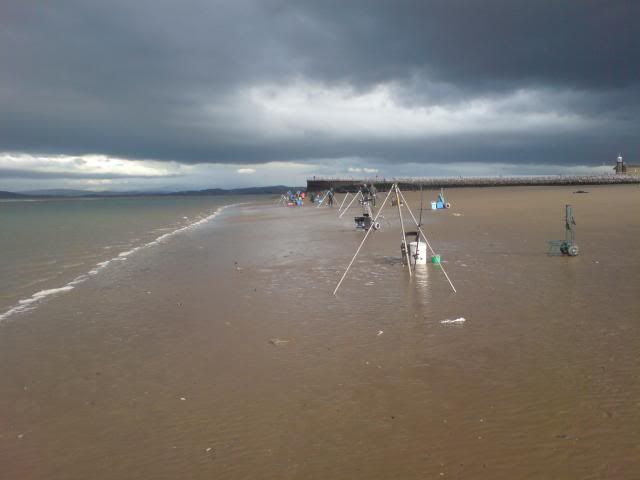 Simon Dawber poised and ready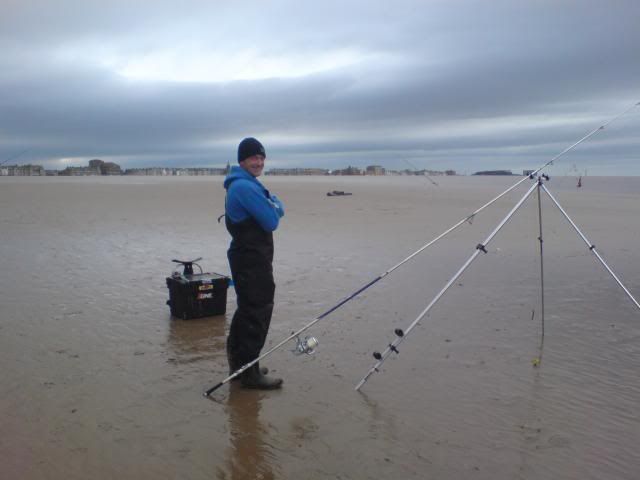 I'd drawn peg 45 which was a little in no mans land, a bit too near the jetty and in the area that didn't fish well in the King of the Plaice, not to worry thought I, fish swim!

I was fishing next to England International George Smith, who was using the rod he'd designed for Conoflex.......not much pressure there then!


he was first in with a local mudshark.....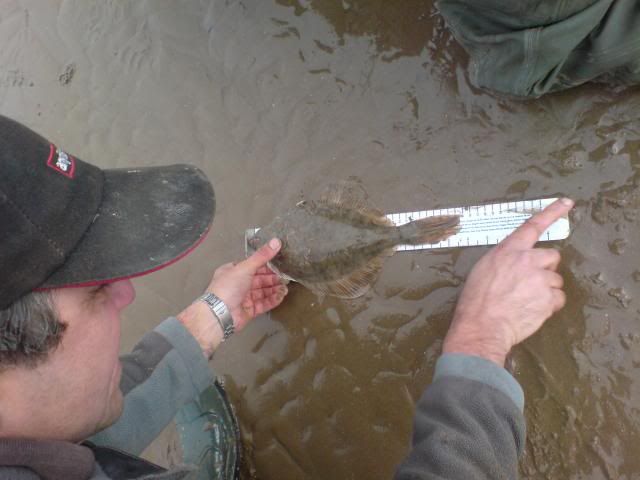 It was proving hard going in my zone with only two fish in the early part of the flood...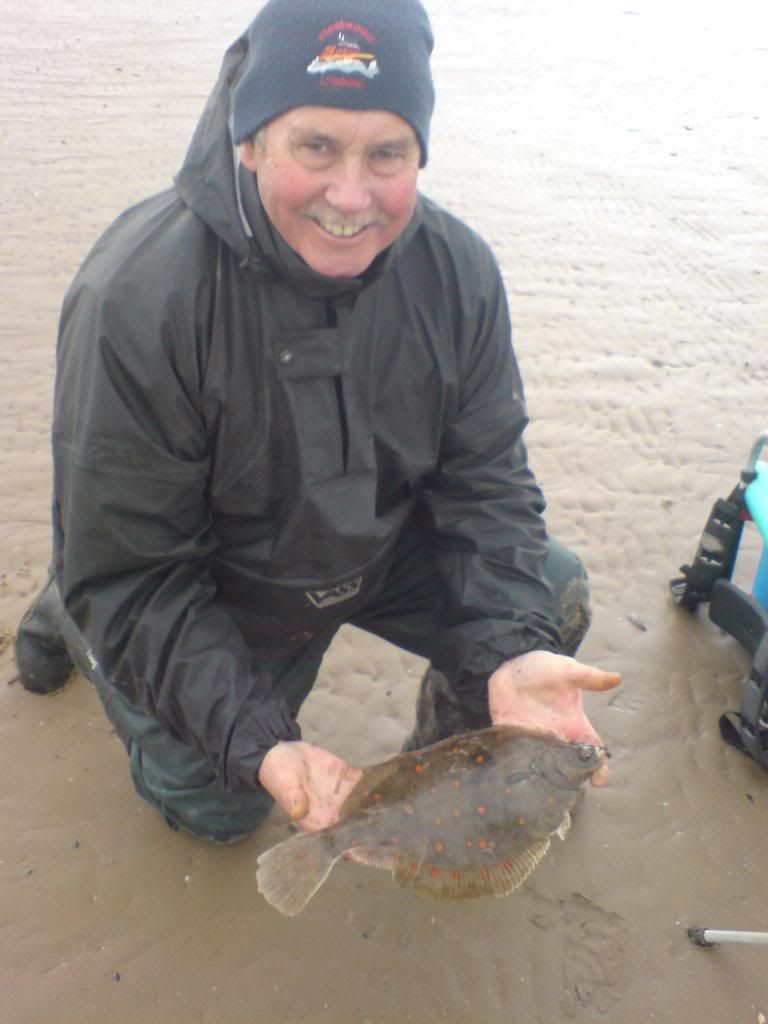 I went on a plaice walk and had a wander over to see Yilmaz Samiloglu's peg as he was pulling a few in, and to have a butchers at his fancy fishing pod on wheels which he'd made...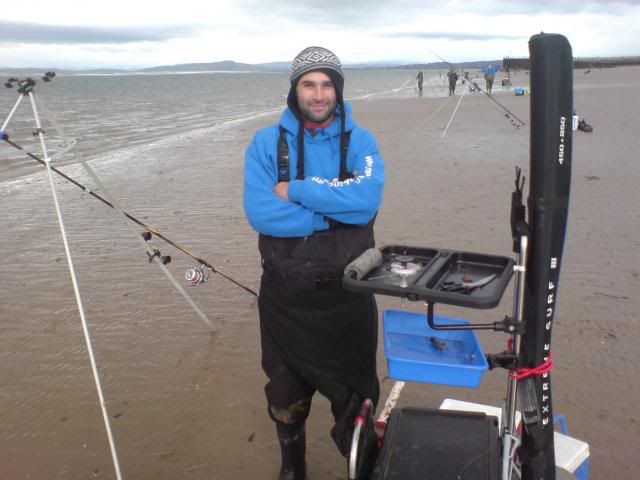 He pulled in a double header of Plaice, one 36cm and an absolute corker of 46cm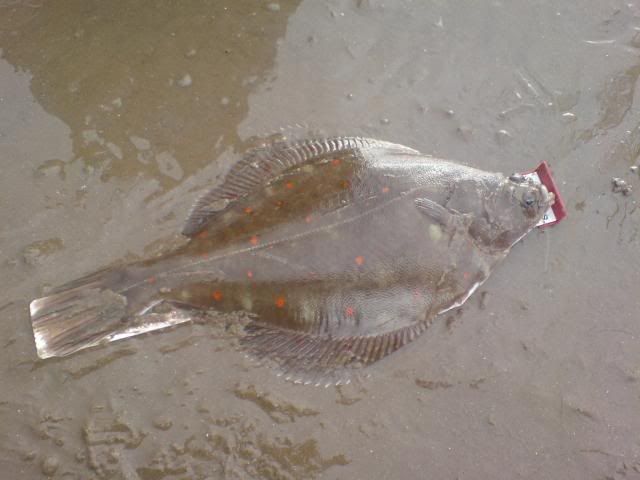 What a stonking fish.......unfortunately for Yilmaz, it DIDN'T count

it had taken the hook of the guy fishing next door to him as well, so as the match rules stated, it was a void fish

that made Hutch laugh

cruel lot these match anglers!

I think Yilmaz still ended up with 8 fish and the biggest flat at 41cm so well done mate
I was fishing harder than I've fished in years, double patting, different rigs at different stages of the flood, casting varying distances and using various baits including fresh black, snotty black, blow lug, tipping off with mackerel for a mudshark, tipping off with squid....... it all came to nothing,zilch!

it's weird how 20yds down the beach a guy is bagging up (or seemingly!)

at least I wasn't alone with quite a few not bothering the score cards!

I'm not 100% certain on the final placings but the overall winner was Ashley Sampson with 10 fish (Ithink)

Pic of the winning top four......
It was an enjoyable day, if a little frustrating

the match was well organised and the banter was good, with top match anglers happy to chat and impart some of their hard won knowledge over to us lesser mortals

I didn't blank completely as I won something in the raffle afterwards!

Make a difference - take home one piece of someone's angling litter next time you are out fishing
---
---
great report dave it looks like you all add a great match , well done to all


2020 SPECIES HUNT
Whiting. Thornback ray. Cod. Dab.
---
Unlucky mate! Great report

Do or do not, there is no try..... YODA
---
Brilliant report on the day and pic's that's a stonking Plaice.....What a bitch it Didn't count ....
Nothing like sharing........Pity you got a bad peg but that's the way the cookie crumbles i suppose......
At least you showed um how to ''DONK''





Thnx for the read Dave....John.


---

Rushy well tried that is one lump of a plaice in the pic

Born to fish Forced to work
---
Nce report rushy unlucky on the blank nice plaice for yilmaz too
---
Great account of your day Dave, Pity the fish were playing hardball with you


That's a quality plaice of yilmaz's and a great win by Ash,




---
great report and pictures rushy same the fish werent biting
---
Paul O wrote:great report and pictures rushy same the fish werent biting
They were biting Paul, just not for me!



and a lot of others to be fair

Strangely enough, when I got home I dropped a few worms into my fishtank, usually they get demolished straight away by the whiting....they wouldn't touch them, then the blennies.....they wouldn't touch them, the prawns usually hoover up any leftovers....they wouldn't touch them either?

Weird....I think those worms were nobbled!




Make a difference - take home one piece of someone's angling litter next time you are out fishing
---
Excellent read young David, I think you been defo nobbled mate... After your recent success with the plaice, they obviously saw you as a threat and somehow fixed your bait..!! Hard luck pal; coming to you live from a B&B in Whitby, where just now if you were to cast in your bait would land 50 yards INLAND..!!! Rough or what..!!!!!
There's more to fishing than catching fish...
---
---
Return to North West Sea Fishing Reports
Who is online
Users browsing this forum: Ahref-linkbot and 2 guests