It is currently 18 Nov 2019, 23:27

.....they'd be like the Angling Addicts xmas charity meet at Rossall today

I WAS EATING FROM START TO FINISH!!

I was only out of the van for two minutes when a fantastic Mrs Blanko homemade pie of HUGE proportions was thrust in my hand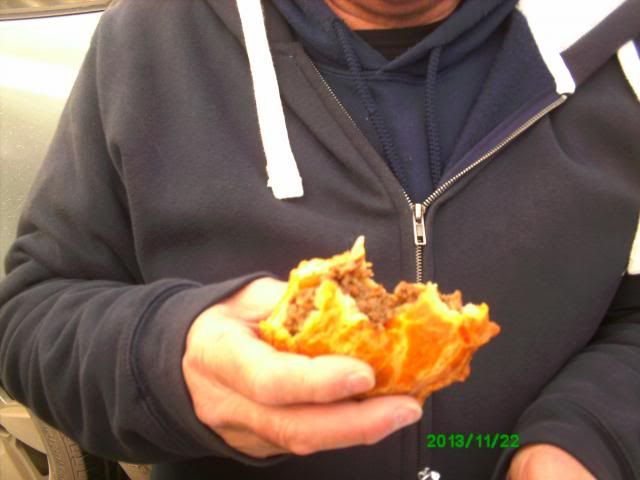 As more people arrived, so did the pies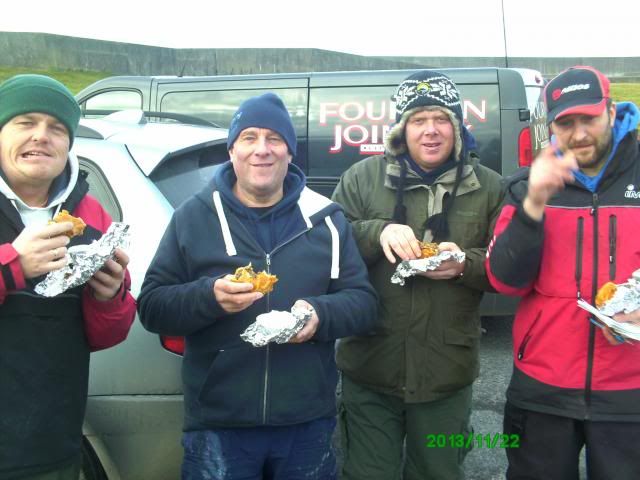 Mid match Mrs Blanko & Jess wandered down with sausage barms and a choice of red or brown sauce, it was brilliant

Then at the end of the match more sausage buns, a red hot curry followed by Chocolate roulade, raspberry & cream roulade and Lemon drizzle cake washed down with lashings of hot tea





Best match EVER!!



Oh yeah, there was some fishing going on too apparently

There was a decent turnout of around 30 members, all champing at the bit and feeling in need of a mid morning snooze after all that grub!


The two veterans padsta & sharpey getting ready for the off....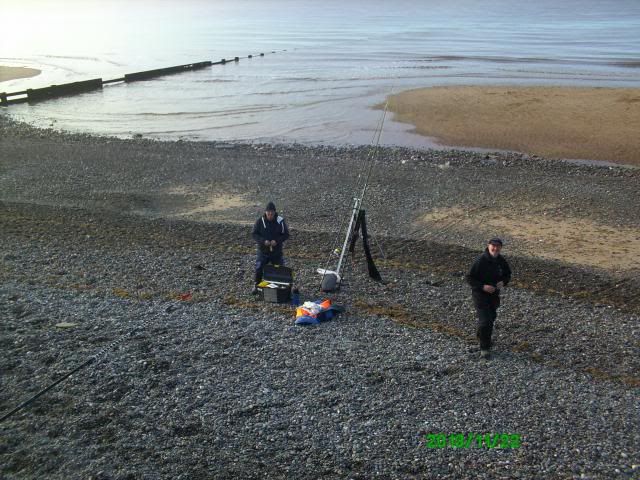 The weather was bright cold and calm, not good for a fishing match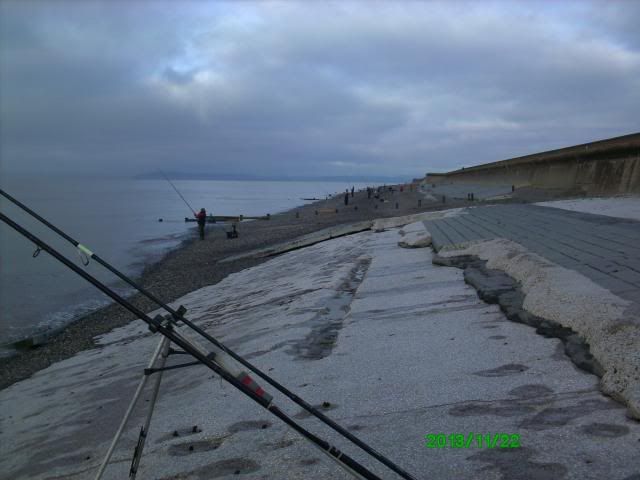 Fishing was slow to say the least, with the baits coming back in better condition than they went out. At least it gave chance for people to have a wander and chew the fat...
Peter (pros) had to put up with me fishing next to him!

John250 the next bay down.....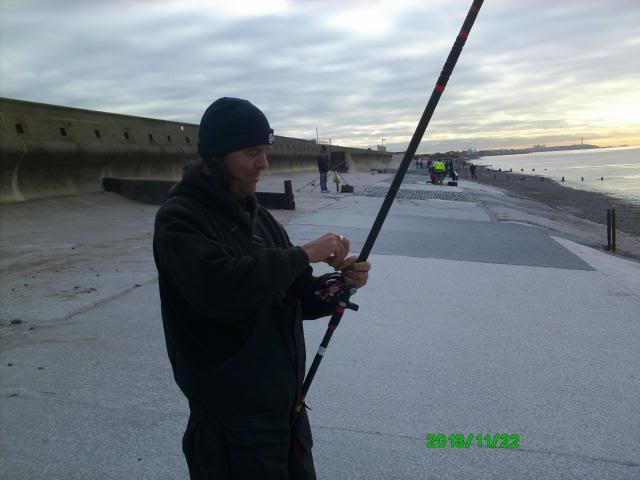 One of the trailer trash who came down

topey, good to see you again bud
Two more TT, little ern and Peter (Grumpy) great to see you again guys and massive thanks for the top raffle prize Pete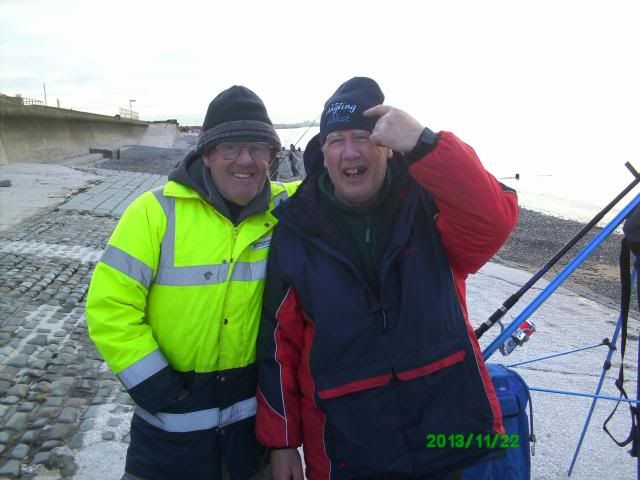 Grandad Russ made the early running with a 31cm flounder...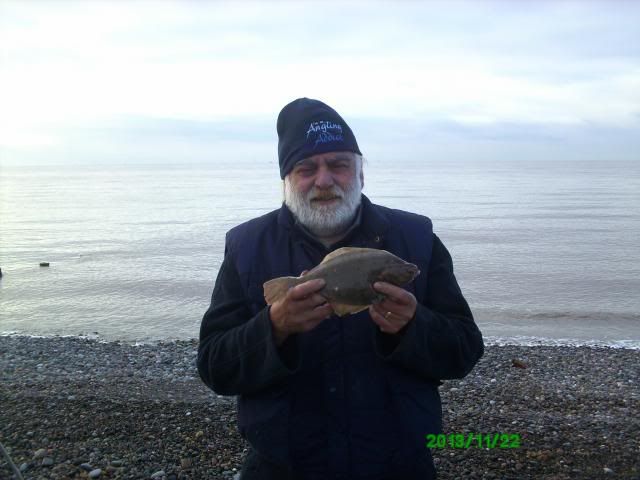 Even Paul came down for a gander, he was soon pressganged into selling the raffle tickets!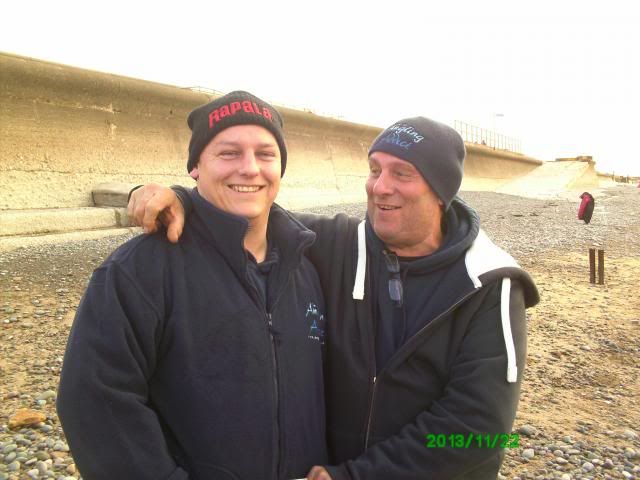 Sharpey just coming round from his nap....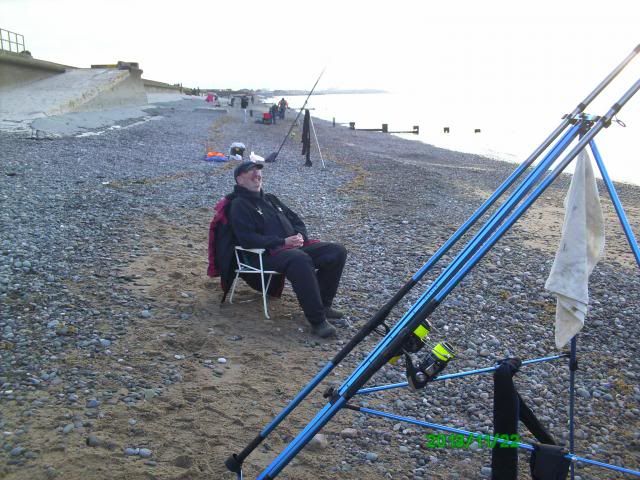 Stan (Jagman) also had the misfortune of fishing next to me, I hope it didn't put him off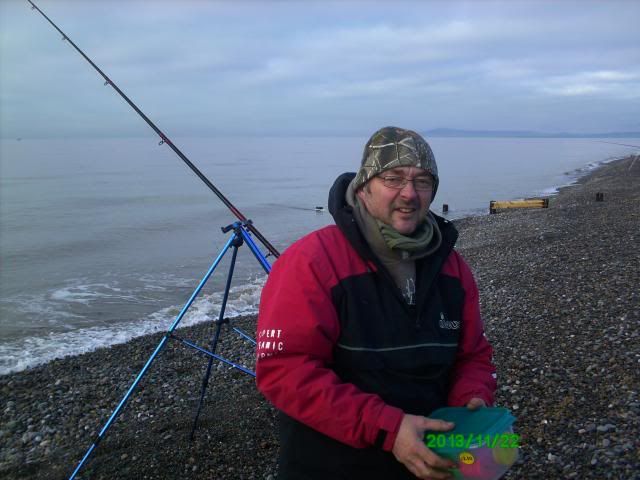 Mark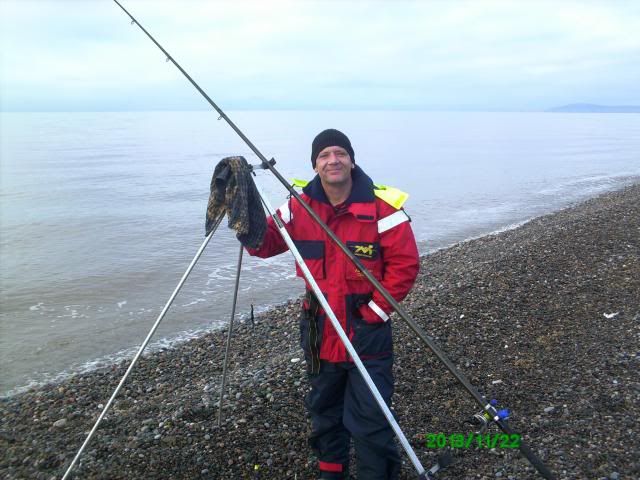 Harry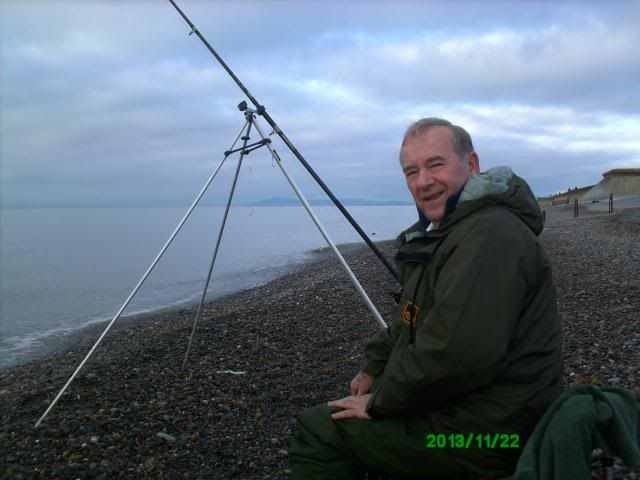 This was turning out to be a hell of a Cod wander

Penn point Steve, Martin50 & Justin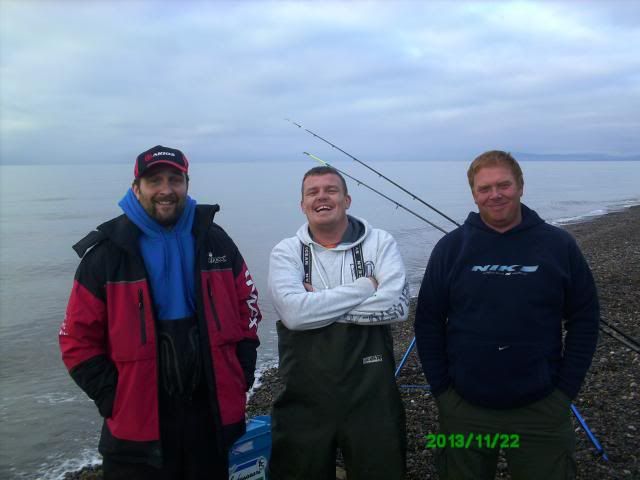 Les and StevieT..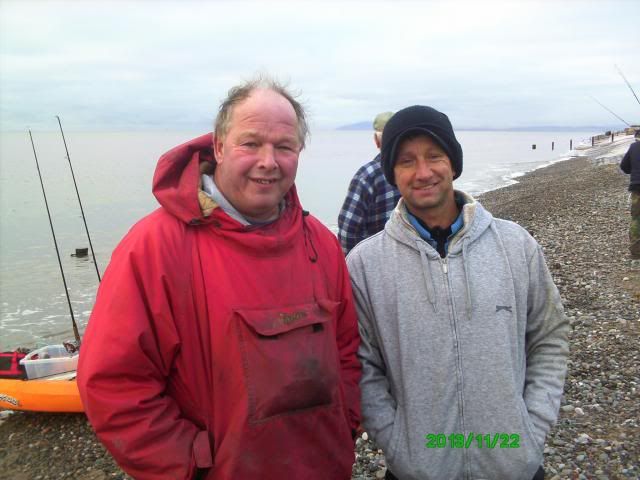 There was a bit of excitement when Mac (top local matchman) appeared with a fish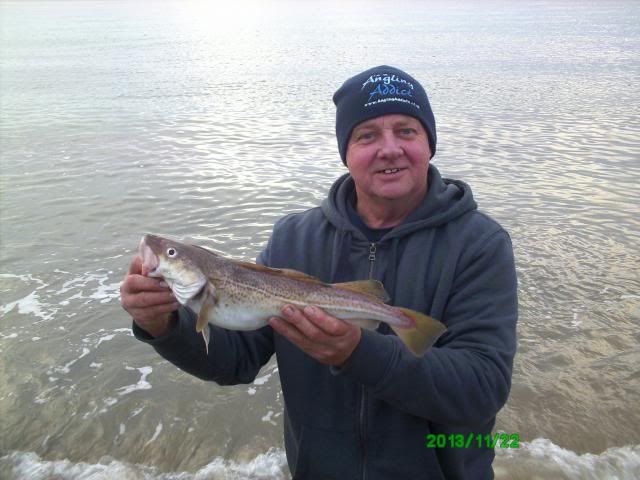 Unfortunately he had to put it back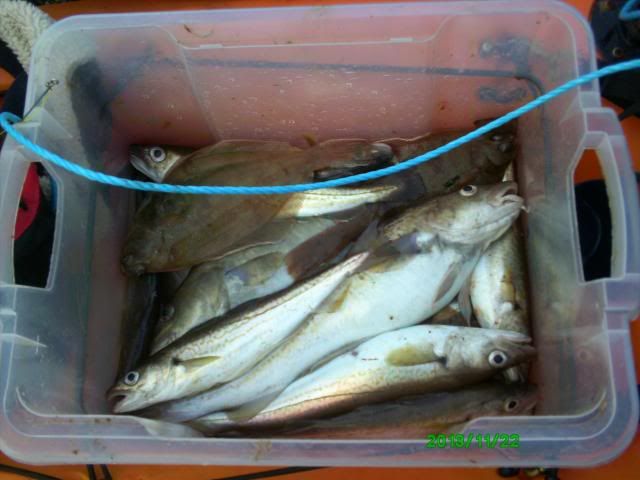 It belonged to a kayaker who had come ashore amongst us all

he was fishing maybe 500yd past the low water mark and had a half decent day
Dave Atky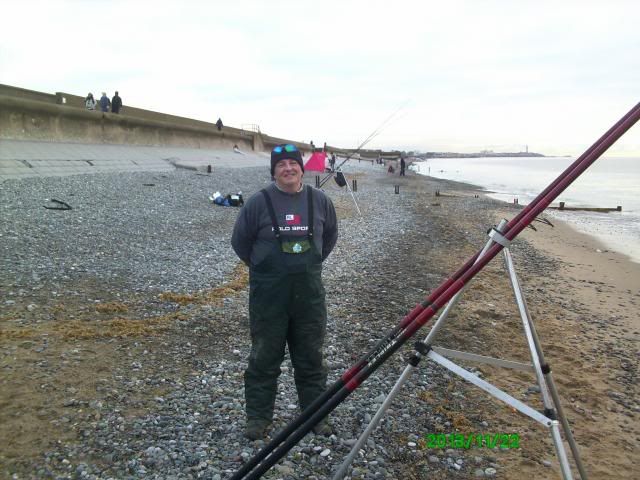 Without a shadow of a doubt, the stars of the day were the Blanko clan, cakes, sausage butties, Pies (did I mention the pies?), and running up and down the beach with hot tea for everyone, selling raffle tickets, heating up the food.......we can't thank you enough

you were brilliant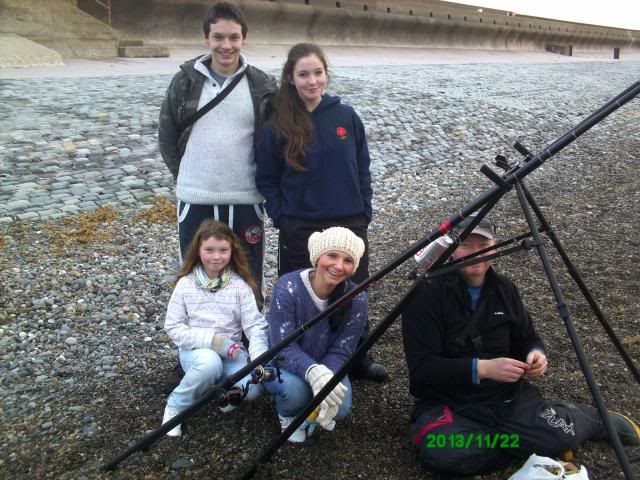 All co-ordinated from base camp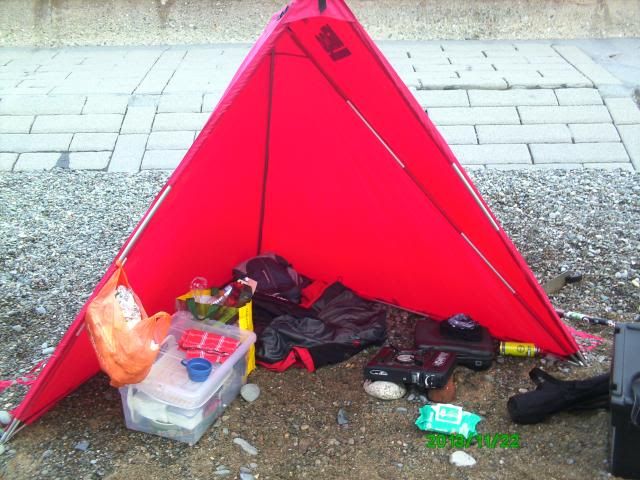 As the match came to an end, TerryG turned up with Phil to swell the raffle ticket coffers a bit more..
Fishing was very poor, with only three fish troubling the scorecards

1st

Grandad Russ
with a 31cm Flounder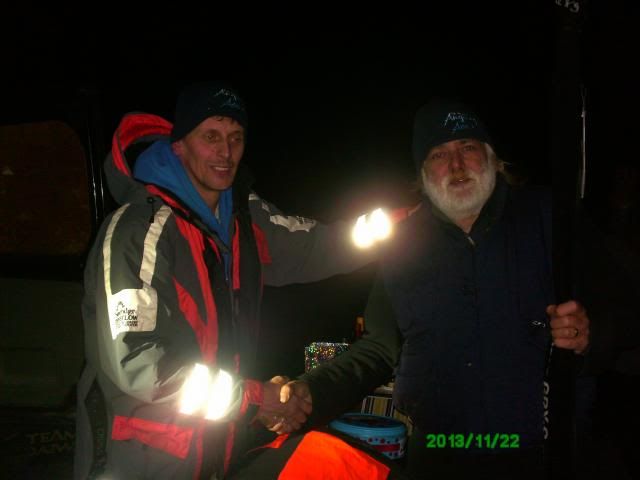 Massive well done Russ, you were a popular winner with the biggest cheers of the day

I hope your Greys GRX rod catches you plenty of fish mate

2nd

Pete Rostron (pros)
with a 25cm Flounder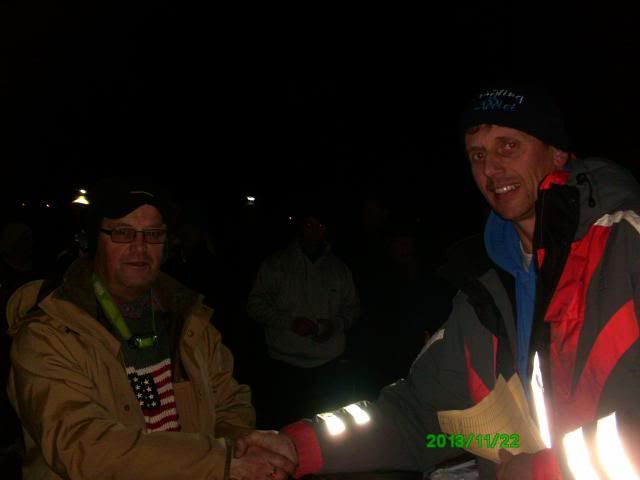 Great to meet you Pete, well done I hope you enjoy your Vass evo edition nova chestwaders

3rd

Dave Atkinson
with an 18cm Whiting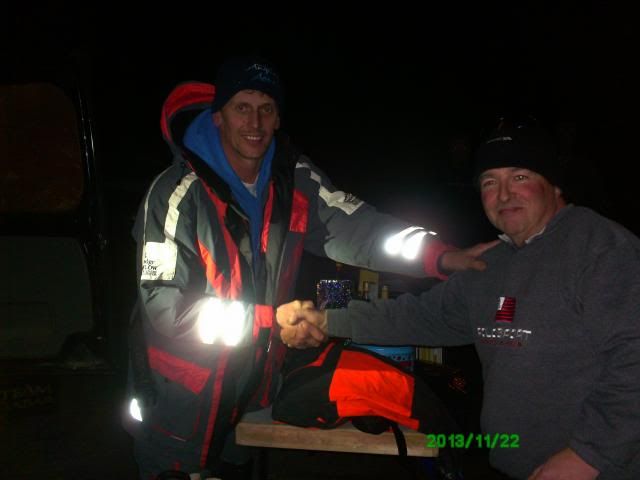 Good to meet you too, you must have been taking tips off top matchman Mac

I hope your Mustad neoprene beach boots keep your feet nice and toastie this winter

Massive thanks to Mrs Blanko who was fussing after us all day with her fantastic home cooking..
How you are not 40st Ian beats me



huge thanks to Jess as well for being chief helper, you're a star too

It was a good raffle too with plenty of great prizes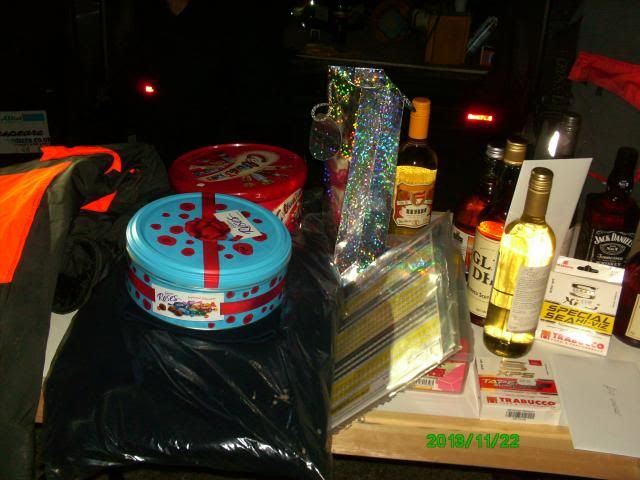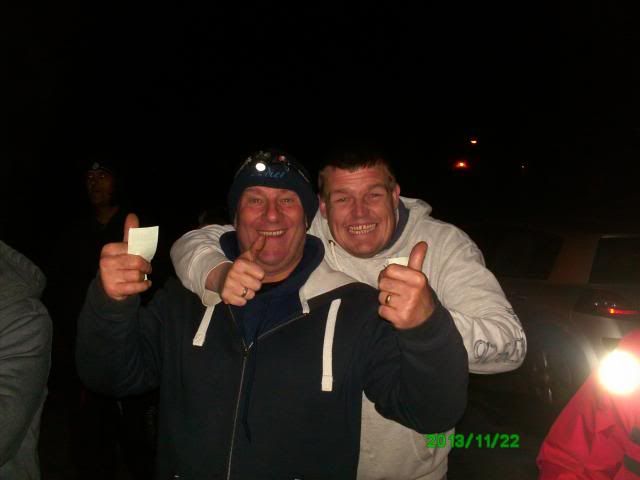 It was a bit of a stressful few days leading up to the meet but everyone rallied round and played their part, especially StevieG, I can't thank you enough

it's a shame the fishing was pants, but the sharp overnight frost didn't help, the general consensus was it kept the fish out at the low water mark, which was proved somewhat when the kayaker came in.
Notwithstanding that, that shouldn't take away from a magnificent performance by Russ who sneaked under the radar and won the day, well done mate

I think maybe though we should have a closer look at
THIS
admission by Russ earlier....we can't say we weren't warned!



Huge thanks to Daz@
Gerrys
for supplying the prizes at such short notice, we owe you big time mate

and to Sam for doing the match cards

Big thanks to StevieG (penn point winner) for doing a load of organising and running around, the match wouldn't have happened without him, he put a lot of effort into this, thank you pal


I'd also like to thank Alivia, MikeT's newborn baby girl who came prematurely which stopped Mike from running the match!




congratulations Mike, daughters are a blessing and when she's old enough she WILL be selling raffle tickets at the first available opportunity!

seriously though, thanks for getting the idea off the ground Mike

Finally, massive thanks to everyone who attended and helped to raise the Grand Total of ....
£408.20
for
Donnas Dreamhouse







Sorry if I've missed anyone off, my heads mashed after a fantastic but long day

Make a difference - take home one piece of someone's angling litter next time you are out fishing
---
---



brilliant day by the looks of it shame the fish didn't play! Congratulations to you all! Delighted with the winner! And lots made for a good cause

Do or do not, there is no try..... YODA
---
it looks like every one had a great day out, well done to grandad russ on coming first . great report and photos




2019 SPECIES HUNT
5 beard Rockling, Whiting, Cod, Flounder, Dab, Plaice, Common goby. Pouting. Tope. Dover sole. Thornback ray. Bass. Poor cod. Weaver.
---
Well Dave Steve and Paul a truly great day for a good cause and a big thank you to Blankos mrs Margaret you were a star your cooking was awesome and your children brilliant thanks again you made the day. We all had a little banter thrown around I wonder why they pick on me so much? Still I don't mind even though I'm a noisy bugger. This is the best meet I've been on even though I blanked. Grandad Russ said you don't mind if I ask a few questions during the match Sharpy and I said feel free, after he pulled his 31cm flounder in we were asking the questions

well done Russ.
By the way Dave great to see pics of members on report
Sent from my iPhone using
Tapatalk
15lb Salmon Bolton Market
A box of kippers <Lsle of Man>
Acouple of Mackeral Asda
Cod at our local chippy
---
That is outstanding guys, what a report and Santa won it too well done Russ very well deserved,
that's an amazing amount raised guys thank you very much, and Rushy this is the girl we have to thank,
It wouldn't have ran so well if I did it either, thanks Rushy and everyone else, did Blanko save me a pie then eh eh eh,
Russ now has the bragging rights and has to defend his title at the next match,
On a serious note for 30 lads & lasses to turn out on a Saturday afternoon to have fun and part with cash is absolute amazing you should be proud of yourselves and thank you very much

what a forum Angling Addicts is and the lads and lasses that are on it

I'm gutted I couldn't make it but needs must I'm afraid, I will organise another match that I can attend maybe a summer match or earlier if it was by popular demand,
I'm so grateful for the turn out, donations, raffle prizes and your time and cash,
Len at Donnas Dreamhouse will be made up

cheers again fellas, grab yourselfs a beer guys and cheers too you guys,
2014, species, codling, whiting, dab, blenny, flounder, bass 41cm, thornback ray on lrf tackle in morecambe bay off the shore. smoothound in heysham. plaice 2lb 1oz nasty weaver.
---
Great pics and report mate , you sure i did`nt catch that cod ??
Congratulations Mike .
---
Great day had by all, 1st place to grandad Russ, couldn't think of a more worthy winner.
Blanko ,you have a great family & without the effort you all put in today, well it wouldn't of been the same without you, thank you.
Big thanks to Gerrys, very generous for a worthy cause

---
really enjoyed the match today,the crack was bob on,


met a great bunch of guys,the match was well run


and the food laid on was superb,a big welldone to all,looking forwards to the next meet, les.




---
well done gents and ladies for a great turn out sorry couldn't make it looks like a good turn out and plenty of money made as per usual


-------------------------------------------------------------------------------
species 2015 5 bearded rockling, whitting, flounder,eel,codling, bass,plaice,sole,dab,tope pup,
---
Great day out lads great report and pics well done
---
---
Return to North West Sea Fishing Reports
Who is online
Users browsing this forum: Ahref-linkbot, mike prince and 18 guests