It is currently 19 Jul 2019, 17:22

Porth Dinllean & Trefor Pier Sat 14th July 2018
Well I wasn't intending to fish today, however I'd been on nights Weds & Thurs so my body clock was still resetting. Anyways I woke up at 0440hrs Saturday morning packed the car and headed out from Sheffield, to where I didn't have a clue. I arrived at Nefyn golf club at around 0830hrs. I found out that there was a field I could park all day in for £5, unfortunately I only had £3 in change so I had to find a cash stop. Having paid my dues I headed off to Porth Dinllean, which was a pleasant 20 minute walk through the golf course.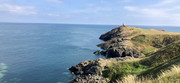 I had never been here before so wasn't aware of the little scramble to get across to the ledges I wanted to fish off. I couldn't get on the place I fancied due to a line of pots so I ended up fishing to the left of the ledge I was on.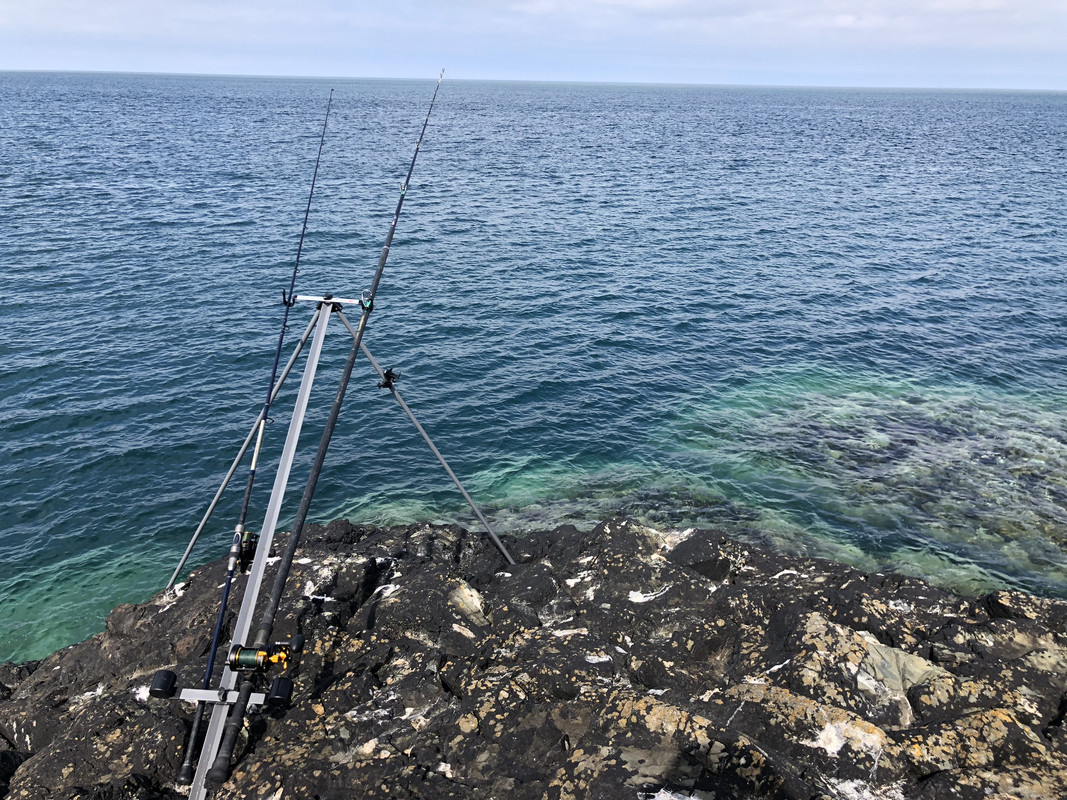 I was into doggies from the off I think I had 3-4 on the bank before I even managed to set the scratcher rod up.
It was a cracking day but the SSW was just to strong for the float so I opted for bottom fishing on the scratcher. I even tried fluff chucking for some fresh bait as I only had frozen stuff.
I must admit I was disappointed with fluff chucking and scratching as I couldn't buy a bite let alone a fish on either. I saw a few boats n they didn't seem to be catching any also.
I was kept busy with the dog fish & I had 3-4 reel screaming runs do which I eventually landed a nice 5-6lb Smoothie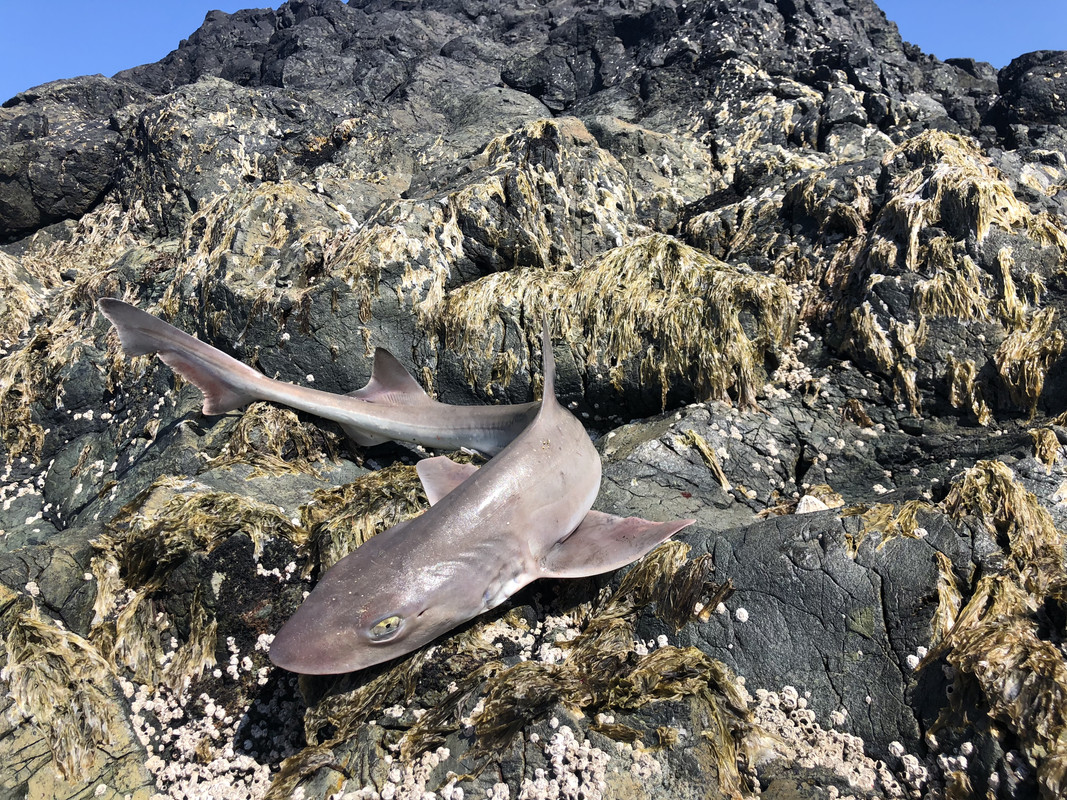 I can honestly say it was a fantastic day for cheering me up **(I had been tearful all day but that's my life at the moment)**
1700hrs soon came around & I had decided on a move to Pwllheli to fish the evening high tide. On arriving at the beach tho the SSW wind was somewhat stronger down here so Plan T was put in motion. I headed for Trefor Pier. Having not fished here now the pier was gone I thought I'd go take a look. I arrived around 2000hrs to 6 anglers set up on where the pier was. I set up between the old concrete wall and where the pier used to be. As with most of the Welsh countryside / seaside the scenery is stunning.
The old Granite mine (I think)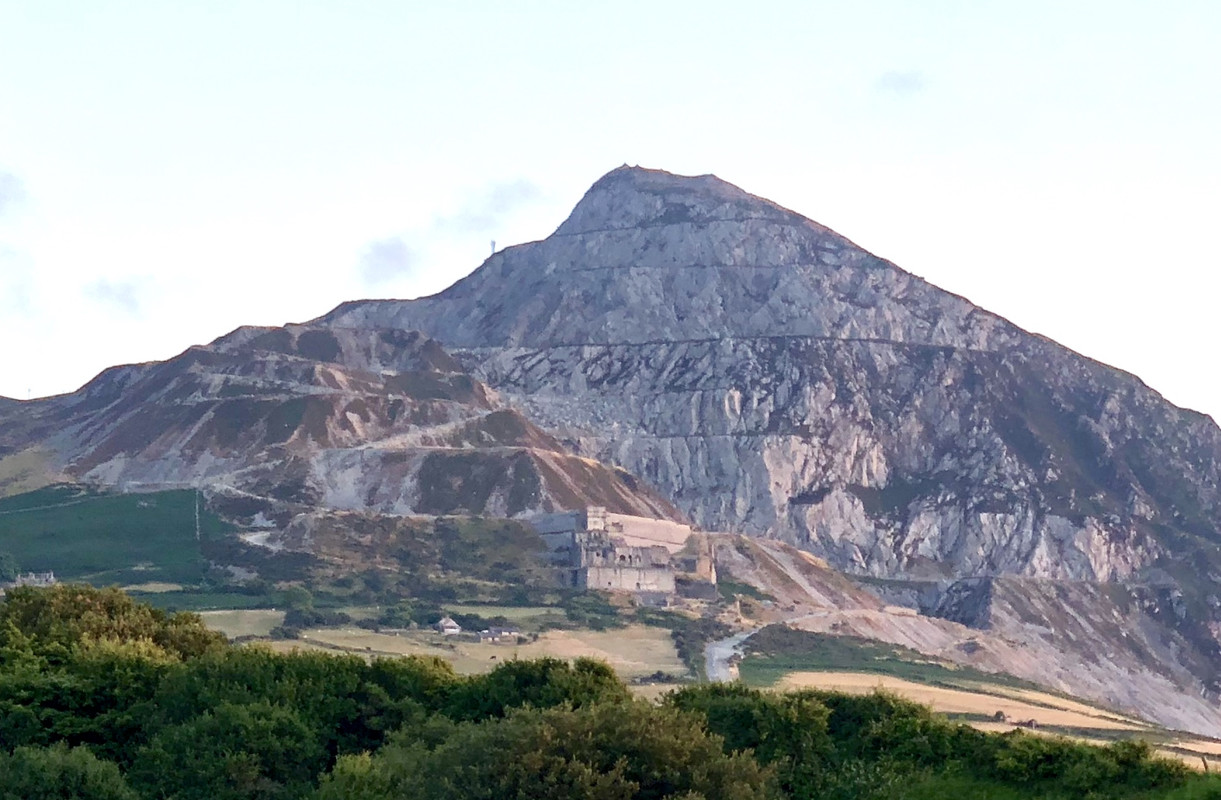 Again here I was into dogs straight away, Again I tried the scratcher (on float this time) but again I had no luck.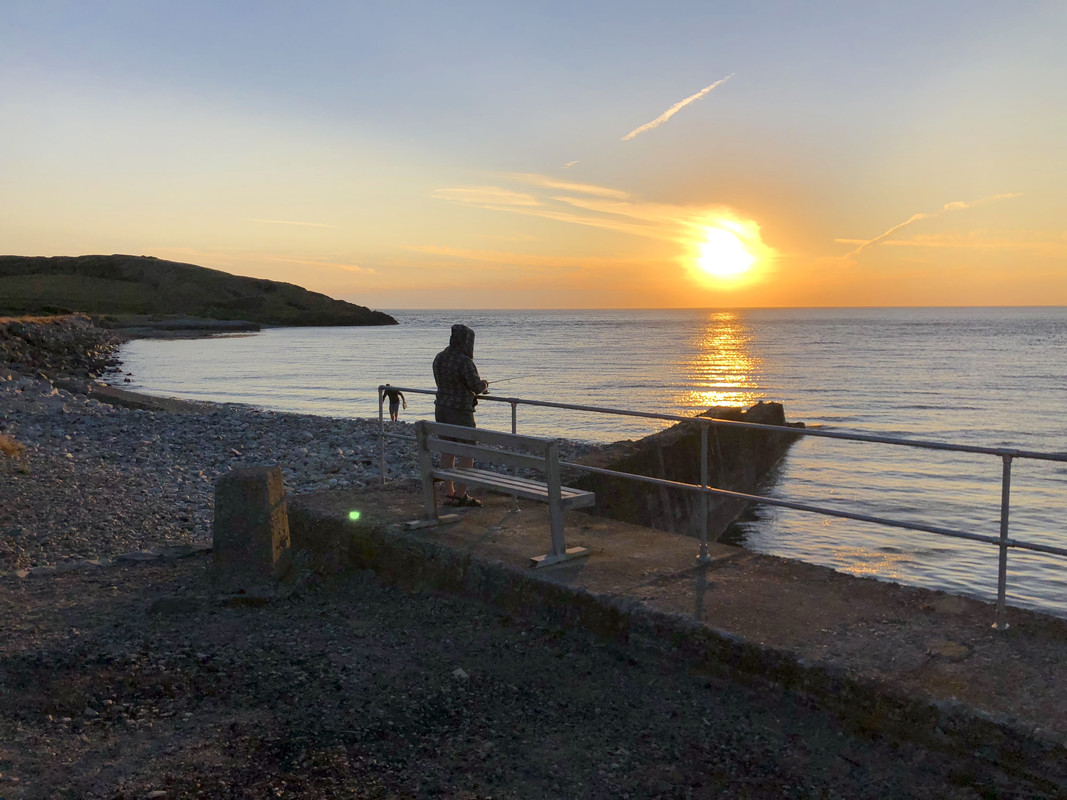 I fished on until 0100hrs landing dogs an a couple of these guys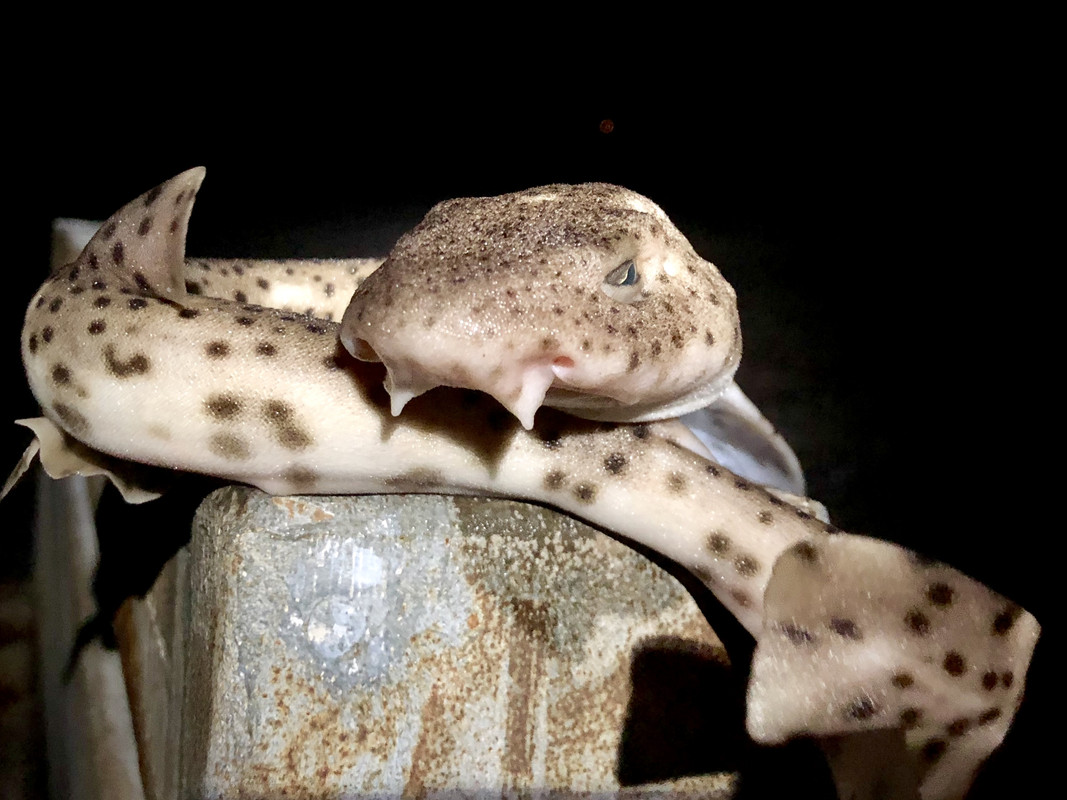 Overall a really enjoyable day.
** for those that don't know me, my son Oliver committed suicide in March of this year and life has been a tad difficult at times since then. Some days it's a struggle to get out of bed and go to work. But we have too or life leave us behind. Fishing used to be my escape but even that's a struggle, I have to force myself because in a way it's my therapy**
Lees' Caravan site Weds 18th July 2018
Well today I actually planned on going fishing. My target would be a cuckoo wrasse with a slim chance of gurnards. As always (if time allows I call at ABC on Gallows point) to buy bait and a few bits. Now my destinations were TyCroes (don't like it too many fish it), Ravens point, Sewer pipe, Port dafarch, (can't fish until my fishing buddy Dave comes), The Ranges near South stack. The young kid in ABC asked where I was going n he said why not try Lees' ? Anyway I decided on Ravens if no one was on there. A quick fly past with the drone ( save a long walk) told me that people were on Ravens so I thought bugger it, I'll try Lees'
The mark was tremendously easy to find and I expected rubbish, however apart from a Vimto bottle it was spotless. I arrived around 1150hrs (3hrs before high water)I set up to the right of the rock on a lovely high ledge with a straight drop & an easy climb to the sea if I hooked a monster. I seem to remember a few years ago a local mentioning where I was & the fact there was a wreck near by.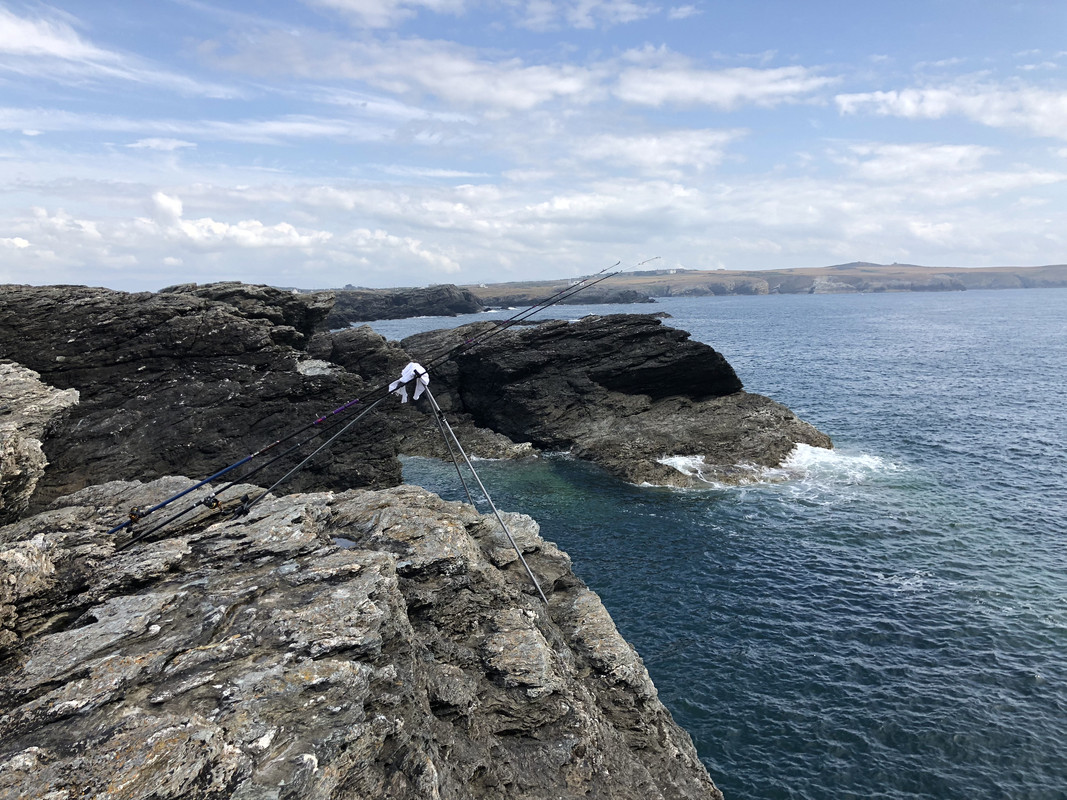 Anyway I was soon set up and firing my 1st baits out into the water. The tide in the 1st hour was steaming through so I upped my leads from 4 to 5oz and was holding out easy. I was soon into the dogs and ballan wrasse.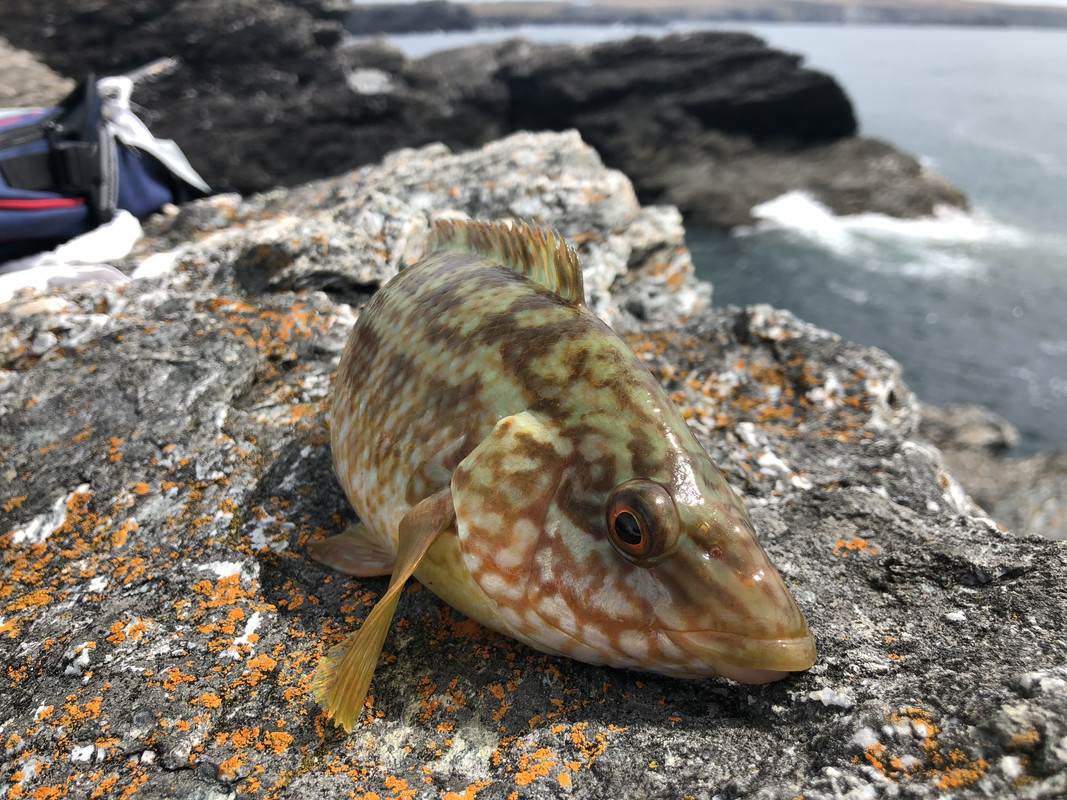 As the tide eased around 1300hrs I had a lovely reel screamer which resulted in my 1st ever welsh conger, not a monster but around the 5lb mark, which was a PB for me. The bugger only bit me lol.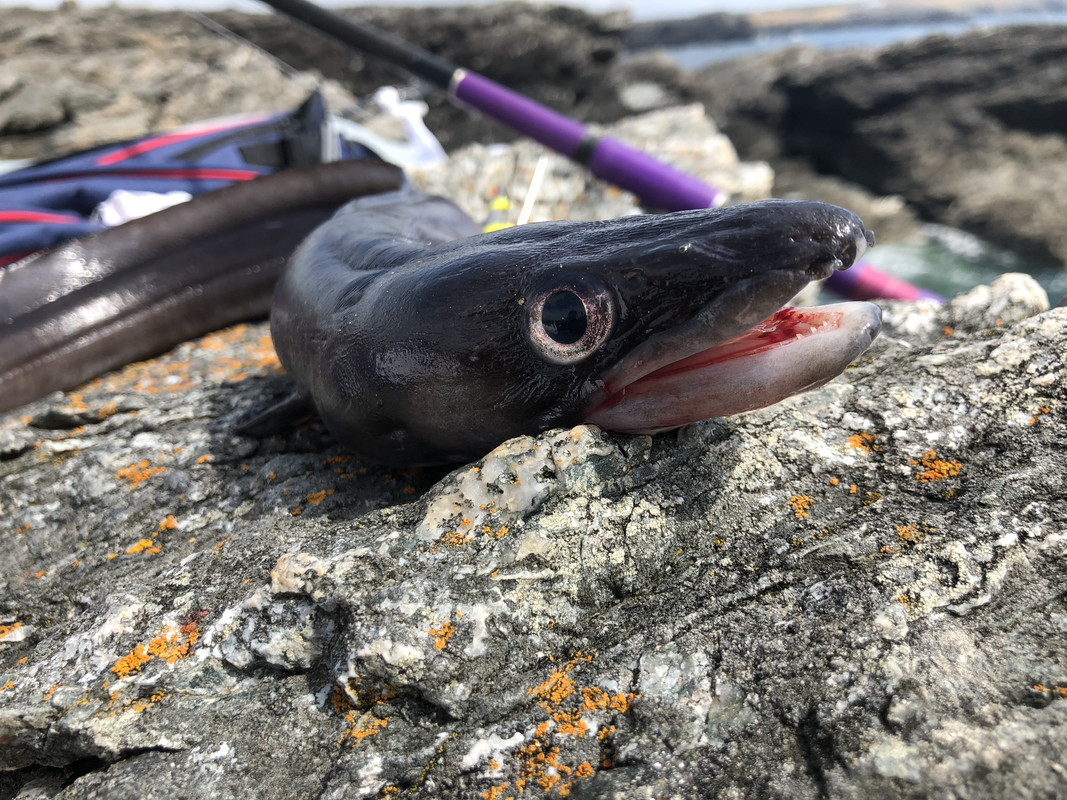 The wrasse & dogs continued throughout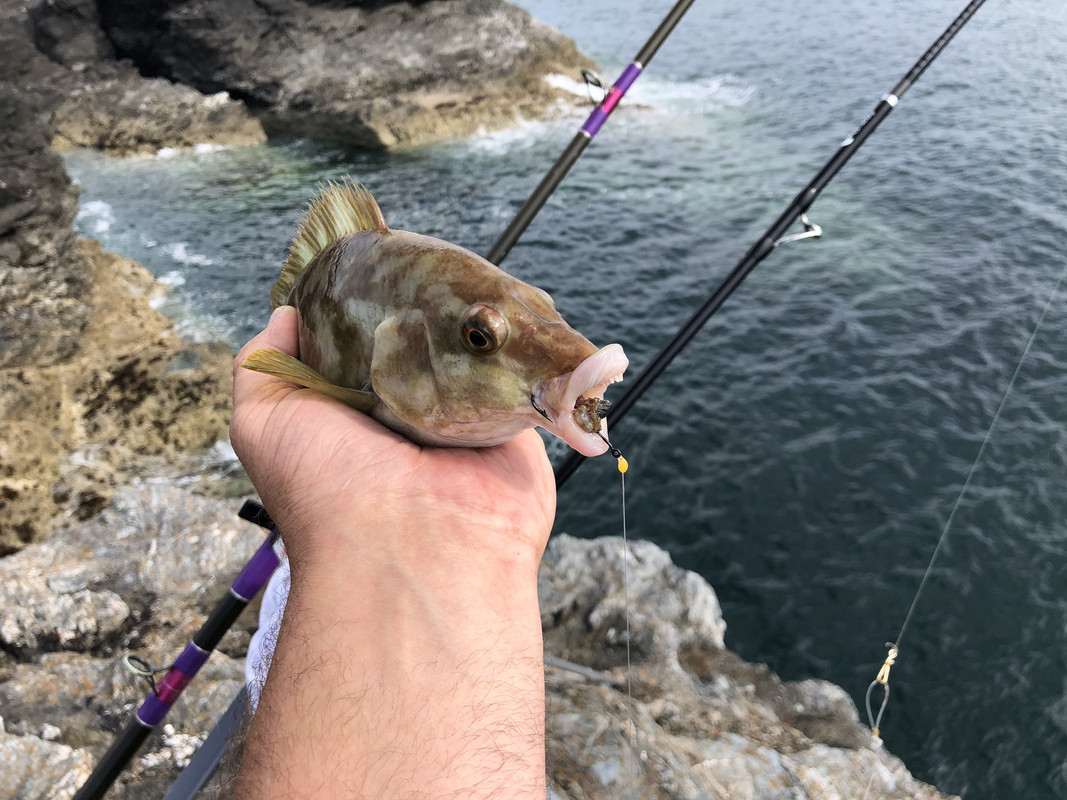 2 young lads (whom I'd seen in ABC) turned up & fished to my right on the lower ledges.
The wrasse continued for me & I eventually found the wrasse I was looking for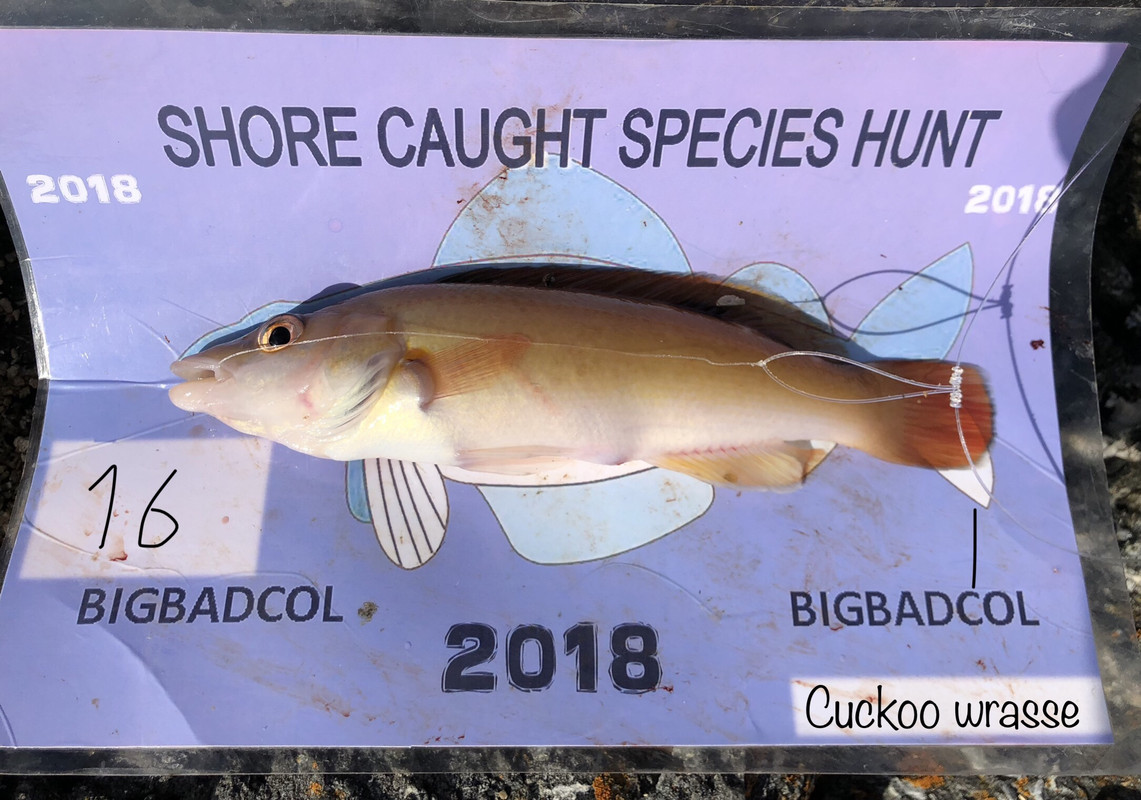 Not a great pic but I'm keen to get these beauties back in the water cos they commonly don't go back if out for a while.
So another cracking day all in all. I packed up around 1900hrs. The lads that turned up were joined by a 3rd they packed up about 1800hrs. Before I left I had a quick sweep around for the vimto bottle only to find so much rubbish where the lads were fishing, discarded line(almost a full spool), cider cans food & bait wrappers. It took me all on 2 mins to clean it up. Such a beautiful place spoilt by a few thoughtless people. If it's not the responsibility of those that bring litter, then who do they think is responsible clearing it up??
A Point about the mark about 50 yards out to my left the must be a reef as I lost a few fish pulling in over it.
Set up Penn Fathom 15's with 80lb straight through braid, (I never lost any bottom gear but straightened a couple of hooks)
Rigs, pulley droppers, 3 hook flappers in various combinations 3 up, 2 up, 1 down etc. My trusty fixed pats. Bait rag worm. frozen squid, sand eel, mackerel & Bluey although nothing, not even crabs bothered the bluey.
Thanks for reading Tight lines
Big Col
---
---
Another top report and pics col

we'll done


Tommorow is promised to no one...we plan...GOD laughs.
---
Great report Col. well done.
---
Great report mate, I found Lees a couple of years ago, the wrasse fishing is brilliant there although I havnt managed a cuckoo or a conger. The strangest thing I have seen out of there was an octopus that Rob F caught last year.
Shame about the litter though.
Sounds like your on a hard road, maybe over time things will improve, I hope so.
2019 5 beard rockling, whiting, codling, poor cod, shanny, flounder, Dover sole, plaice, Goldsinny, Dab, Bass, Pouting, Dogfish, Starry Smoothound, Tope, Thornback Ray, Goby, Lesser Weaver,
---
good sesh mate

i lost my sister in similar circumstances
i know some times i just like to get out and be alone clear the head
some good fishing there glad you had a good few days out

---
As always thank all for your kind replies

---
Great report Colin. Thanks for taking the time to post such a cracking review and photos. Just back from a weekend fishing in Anglesey myself. I enjoy fishing rock marks in clear water so much more than the muddy silty seas we have here in Morecambe. Wish there was more of these marks closer to home.

So sorry to hear about your son. I can't imagie what you have been through, but I am pleased you can still get away for the day in a beautful place like this. It must help at times.

Ben
---
---
Return to North Wales Sea Fishing Reports
Who is online
Users browsing this forum: No registered users and 2 guests