It is currently 23 Sep 2021, 17:07

The only trouble is it wasn't popped in the North West. Having tried on numerous occasions and miserably failed to catch a cod of any description so far this year I decided to go down south and visit family on the Saturday with a view to getting up at stupid o'clock on the Sunday and driving to Kent "on the way home" to fish as session at Dungeness up to high water at 1.30pm. There have been reports of sizeable numbers of decent size cod being caught there and I thought my chances were looking good with a stiff westerly blowing and the water at Dungeness was reported as rough and chocolate brown, absolutely ideal conditions.
However, those plans were abandoned when my bro rearranged his intended Saturday trip for the Sunday and invited me along for the ride in his small boat "What a Plonker". We sailed at 7.30am and motored to a spot about four miles directly off Brighton Marina which had apparently been fishing its head off and where my brother had had a 211b fish two weeks beforehand. It was dire with only the ever present whiting attacking everything that was put on the sea bed.
Five hours into the trip with the sea becoming decidely lumpier we headed a bit further inshore and anchored up about two miles from the Marina entrance. Things immediately picked up and although it was mainly whiting they were a good average size with two at least nudging two pounds. In amongst the whiting where a few decent pouting and then my brother hooked what we thought was a cod but turned out to be a strap connger of about ten pounds. He wasn't happy!! Eventually, my bro managed to land a codling of about seven pounds and as we only had about forty minutes of the trip left was rubbing his hands and counting the money (the three of us had had a bet on who caught the biggest cod). I reminded him that its not over till the fat lady sings and while he was taking the oops I had the tiniest of bites. Over the next two or three minutes the tiny bite kept registering and I was resigned to it being another whiting until the tip went down abount three inches and stayed there. I wound in the rapidly slackening line and lifted into what was obviously a decently fish.
Ten minutes later and this bably was on board weighing in at exactly 191lbs and beating my previous PB by 6lbs.
Unbelievably, on the next cast I took another cod of 14lb 2oz which hardly even registered. I was still on such a high from the big girl. So Pb topped twice in consecutive casts and one very happy angler.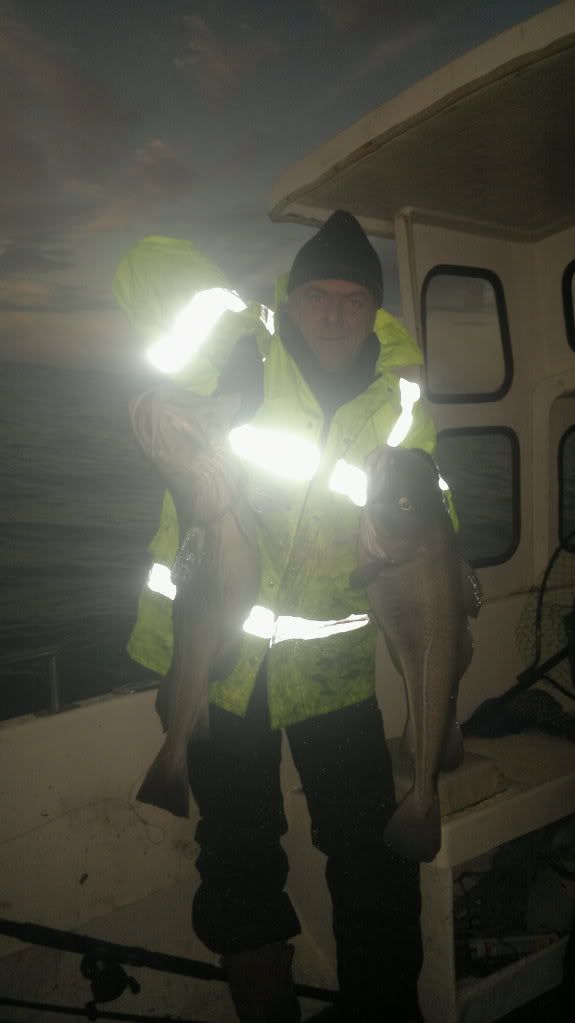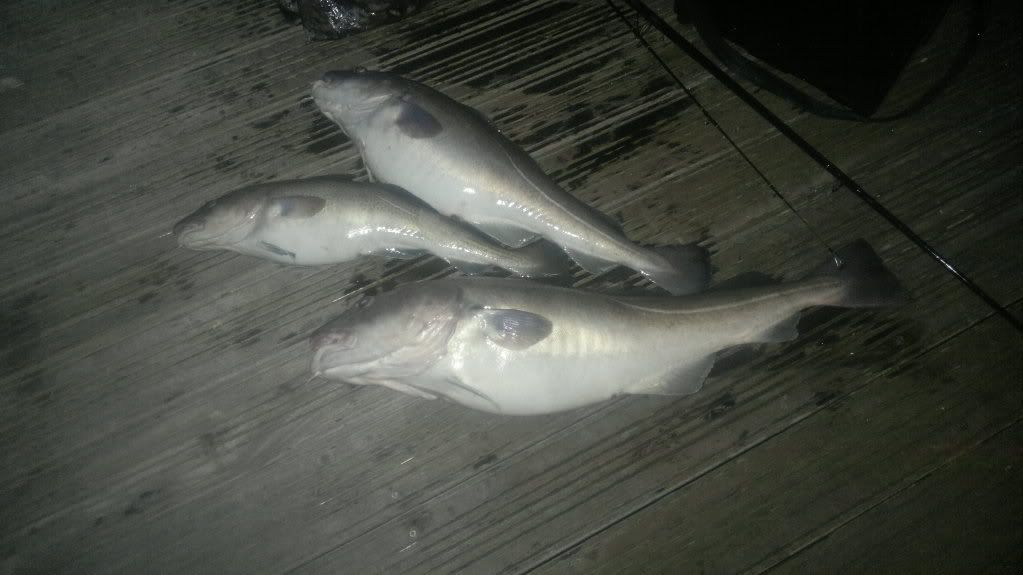 ---
---
I don't know about losing your cod cherry its looks like youve bashed your back passage in, well done on your PB



and the other 2 fish a bonus cracking post nice pic to.







15lb Salmon Bolton Market
A box of kippers <Lsle of Man>
Acouple of Mackeral Asda
Cod at our local chippy
---
Brilliant pb mate well done:0).
---
My what large cods you have..

!!! Well done fella, couple of fish to remember there..!!!
There's more to fishing than catching fish...
---
Definitely a fishing trip to remember, congratulations!

my pb is a miserable 5lber caught on Fleetwood beach....

Great pics and top report

Make a difference - take home one piece of someone's angling litter next time you are out fishing
---
Superb fish mate well done



---
wow great fish and some trip to boot well done



---
Great catch them mate good report 2


.
---
---
Return to North West Sea Fishing Reports
Who is online
Users browsing this forum: No registered users and 14 guests