It is currently 26 Jun 2022, 04:01

I'd booked onto a Mersey charter trip aboard the 'Brigand' with Althebass, Brian & Frank, it was a 6am lock out which meant a 4am alarm call

and despite getting everything ready the night before, in my sleep deprived befuddled state, I somehow managed to run late and didn't set off till 5am which meant a mad dash down the motorway at breakneck speed

I just managed to get to the marina for 6 (ish) with the skipper waiting for me at the gate

everyone was already on the boat waiting, which meant all the best spots had gone and I was tucked under the canopy by the wheelhouse on the left side of the boat, which meant I would be casting cack-handed!

serves me right for being late!


We were soon out of the marina and steamed out onto the river in the gloom and headed up to our first mark just past the clock tower. After a short steam down river we anchored up in the fierce running tide and launched out our baits expectantly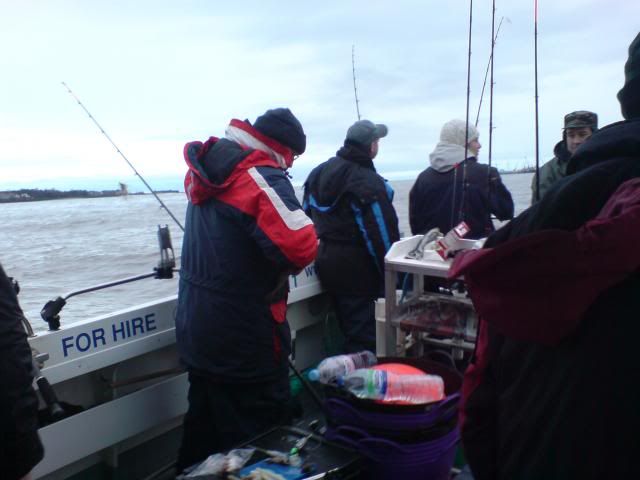 I had an assortment of baits, blow lug, frozen black, crab, mussel and squid. The skipper Kev told us squid had been doing the business over the last few trips.....
Frank was first in with a nice keeper....this got him all smug & excited cos we had the usual £1 for the biggest and he was in the lead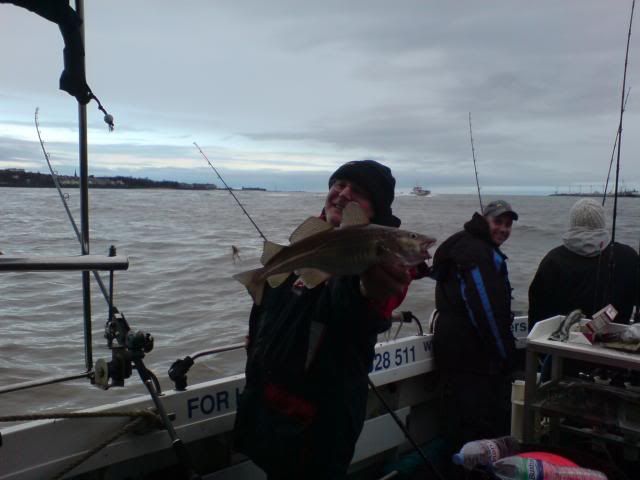 The tide run started to ease, the wind dropped and the sun came out.....it was looking like it was gonna be a decent day.....
Even Al was smiling....only at my attempt to get him to use one of my armamesh concoctions, he said it looked like one of my turds

I was targeting the small stuff

even with my 5/0's and big baits...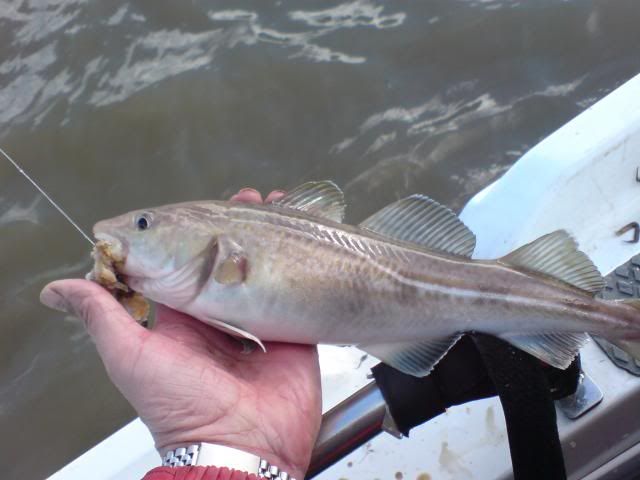 Brian had predicted that the fish would come on the feed better 3hrs or so before low water and he was bang on the money for himself.....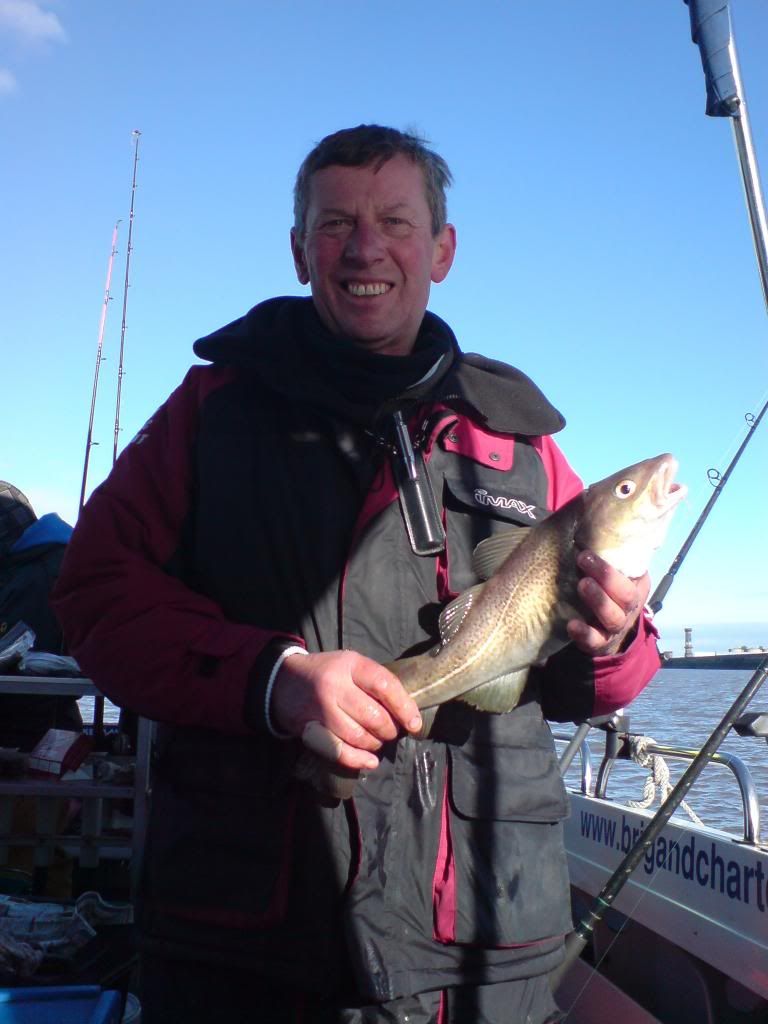 Al got into a good fish but bumped it off on the way up, his powerful muscular arms glinting in the weak winter sun, his sparrow legs buckling underneath him as he slumped to the floor and threw his (muscular) arms up like he'd been shot in 'Platoon'....."Noooooooooooooooooo..........." (it was later estimated by Al that the fish was 'at least' 6lb which rose by a lb ever time someone mentioned it, so at the end of the day Al had lost a 12lb fish...allegedly!)
We carried on fishing right down to low water with just the odd fish coming out...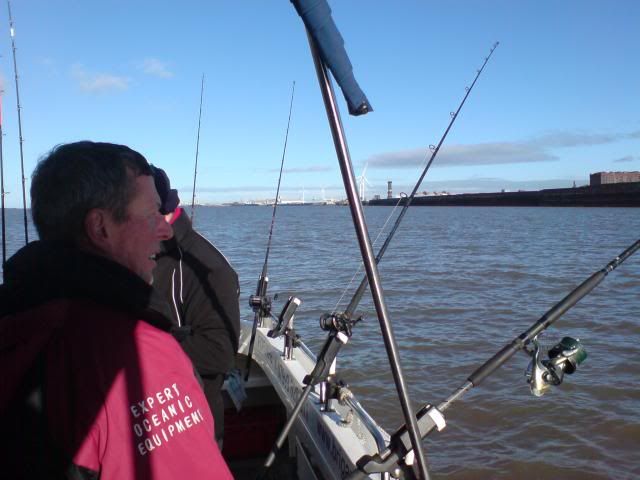 Tuskar steaming past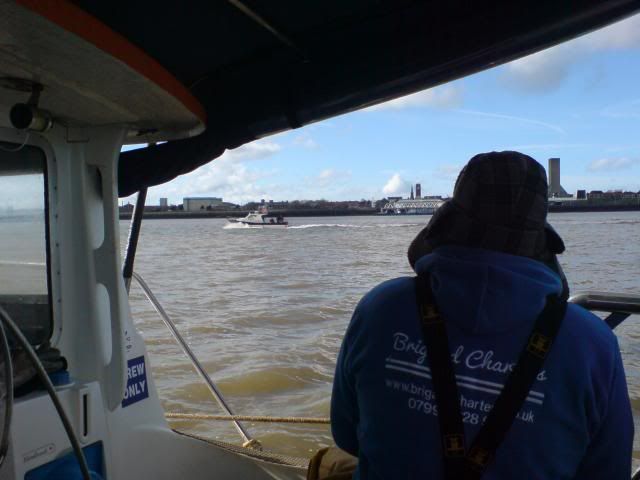 The skipper told us at dead low we would be heading upriver to Bromborough where we could wait for the tide to turn and have our lunch of Curry & Rice...now we're talking!

spot on it was too, just on the right side of spicy and a good portion as well
The lull in activity gave Frank the chance to show off and have a quick brag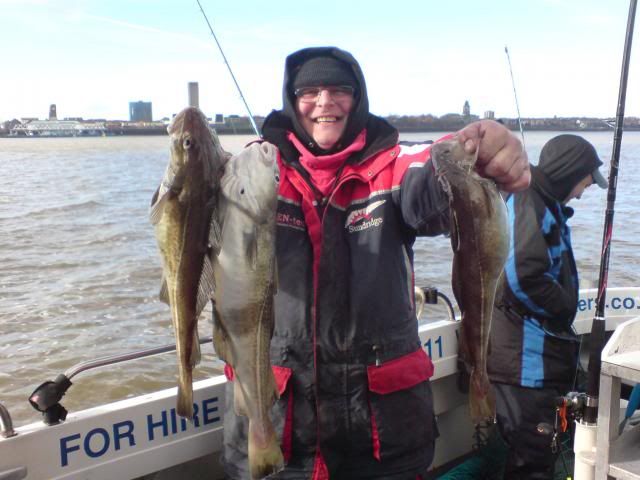 Though all the excitement was all a bit too much for him




but at least he made a new friend......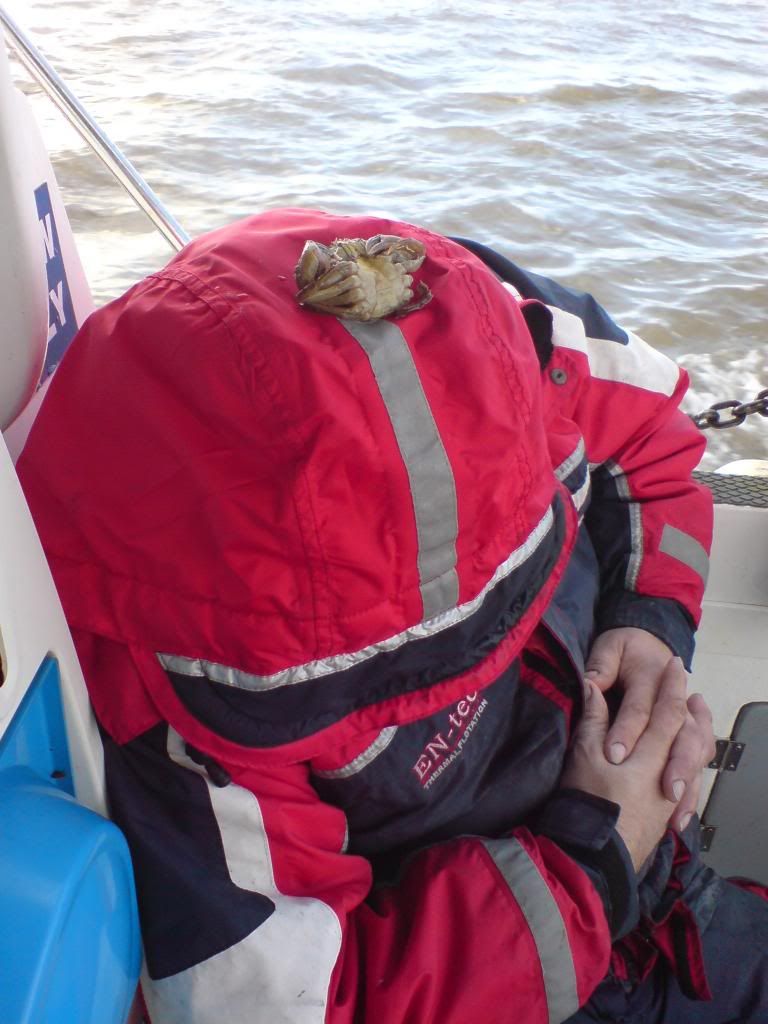 Who's the guilty party?

The tide took an age to get going, and the wind freshened which kept the boat facing the wrong way for longer than expected, Otterspool in the distance......
As the tide got going, a surprise plaice came aboard.....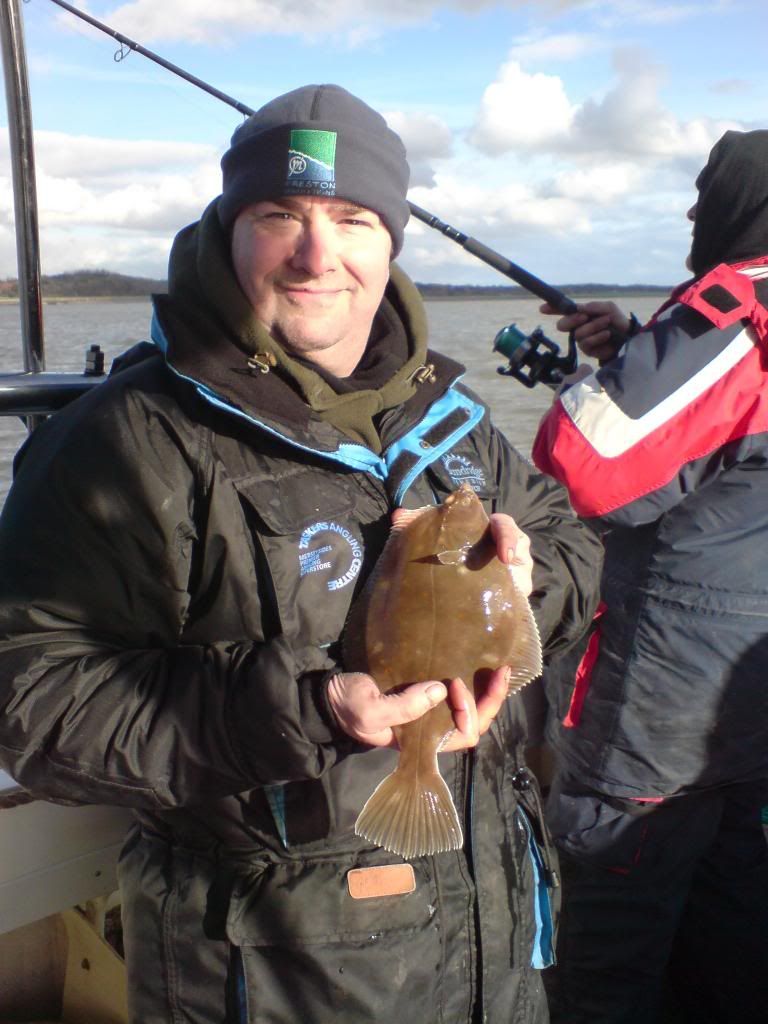 The odd good codling came aboard too so I hedged my bets and put on the last of my crab and mussel...
Which paid off handsomely...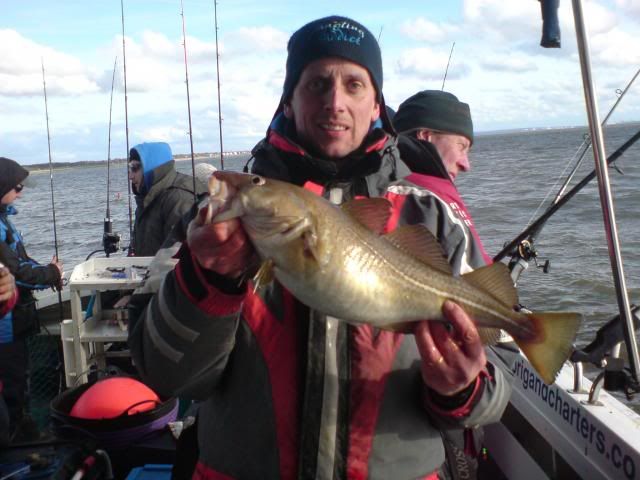 4lb 4oz....biggest of the day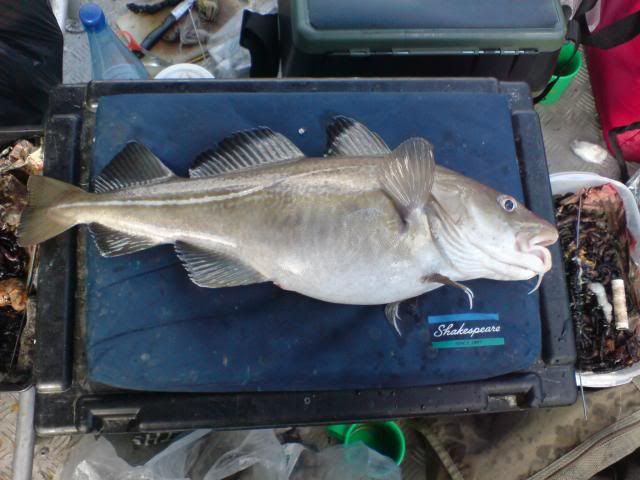 A couple of thornies came out too with the biggest going 6lb
I got another keeper of around 2½lb at the death on straight squid, all the bait I'd got left!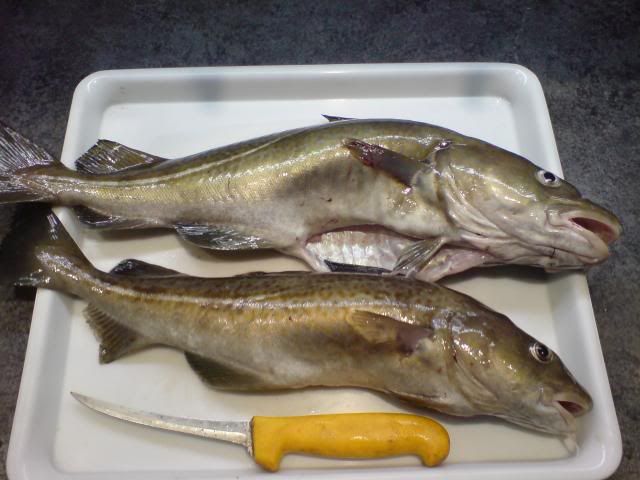 It was a thoroughly enjoyable day out, the craic and banter was top notch even though (or probably because) the fishing was hard going and a bit slow at times. Around 40 codling came aboard with only a dozen or so keepers but we all caught and dropped a fair few fish too.
I have to say though the skipper Kev McKie was superb, he never stopped working and did everything in his powers to put us on the fish. I was particularly impressed with the way he coached the less experienced anglers on the boat, nothing was too much trouble for him. He was constantly offering advice, sorting out tangles, preparing bait and even casting in when asked. He kept us topped up with hot brews throughout the day and the curry was superb. You could tell he is an angler himself, he knows his stuff and is as keen as mustard, I'll certainly use him again and I'd recommend him to anyone, top skipper......
website -
http://www.brigandcharters.co.uk/
Facebook -
https://www.facebook.com/brigand.charters?fref=ts
Make a difference - take home one piece of someone's angling litter next time you are out fishing
---
---




well done Rushy ! Well worth getting up early for! Superb pictures and report


I really must get out afloat more often for a do

Do or do not, there is no try..... YODA
---
A superb report Rushy thought you were never going to finish compiling it

target

caught
sounds like you had a superb day ,a grate way to spend a day

Born to fish Forced to work
---
craggers wrote:A superb report Rushy thought you were never going to finish compiling it

target

caught

sounds like you had a superb day ,a grate way to spend a day
It beats being stuck in work that's for sure, thank the Lord I got leave!

Make a difference - take home one piece of someone's angling litter next time you are out fishing
---
Cracking report & photos rushy glad it turned out OK after your late start looks like that cod had eaten more than its fair share its a proper podger nice to get some variety too well done
---
Looks like you guys had a good day
Good pictures great report


Steve

Namix bullet extra grip weights for sale 4.25oz 5oz 6oz with extra grip wire
---
quality report and pics some belting cod there mate well done fellas


2014, species, codling, whiting, dab, blenny, flounder, bass 41cm, thornback ray on lrf tackle in morecambe bay off the shore. smoothound in heysham. plaice 2lb 1oz nasty weaver.
---
Fancy sleeping in..!!! I can't sleep for two days if I know I'm going fishing.. Still get excited at my age... Well done young David, so pleased that you got out, caught fish, had a great craic, but more importantly, you got leave ..

!!! Anyway, can't lie here all morning, going fishing.......
There's more to fishing than catching fish...
---
Cracking report rushy that 4lber is a right fat pig

---
Well done on the biggest cod Dave, I hope you collected your £1 off everyone

, Great report and pictures mate,


Did you use any of your match angling skills??


---
---
Return to Boat fishing reports
Who is online
Users browsing this forum: No registered users and 2 guests