It is currently 09 Aug 2022, 13:59

Arnside, on the Kent estuary, has been a popular 'flatty' bashing venue for years, unfortunately in the past, some anglers used to take flounders by the binload, nowadays common sense prevails. But there can still be some big catches when the weather/tide and the fish are right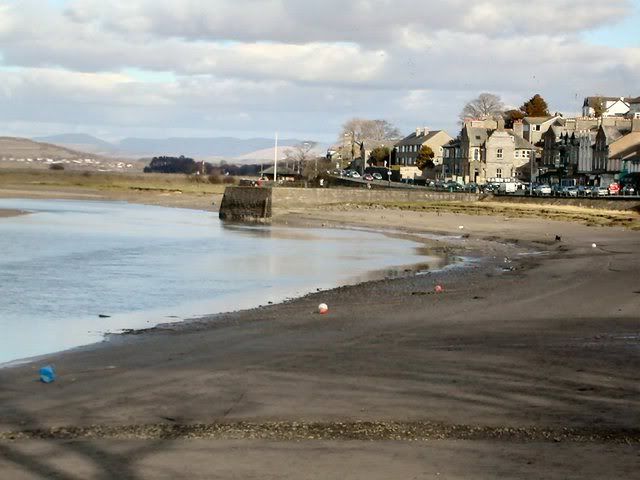 The Kent estuary is very shallow and care has to be taken when fishing the area due to the very rapid tide, on a big tide with the wind behind it, this can produce a tidal bore, which can be nearly three foot high and it really shifts. The sands can also be tricky as well, with quicksand ready to capture the unwary, there has been an increase in recent years of calls upon the local Coastguard to rescue people stuck in the sand. Stay on the Arnside side of the channel or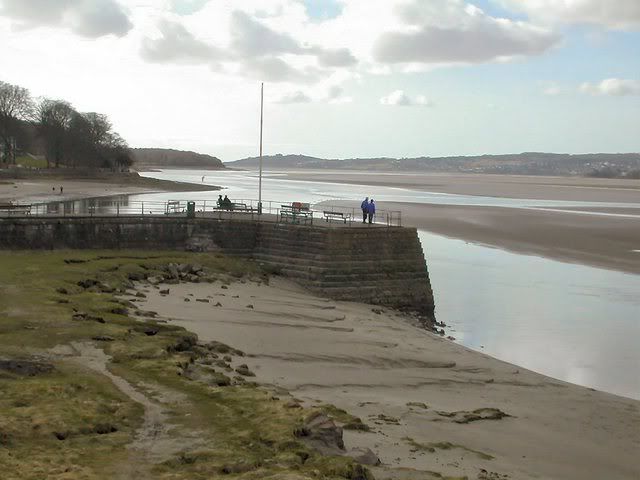 If you're travelling any distance the easiest way by car is M6 junction 35 then A6 north to Milnthorpe, at traffic lights in Milnthorpe turn left and follow road alongside estuary (this is Sandside folks, give me a wave!) to Arnside, under railway bridge turn right for prom.
There is a railway station at Arnside, (from railway station turn right to the prom past the BIG Chip, excellent fish n chips, about a half-mile walk to the pier from the station.)
· Free parking all day on very rough car park opposite chippy where road turns at edge of railway embankment and shore.
· Free Parking all day on the prom after the main road goes up Silverdale Road opposite the Albion Pub. Cars facing out to the water, but gets very busy.
· There is limited disabled parking right next to the pier.
· You can continue along Silverdale Road up the hill, away from Albion Pub, turning right near the top into Red Hills Road, keep going along Newbarns Road, down the track at the end and actually park in Newbarns Bay, farmer might collect his .50p or not!
Link To Map
or for SATNAV users, postcode LA5 0HA
Despite the sticky sand ( OK it's more mud than sand ) and the rapid tides, there is still a good amount of safe fishing in the area. In Arnside itself, there is a small pier, which at the moment has the channel running right next to it, ideal for anyone less able to slide around on the muddy channelsides, not much room, but can manage several friendly anglers! Fish from about two hours before high water until you get fed up! (There's a belting little bakery to your right as you come off the pier)

From the pier, seawards, depending on the channel, there are several spots to fish all the way down past the Coastguard lookout/boatshed carrying on out round Newbarns Bay, depending on how far you fancy walking and how much gear you have to carry

Any of these areas from the end of the prom onwards produce fish, but beware there are some very snaggy areas. Lots of gear can be lost with the tide dragging terminal tackle into rocky outcrops. With the tides moving the channel about so much, these rocky areas can spring up (or be covered) in just a few tides, trial and error I'm afraid

North end of Newbarns Bay looking towards Coastguard lookout and Arnside
The time not to fish here, generally, is when there's been a lot of rain, fresh water hurtling down the River Kent does not help, although sometimes it doesn't matter!
The best months are from the end August through to January, February tails off, although did see a cormorant trying to swallow a big flounder today when I went for the pictures, 26th February !
Tides, there is a huge tidal surge on the big tides, personally I would fish from about two hours after high water on the larger tides and can fish right through low water.
Find some deeper spots and fish right down to low water, coastguard lookout area seawards.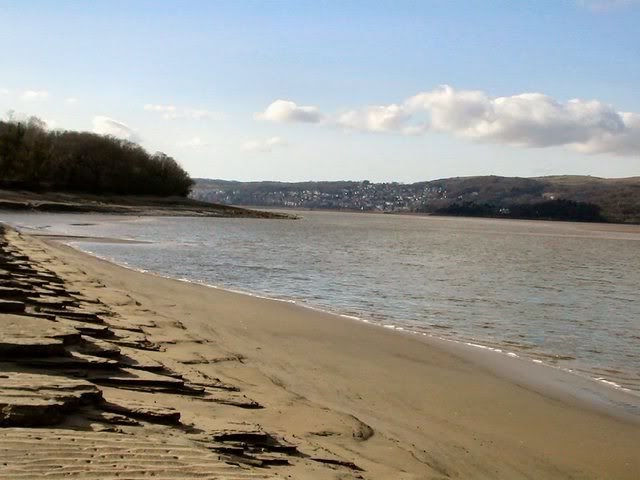 Middle of Newbarns Bay looking seawards towards Grange over Sands, DO NOT FISH in the middle of this bay when the tide is coming in

Light rod and reel with grip leads to hold bottom when tide running strongly.
Keep it simple, two hook flapper rig, if you can get creeper (small harbour rag/maddies) is by far the best bait, but blow lug, black lug or just mackerel on its own will catch, best idea is whatever bait you use, tip it off with a small sliver of fresh mackerel, this always produces the biggest flounders.
Low water fishing can be very productive allowing a rolling lead to trundle downstream.
There could be shedloads more ! I did well to keep it this short

If you need any further info send me a PM and I'll reply ASAP

Master Brewer at The Den Brewery
The Brewmeister

Posts: 965

Joined: 04 Mar 2012, 13:49

Location: Near Sharpey, who's just round the bend!
---
---
Cracking venue guide Baz, top piccies as well

Make a difference - take home one piece of someone's angling litter next time you are out fishing
---


Baz ,do you still get good amounts of mullet ?
Born to fish Forced to work
---
I keep saying I'm going to have a wander out and have a go for mullet, in summer of course

The best place for mullet (and I've seen loads of 'em shoaling around), is just the top (east) side of the viaduct. You need to park up and go over the railway footbridge, there's a gate to the right as you leave the platform, go through the gate and go left, walking alongside the railway embankment. There's a gully running alongside and where it joins the channel there's often loads of mullet there

Master Brewer at The Den Brewery
The Brewmeister

Posts: 965

Joined: 04 Mar 2012, 13:49

Location: Near Sharpey, who's just round the bend!
---
---
Top post Baz,




---
There's a cracking account of one man's obsession with superb tips for catching mullet
HERE

Make a difference - take home one piece of someone's angling litter next time you are out fishing
---



Thanks for the post and pics Baz. Good to know a man in the know!
BB

Good things come to those who bait.
---
I've been fishing Arnside for 40yrs and like to take youngsters there for there basic training. A great revue Baz and you capture the essence of the place,






in your photo,s and report.
15lb Salmon Bolton Market
A box of kippers <Lsle of Man>
Acouple of Mackeral Asda
Cod at our local chippy
---
certainly looks a nice place to spend a few hours.

ray.
2022 species hunt....codling, plaice, flounder, turbot, dab, tope.
---
---
Who is online
Users browsing this forum: No registered users and 0 guests