Shoreham SAS Inter County Fishing match
A quick race down the A3 found me on the doorstep of Hazels Bait emporium @ Hayling Island better known locally as "Hookers Baits",I kid you not for a mum of 2 young girls she don't half dig a mean worm or two.
Anyway,I ordered 1lb of Maddies and some fresh Lug and spotted something else lurking in the bait trays,White Rag,so getting me fingers dirty I counted out £3 squids worth just as a hook change bait.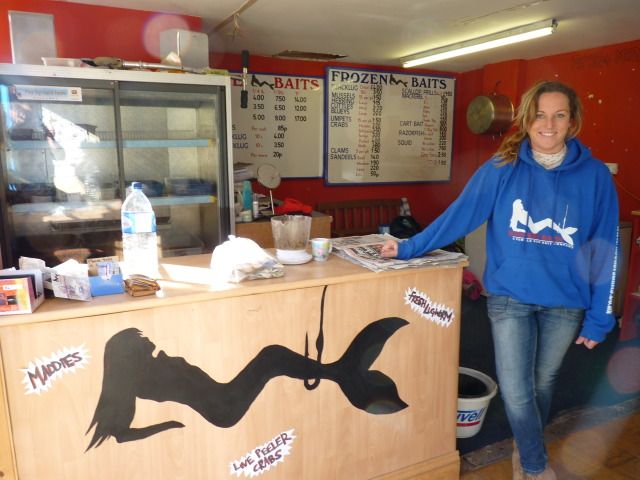 Hazel in the small shop ….I tell yazz fellers if your down the south coast and are in need of fresh worm baits etc give her a call 07898793131.
Back on the road another 45 mins I was in Shoreham On Sea but couldn't link up with the fellers as parking is a mare,so onto Widewater Beach as I was famished.
The Shoreham SAS Inter County meet has been going for a few years and thanks to Mark and chef Mike it has been an ongoing success,after a quick hello as it was my 1st one I was soon scoffing nicely cooked Egg,Bacon and sausage rolls …..top tucker.
Everyone assembled including Kent Sea Fishings Finest,although on the day I was fishing under the Middlesex banner as its my home county.
The draw bag found me on peg 21 from 37 guys so after a 5 min walk I was soon setting up 2 x 12 foot Barbel feeder rods suitable for light sea angling when Golden Greys are the target with 20lb braid, a 3 hook flapper with 6lb 3 foot snoods to size 8 carp hooks would be for the deck and a 2 hook popped up rig with 6lb fluro to size 12,s for mini bits of macky for gars.

From my peg looking West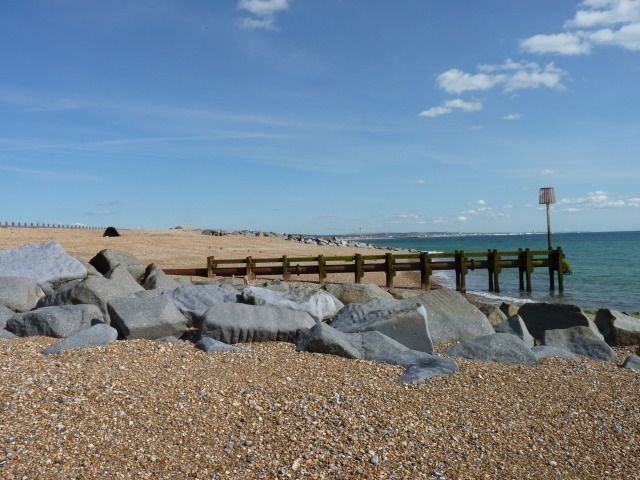 Looking back East.

On peg 22 was Paddy who I enjoyed some light hearted banter with all aftenoon.
I tried 3 maddies on the hook for almost an hour without any touches so in frustration I reached for the White rag and tipped off 2 maddies with 1 whole Rag….what a difference.


A quick flick with a 3 oz lead 40 yds found me teasing the rig back in every 1/2 a minute trying to intice some action and after 1 hour I had this Flounder all 27cms of it …but at least I hadnt blanked………phew.!!!!
I worked me ass off twitching the baits along the deck and soon had 2 more Flounders of 26cms.
You know what its like you wanna beat the fella next to you but at the same time I wanted his tip to go round so at least he had summit to show for his day.
The last 2 hours after HW were dire for me with nada showing and a look over me shoulder I could see the bloke next door banging out Golden Greys but not in my section.
Last cast desperation found me with 2 mins to go I stuck 1/2 a white rag on a size 12 hook and flicked it out near the stone groyn and after a few twitches my last Flounder wacked the tip round..only 25cm but worth the effort.
Paddy calculated my score card to 89 points.

One O me Flounders that I worked bluddy ard for.!!!!

Paddy in my section had a mare blanking but I enjoyed his company on the day talking allotment growing like a couple of Ol geezers.

At the presentation I had a quick group hug with the Kent Sea fishing forum crew who had mixed results from their sections but enjoyed the day.


30 plus fellers wait for the prizes and raffle.

a big thanks to mike for cooking up a storm with a tasty curry and burgers all day.

Mark the comp organiser with trophy and raffle goodies.

Mark preparing to give the team cup to sussex,and I think the individual winner had over 500 points on the day with 200 needed for 5th place so my 89 wasnt too bad an effort for me first time out.
Tickled me luck with some Flurocarbon mono in the raffle so not a total loss.
Said our goodbyes and typical me instead of driving home I drove back to Southsea next to the pier and fished the flood from 10pm till 2am with fresh lug for any bass but……………

…………………….nada……Oh well fun trying anyway.
Good to meet up with the kent forum boys,the banter was think and fast and overall I enjoyed me day out at the Shoreham comp.
Gazza
Related Articles
Share
About Author
(0) Readers Comments