They say never revisit past glories as you're bound to be disappointed, and lightning never strikes twice etc etc 

 but myself and Paul decided to launch the yaks again at Cleveleys 5 bar gate to try and get amongst the cod again 


Dad of the Year & male model TerryG was busy with family commitments again, with it being Halloween….summat to do with his missus's broomstick playing up/not working as it should, I think that's what he said 

 Anyway, Terry once again very kindly offered to let me borrow his Prowler Big Game so I could keep a watchful eye on Paul 

We planned to launch at first light, with the clocks going back this meant an early start and Paul picked me up at 5.30am 


We arrived at 5 Bar gate in darkness, and noticed a solitary headlight at the waters edge. We had a wander down and had a chat for a while. The angler said he had not had a dogfish for a few sessions, which was a promising sign as we had been plagued with them two weeks ago.
We prepped the yaks and launched as planned for around 7am. About a 15 minute paddle saw us at our chosen mark….approximately one and a half miles out to the Rossall Oyster beds
The forecast had been 10mph easterlies, and our hunch that the sea would be flat enough to fish was proved correct, with initially a lovely flat sea.
First cast I had a small bite which I struck into and began reeling in, which was followed by a clonking bite

 upon reeling in it was apparent the little rattle was a small poor cod, which had then got snaffled by a pesky dogfish!!

Odd whiting began showing too……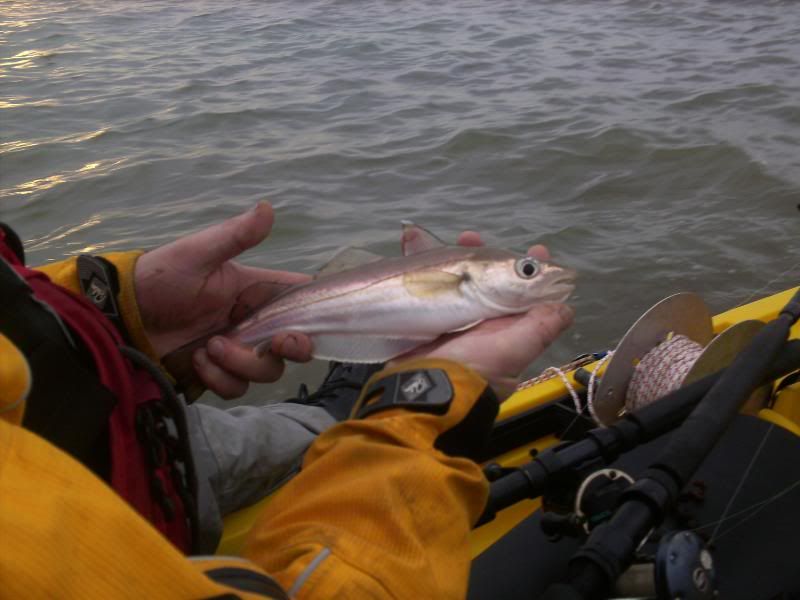 A decent sized pouting, not seen many of these in recent year….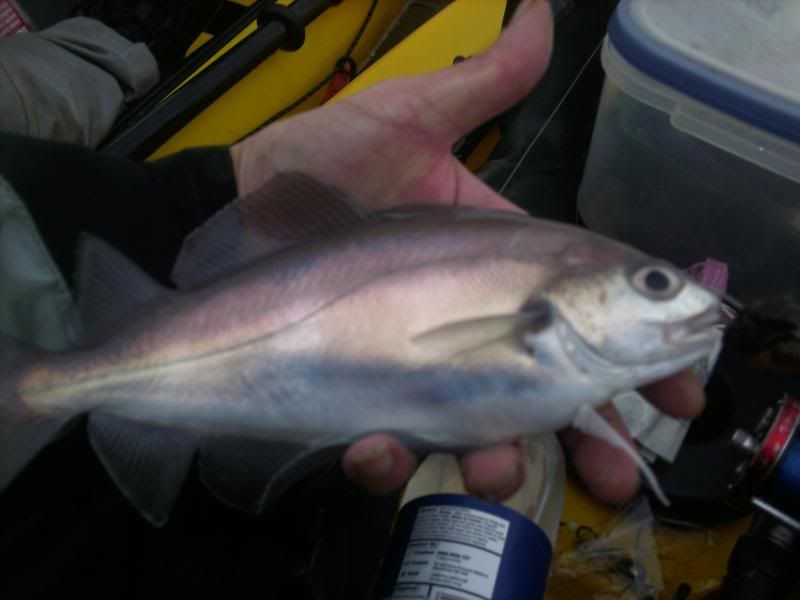 The dogfish kept coming up in an all too steady stream before a cod made an appearance….

Then another in quick succession……

Paul managed to hook into a better fish, unfortunately it was just another Doggie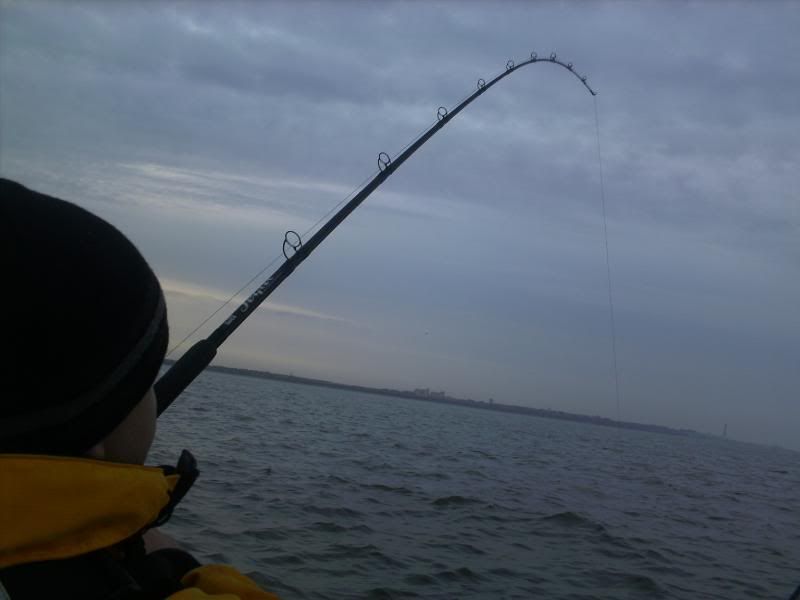 Paul began to get a bit miffed when I reeled another codling to the side…

Odd bigger whiting turned up too……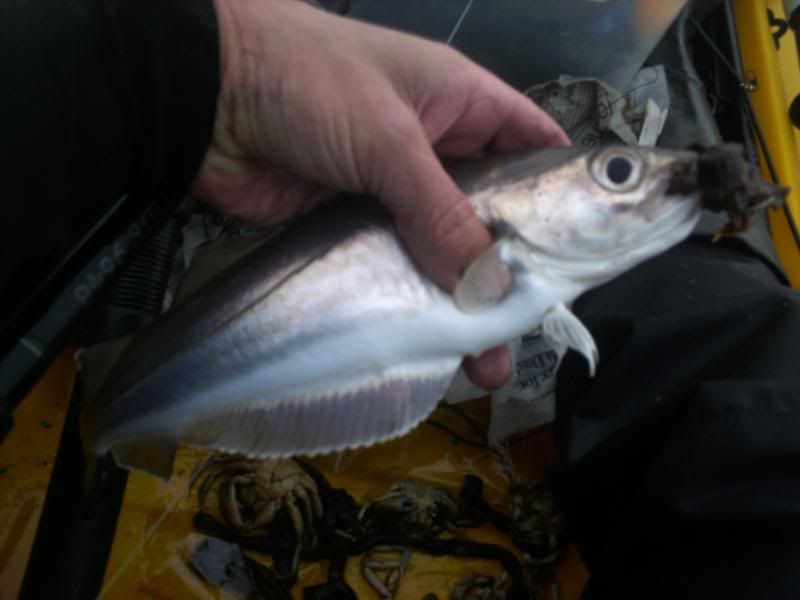 Thankfully, Paul began to get amongst the codling as well

The dogfish were really causing us problems. With long periods of just dogfish after dogfish coming to our baits, it became annoying when you know there are codling down there.
Competition was so fierce down there that two dogfish came up on the one bait 

 on a 3/0 pennell rig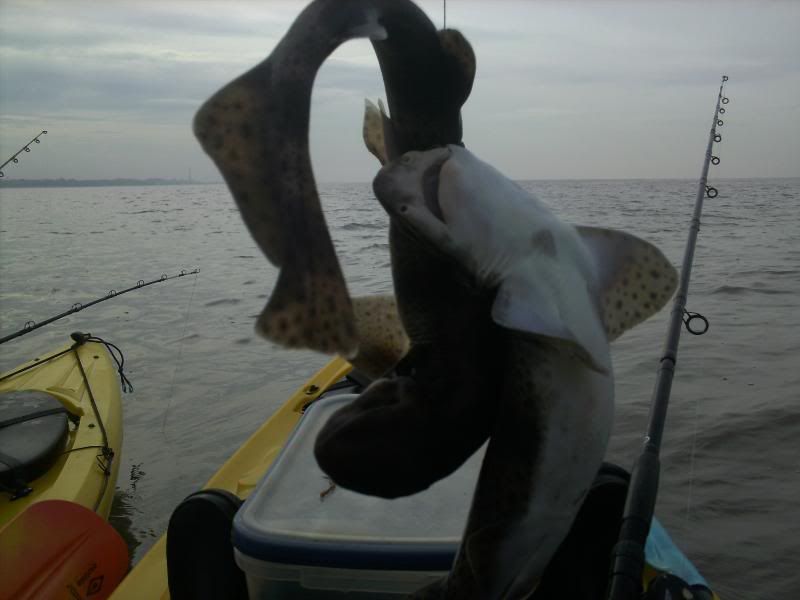 Whilst baiting up, Paul noticed his other rod heave over with a terrific and sustained bite, he was obviously into something much bigger…. on a couple of occasions needing to ease the drag off…. He was heard to mutter under his breath "Please be a COD, please be a COD!!!!!"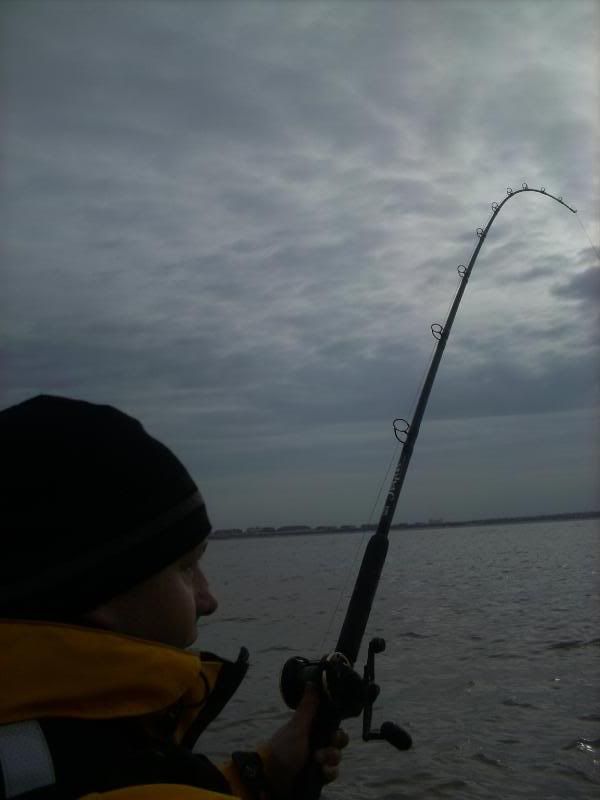 Unfortunately not, but an extremely spiky male Thornback which made an interesting break from the dogfish.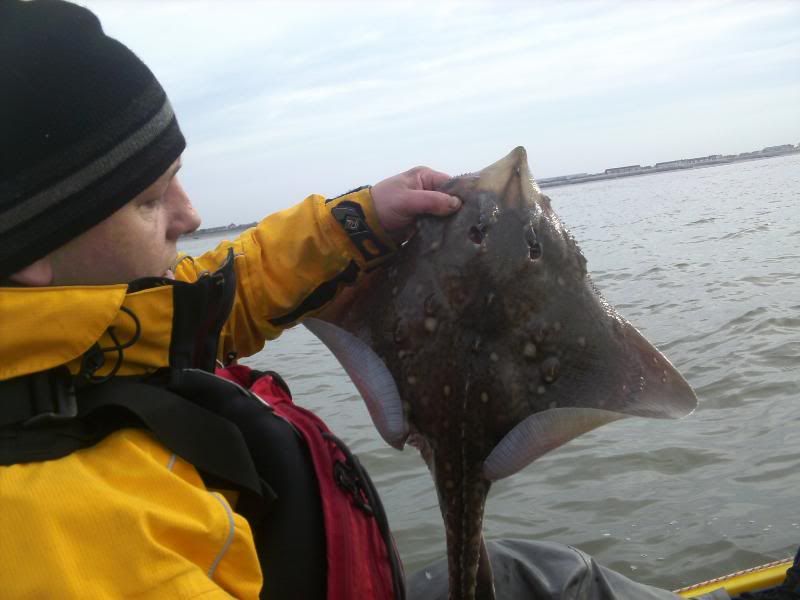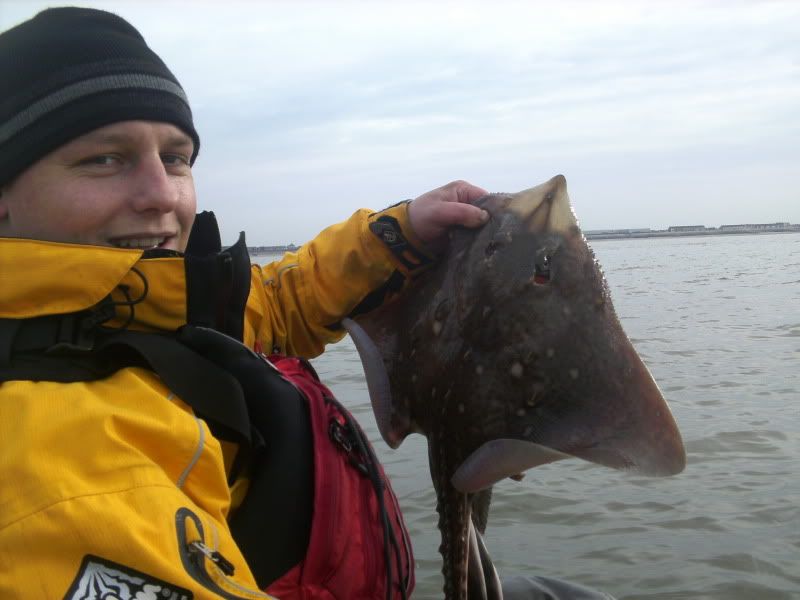 We assumed we were over rough ground going of the charts and the species we were catching. Paul lost a huge edible crab at the side of the yak which added to the evidence, but when this hard fighting sea squirt and attached boulder surfaced, all doubt was removed!!

Low tide came and the Codling all but disappeared. We contemplated a move as a couple of dinghies turned up and anchored a little further out. We opted to stick it out and wait for the tide to turn, hoping we might pick up a few more codling on the flood.
Our instincts were proved to be spot on, as once the flood started the dogfish seemed to thin out a bit (thankfully) and Codling came on the feed with a vengeance
A much better Cod of just shy of 4lb

Paul with another…..

followed by another…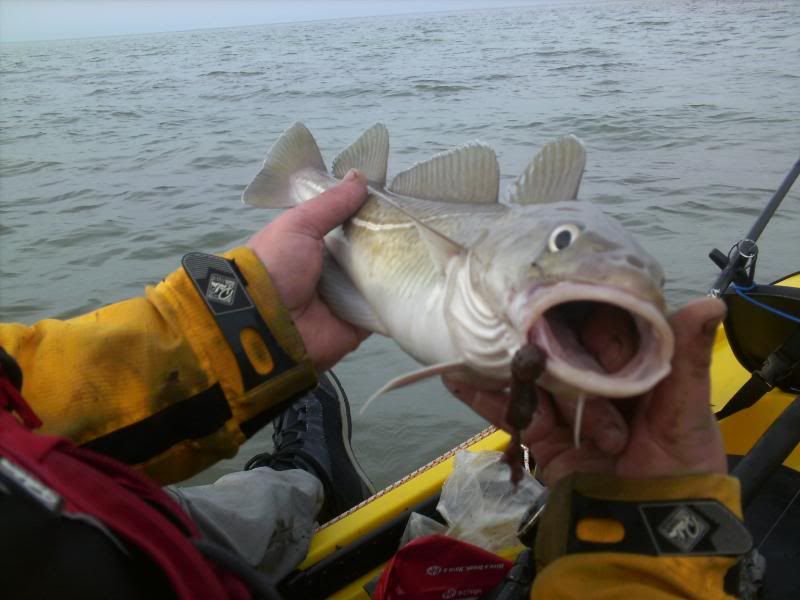 The codling were coming thick and fast, at one point all four rods were banging away at once, all with decent Codling…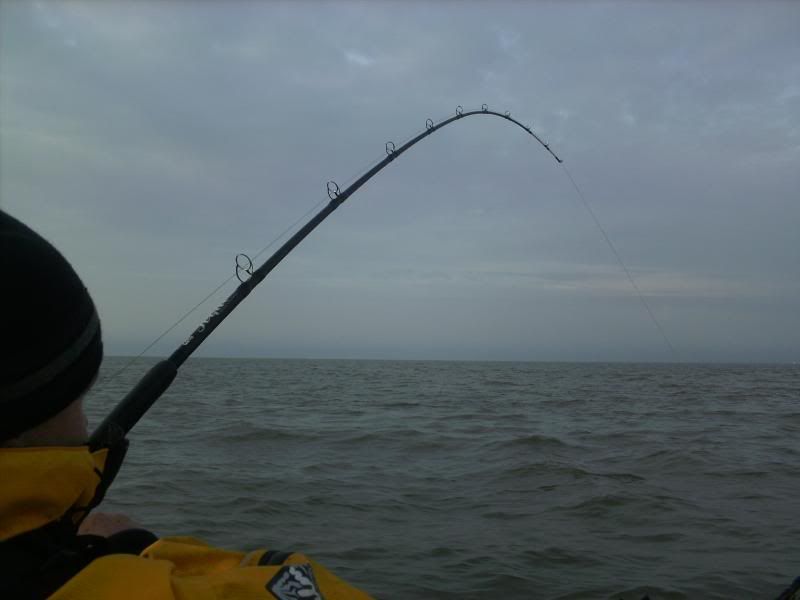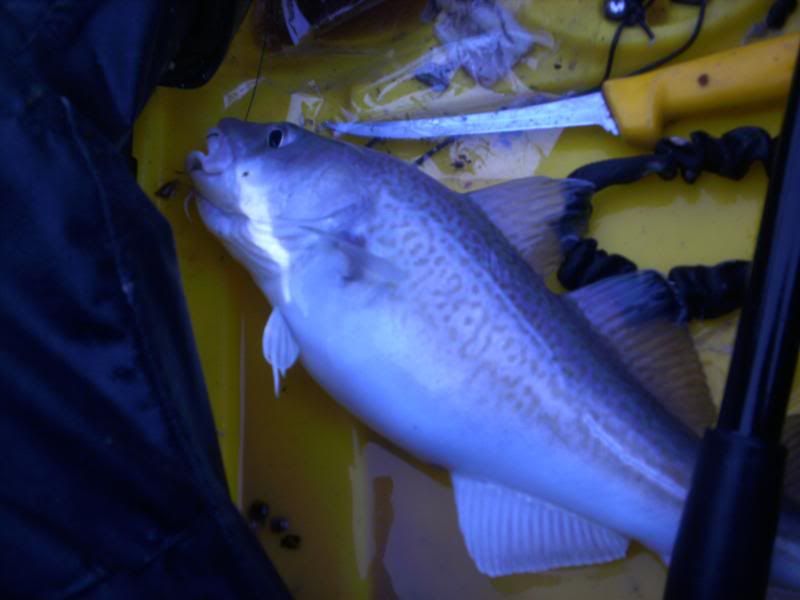 The forecast had said the easterly breeze would ease off later in the day, this didn't really seem to materialise and the easterly breeze freshened into a Northerly… Too breezy for the dinghies apparently who started to head back inshore, but we felt perfectly comfortable on the Yaks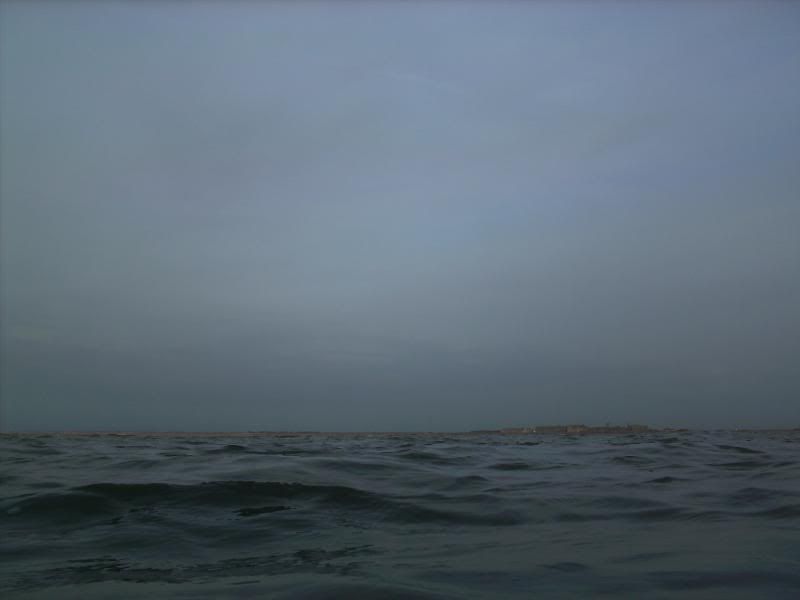 The sea state gave the yaks a good testing of their capabilities, and they proved to be able to handle the conditions with aplomb…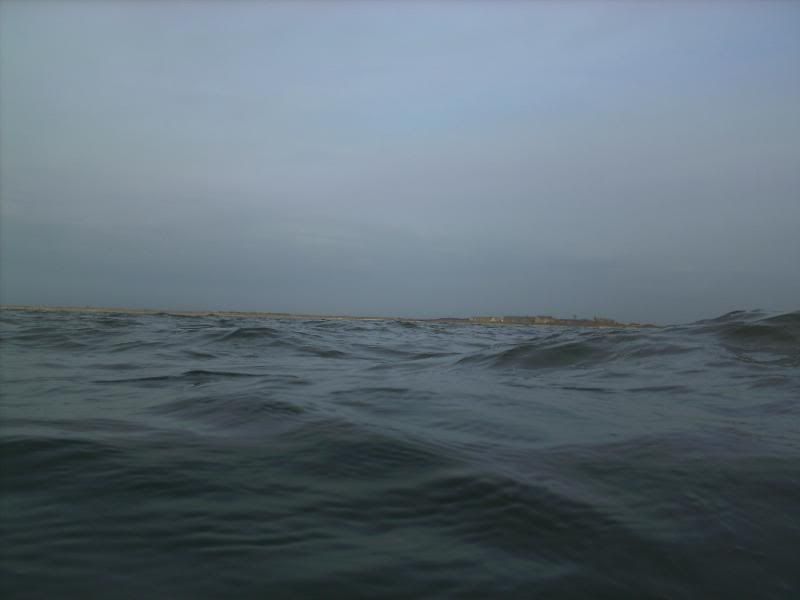 We fished on and managed a few more codling…..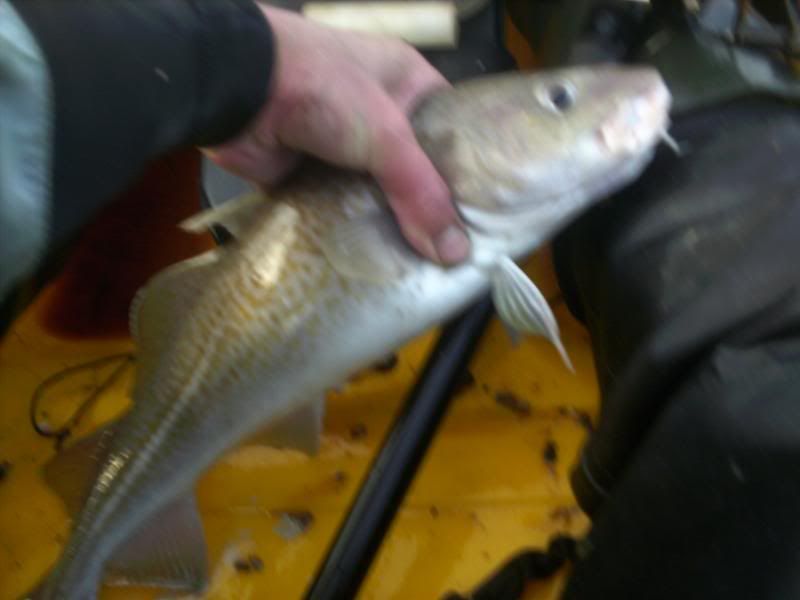 Before the sun dropped, we just about ran out of bait and it was time to weigh anchor around 4pm.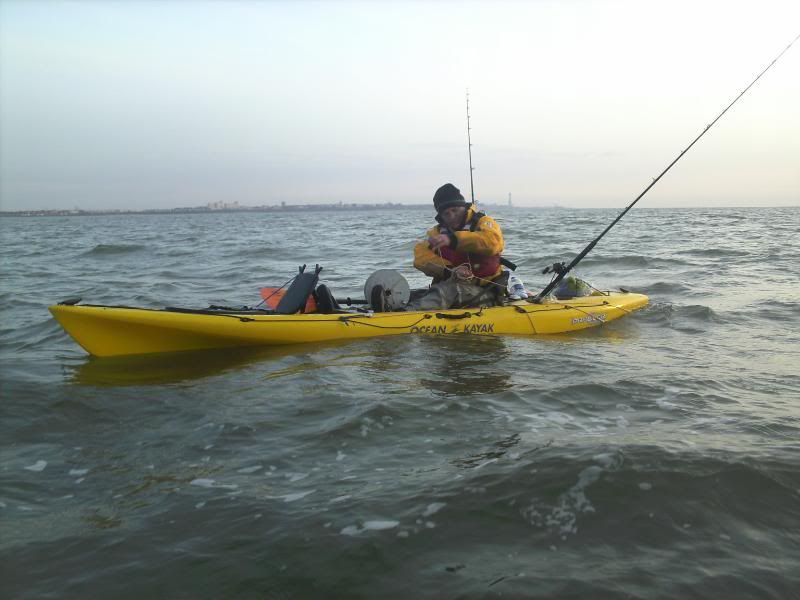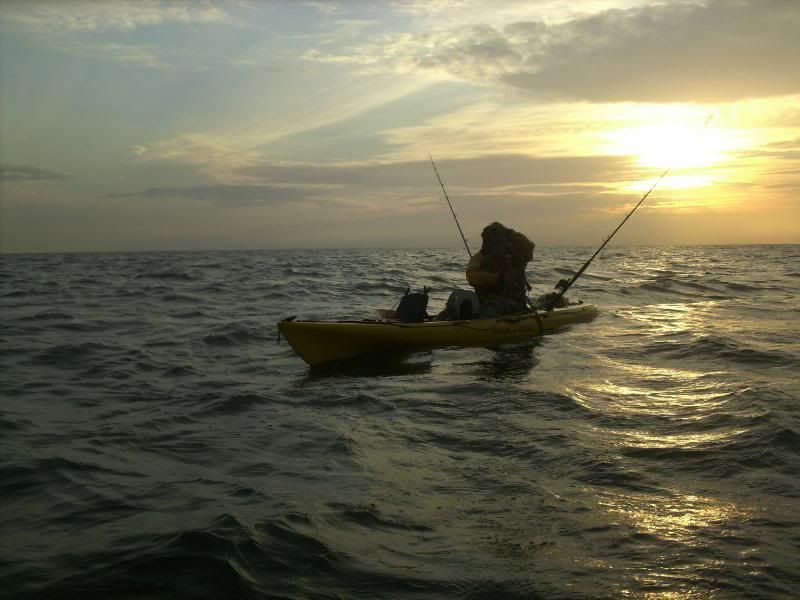 Paul sat side saddle securing the anchor and warp, the stability of his trident 13 is superb and I would recommend this model to anyone…..

We were soon under way. The choppy conditions and a swell hitting us side on slowing us slightly, but we stuck together and strolled back in.

We ended up with a good bag of fish. With over forty codling, thirty of which were in size , a dozen whiting, pouting, a poor cod, dozens upon DOZENS of doggies… We both agreed this was one of the most hectic days we had ever had 

We took a few each for the pot, making sure Terry also got his share as rental for the Kayak

Related Articles
Share
About Author
(2) Readers Comments