Fly Fishing on Stocks Reservoir
Myself and Lee went for a fly fishing session to pass the time before the bass arrive and the wales trip. as there is nothing worth fishing for in the salt water at the moment.
Lee was first in with a pin whiting. eer I mean rainbow trout
Followed by another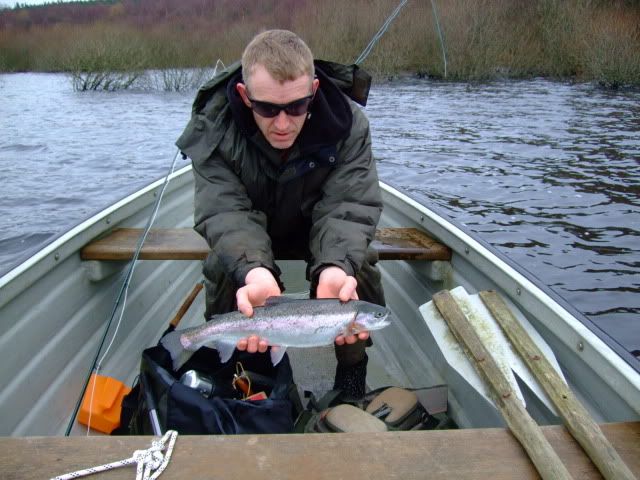 I was having no luck at all in the morning so I decided to wear my lucky stupid hat and it worked
All the fish came to the boat to take the pi$$ out of my hat so i got another
It was bloody freezing again but the Zippo hand warmers saved the day until one of them fell into the boats sump !!along with 20 fags.
don't know if anyone else turned up but we were in the shop at 08.00 having a coffee before we set off.
In a few weeks time the buzzers will come into their own again, but today nothing was going near them. All but one fell to black lures.
Stocks Reservoir is the largest fly fishery in the North West of England. Stocks Reservoir has Four and a half miles of fishable shoreline and 350 acres of open water. Situated at the head of the Hodder Valley in an Area of Outstanding Natural Beauty, Stocks has a wild and unspoiled quality the perfect place for a days fly fishing.

Stocks Reservoir is under the same management as the renowned Bank House Fly Fishery in Caton near Lancaster and is extremely well stocked with quality triploid Rainbow, Brown and Blue trout reared in our own farms.

Stocks Reservoir is now the premier water in the North of England. It has been named as the most improved fishery in the North by Trout Fisherman Magazine and in the 2003 National Angling Awards it received 2nd place as the best commercial fishery. In 2005 the Northern Shallows of Stocks Reservoir opened to fly fishing and improved Stocks dramatically as a boating venue. The area is rich in aquatic insect life and is the prime trout feeding ground on the reservoir.
Fly fishing at stocks reservoir – For further information please visit stocksreservoir.com
Share
About Author
(0) Readers Comments