Sorry thats its been a while since my last post. Now the Summer fishing season has kicked off work is crazy busy and as well as me fishing 5 times a week atm there is hardly any time time to post. Anyway here it is
I have been focusing lately on trying to enjoy catching smaller & more fish. On usual beach gear most flatties, Whiting and a few other species are a lttle boring when you winch them in on a rod that could land small Sharks. Basically I have been using my Anyfish Anywhere 8ft lure rod, Shimano Aernos 4000 and 15lb braid. The rigs I have been using have been dependant on the species I have been targeting.
My first trip out was on one of our local skiers. I intended to go out for the Bass but after 45 mins without a sniff I decided to target the Flounders. I knew there were plenty about due to me disturbing quite a few on the walk out.
Anyway I changed onto a Imax Flattie rig which I have been meaing to test for a while. Its basically a small beaded flapper rig with short snoods. Boy is it effective. I fished for 1 hr and 30 minutes and caught 11 Flounders. Everyone pulled back and the biggest being 36cm.
After a bit of thought I decided to go again. Me, John and Sam from work decided to fish the Lune Estuary. We fished it on the flood and after the sucess I had with the Imax flattie rig I took a few more. Within minutes I was in.  Between us we had 28 Flounders in just under 2 hours and upto 36cm. I had the bragging rights the next day catching the most and the biggest
First fish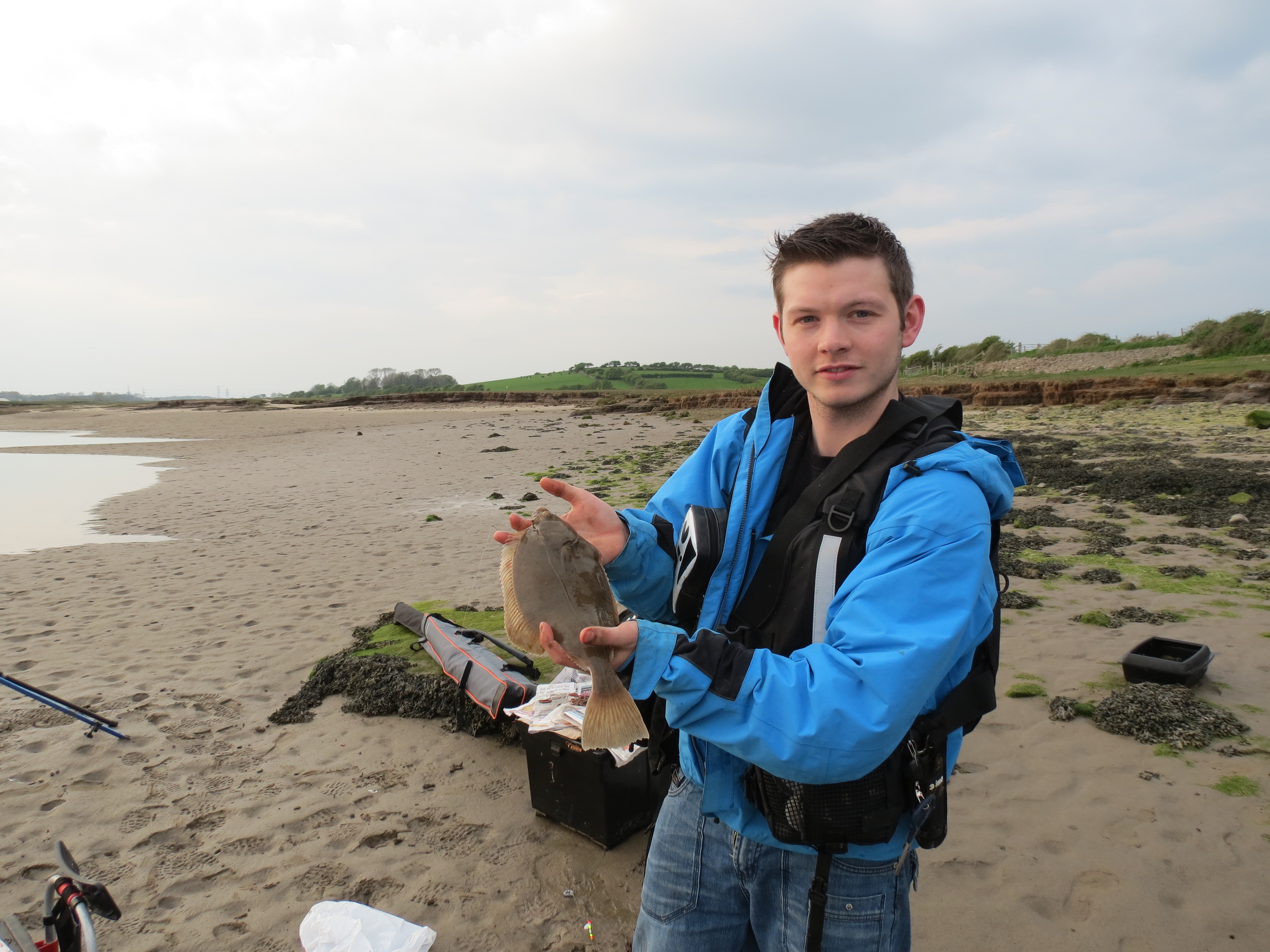 Biggest fish (36cm)
Sam with his first fish
John's first fish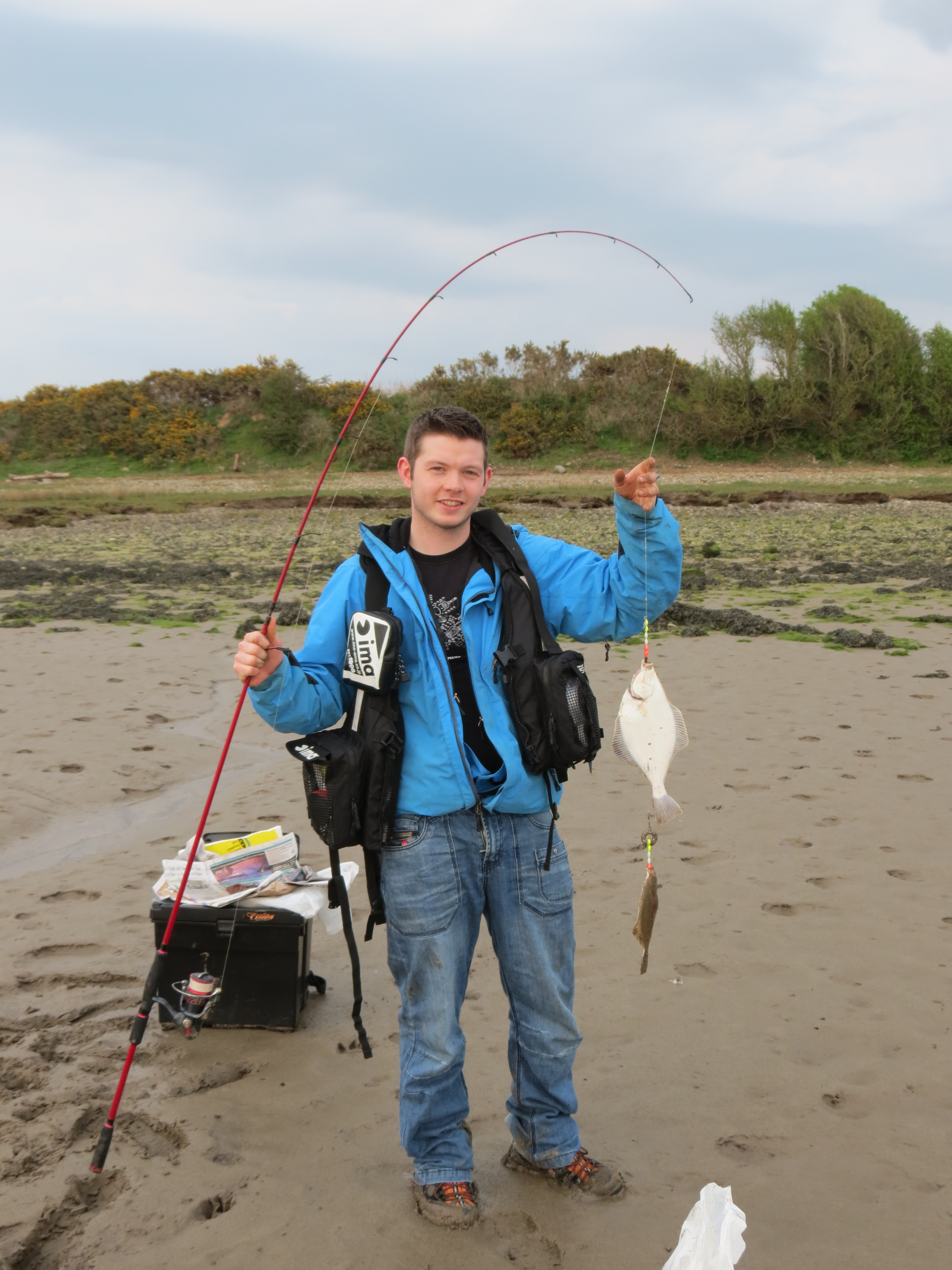 Double shot on the Lure rod. Great fight
My latest trip out was probably when most of you guys were wrapped up in bed nursing a hangover from a heavy Sunday bank holiday session. I dragged sam out at 5AM to fish the Hump on the 7AM tide. We had great fun but could of really done with being there an hour earlier to fish when it properly runs off. Anyway I stuck to similar tactic's with the same set up. All I changed was my rig. I used a standard ledger rig with a long snood and a big crab. Sam stuck to blow and black lug worms and caught plenty of Dabs and Whiting and towards the end a nice looking Plaice. I stuck it out on the crab and each cast at a different distance. I missed my first big knock and my heart was in my mouth. I thought that one fish I came for and I bloody missed it. I left my bait out hoping the fish would come back and 3 minutes later it went again and I didn't miss it. It screamed off diving and pulling my drag. After about 2 mins I got it into the shallows and we sore a Shark shaped nose pop out, I shouted "f**k me I've caught a smooth hound" unfortunately after we got the fish out we realised it was a Dogfish but what a fight it put out. I will never talk about Dogfish in the same way.
Sam with a Dab double shot
My first Dogfish on Light tackle. 😀
Suprisingly not the only ones out. Martin out Shrimping.
So if you want to have a go at a bit of sport fishing you will need a lure rod rated to 50-60G capable of chucking 1 & 2oz leads. I use watch leads most of the time. A reel with a good drag. You can get Shimano spinning reels from £35 now. Some 15/20lb Braid. The braid will allow you to feel every knock and bite and let you get clean 'lip hooks' with nearly every fish. You can use mono but it isn't as effective. You can get away with your standard beach caster rigs but I would advise you to tie some new rigs with much light rig body and snoods. Hooks are all dependant on what your targeting.
If your struggling or want more advise please drop me a message or pop in. I will come out with anyone who wants to give it a try as long as i'm free.
On another note you will be pleased to know we had a break in Monday Bank holiday afternoon and I caught the little beggar
Related Articles
Share
About Author
(1) Reader Comment