Last weekend me and two mates went Common Skate fishing up the sound of jura. I met Fin & Rab at Fins house in Carluke, we then drove up to Loch Gilphead towing the boat we dropped off our gear at the cottage we where staying at then went over to the slip launched the boat .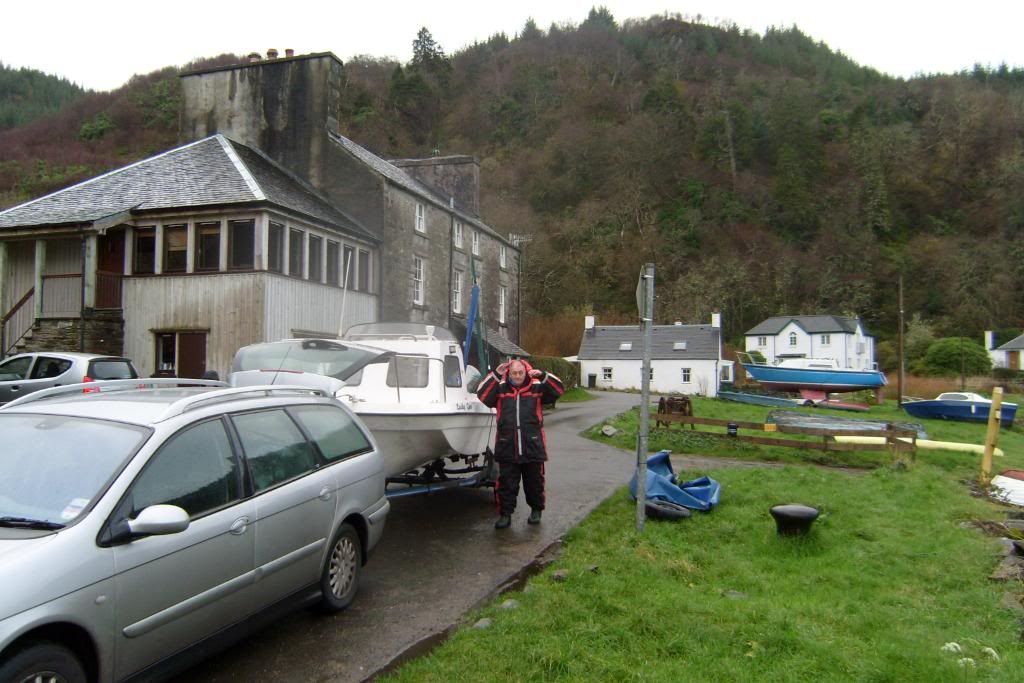 a quick blast out and we where at our fishing spot,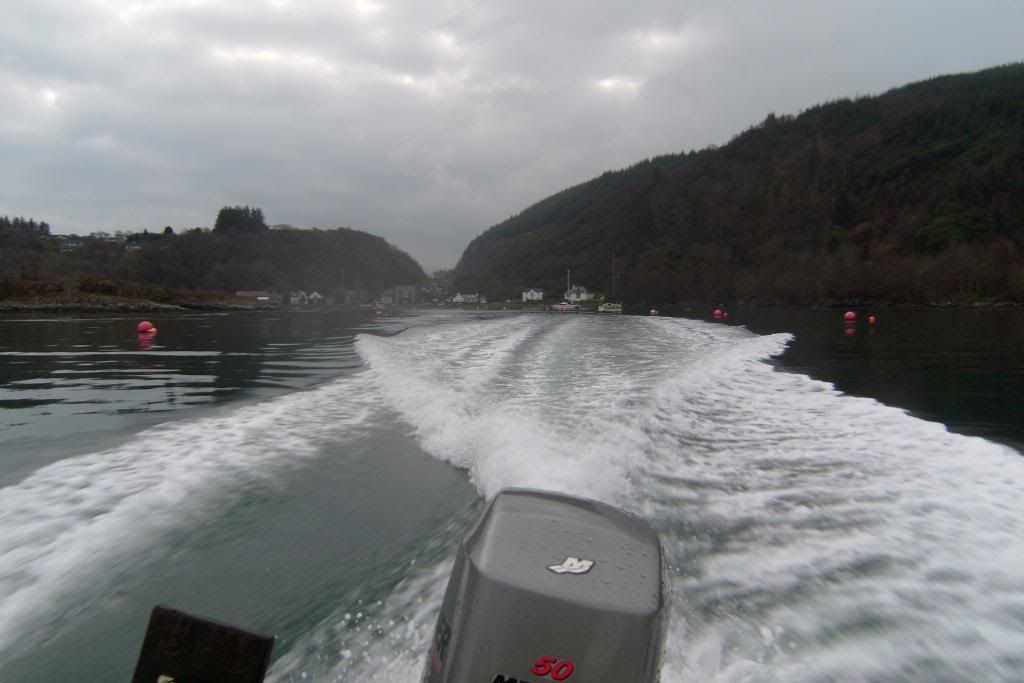 ,
after baiting up we sat down to wait for a take ,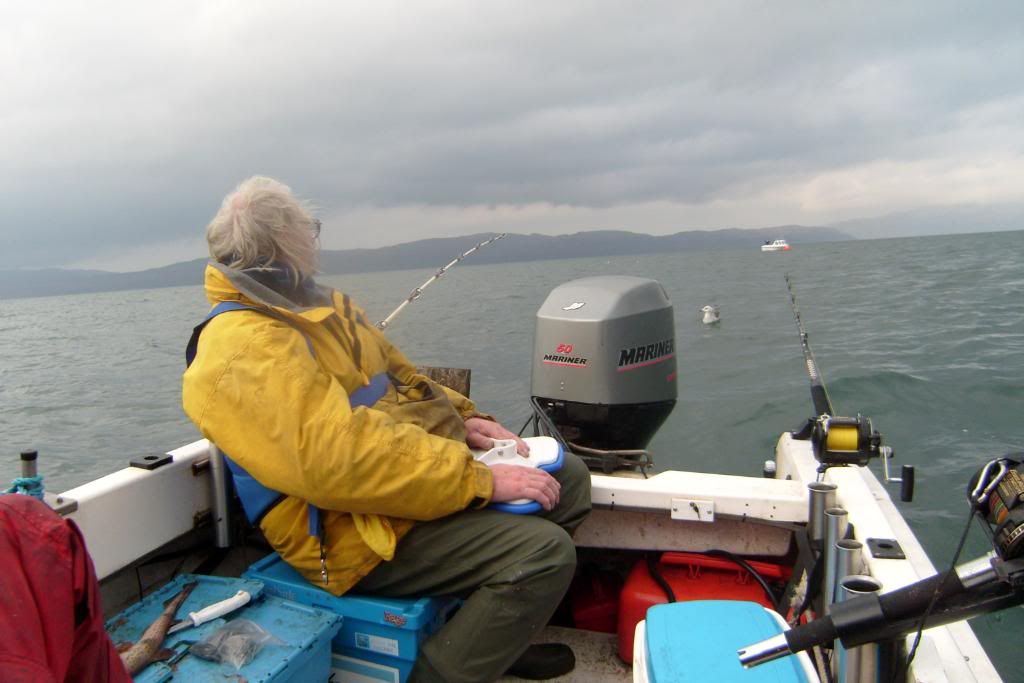 after about 3/4 of an hour i gets the first bite ,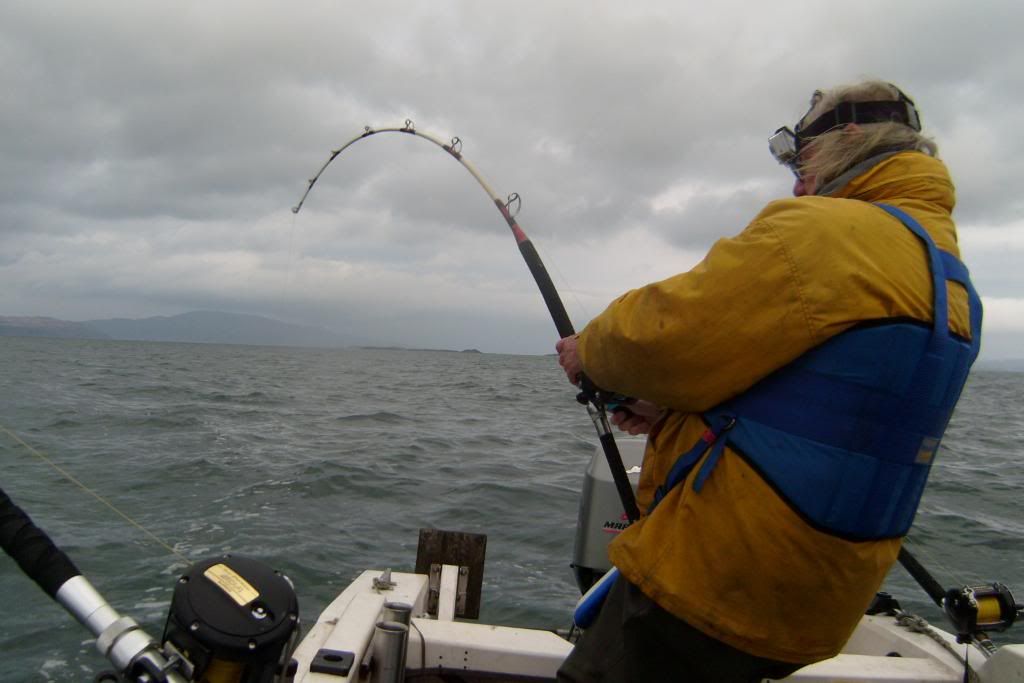 YA HOOOOOOOOOOOOOOOOOO Fish on ,
this turns out to be a new PB for me a fish of 184lbs.

a little wile later Fins rod arches over as a Skate picks up his bait then trys to make for the Anchor rope Ho no you don't turn yer bugger,


with that he starts bringing the fish up a fine male fish of 127lbs thats a very good size for a male fish ,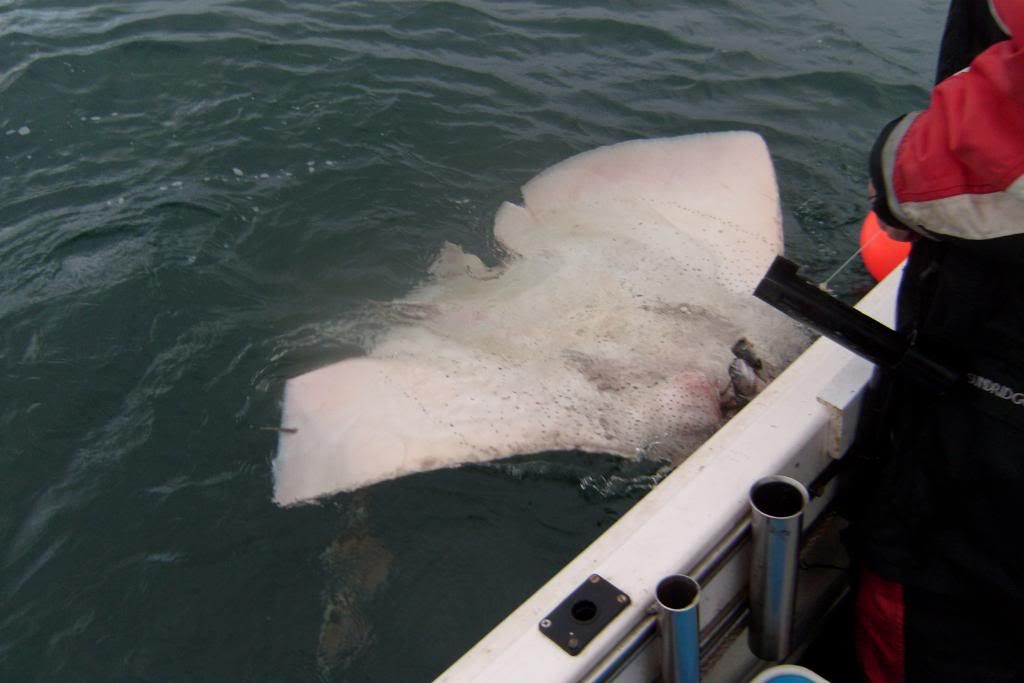 i then get another take ,
again a female fish of 158lbs cracking sport after only fishing for a few hours 3 skate in the bag wile all this skate action is going on Rab is catching doggies & thornback ray`s no sooner had my bait hit bottom im in again this turns out to be a male fish of 110 lbs ,
its now starting to get dark so we agreed to up Anchor and sit off back in we left the boat on a wet mooring over night so that we could have a longer day fishing tomorrow Part two will follow final count was 3 skate for me and 1 for Fin
Day 2
well it was up at 6am drive down to the slip and onto the boat after a chat we agreed to fish in the same place as the day before steaming out past all the mooring buoys (with no boats on ) was a nightmare in the pitch black Fin your going to after get a chartplotter ) his old G P S unit must be a wind up one its that old Ha Ha anyway it onto the mark we go Anchor down baits down and wait RAb is first into fish a Blackmouth dogfish ,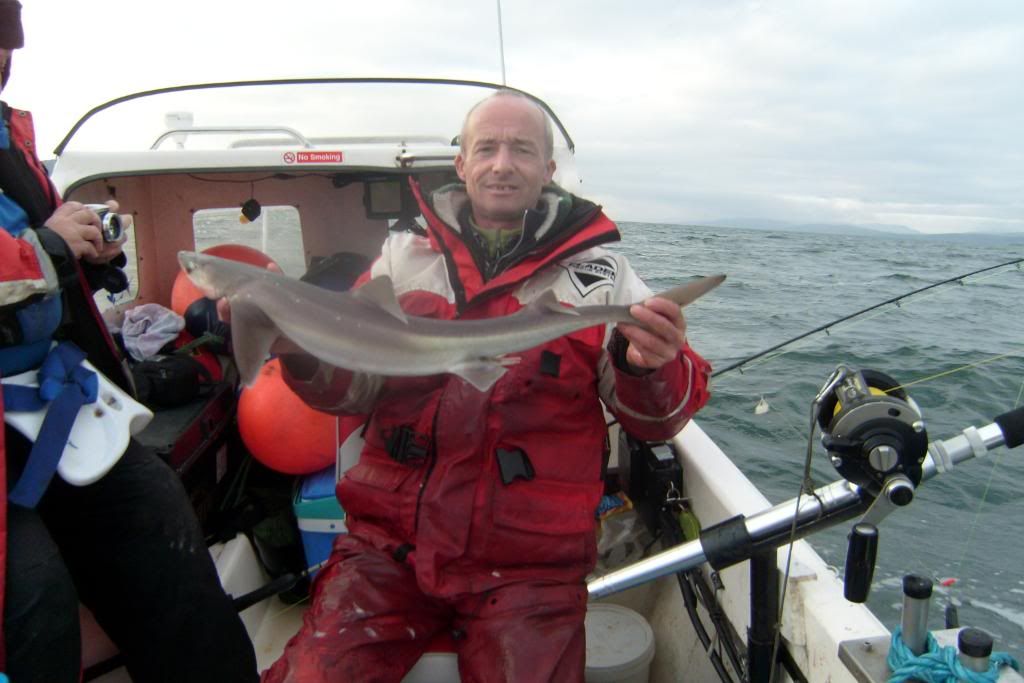 then he was back into his thornbacks & L S D after a hour of this the fishing went dead i said to Fin i bet the Skate have moved in with that Rabs Reel starts peeling line off he grabs the rod sets the clutch leaver to strike leans back and its fish on,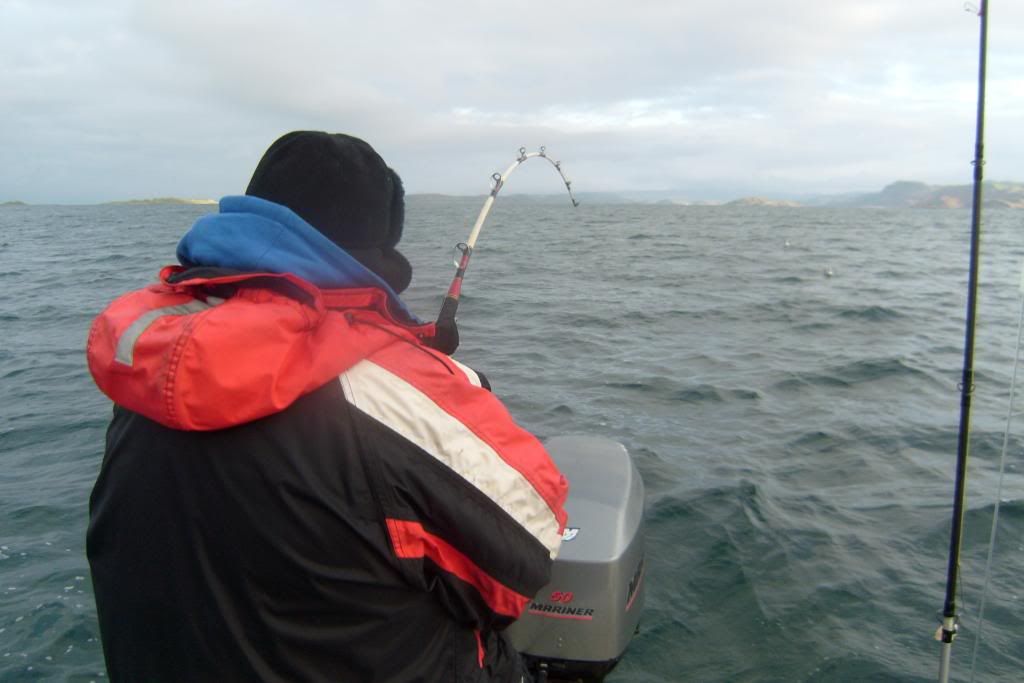 this turns out to be a fish 158lbs and its Rab first skate of the trip ,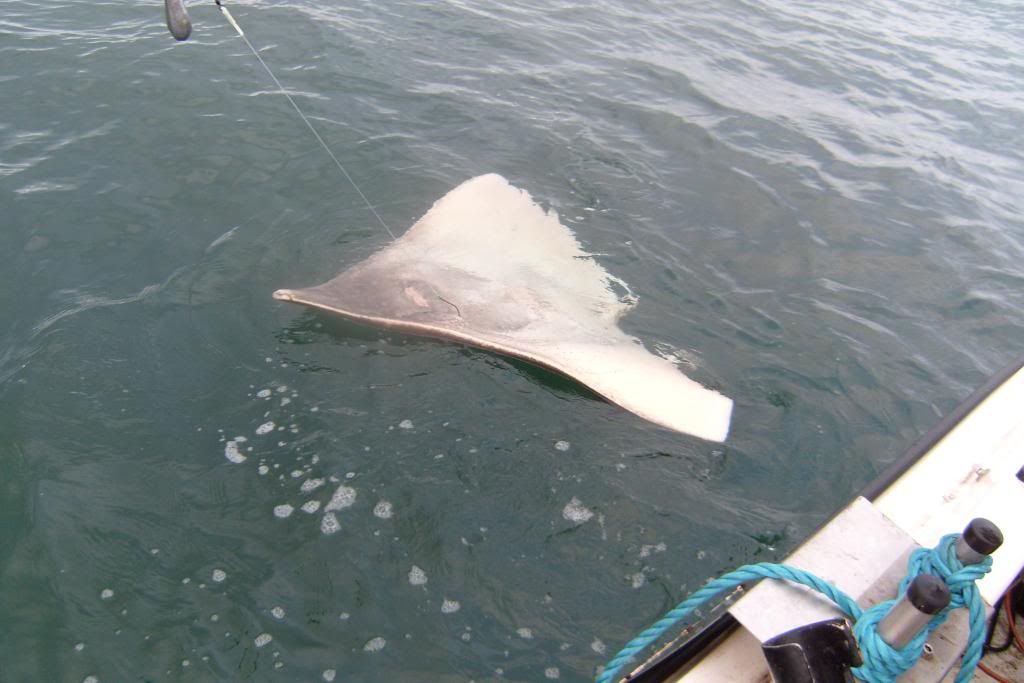 after about 30 mins Fins rod takes a dip he his well up for this fish after spending the last ten minuets trying to light the gas ring to make a cup of tea . no chance of a drink now.,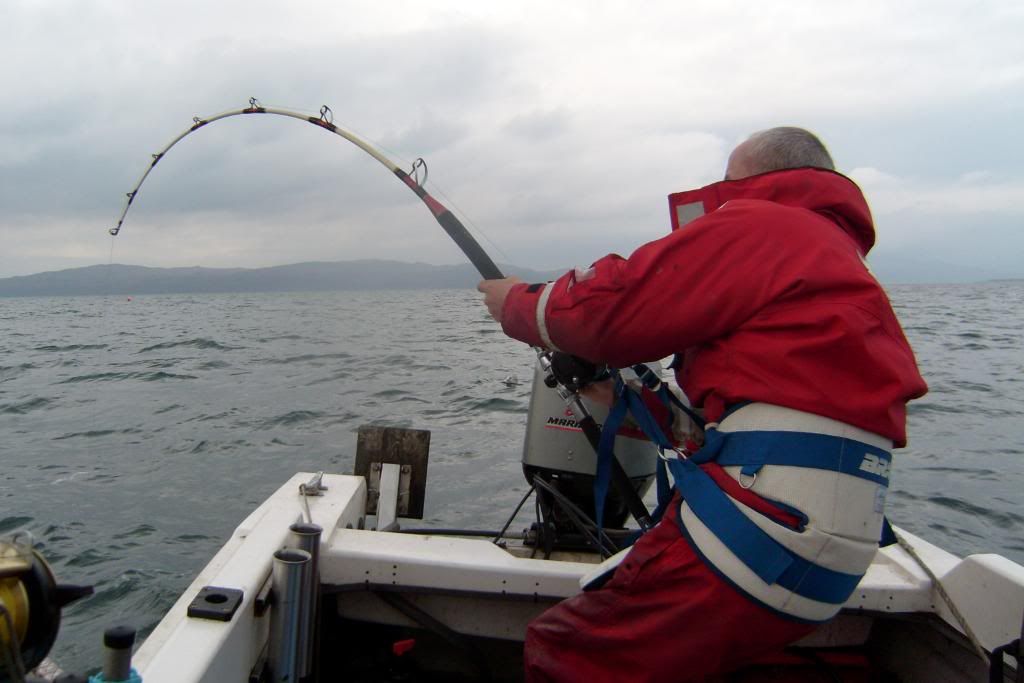 yup fish on after a dogged fight a female fish is brought along side ,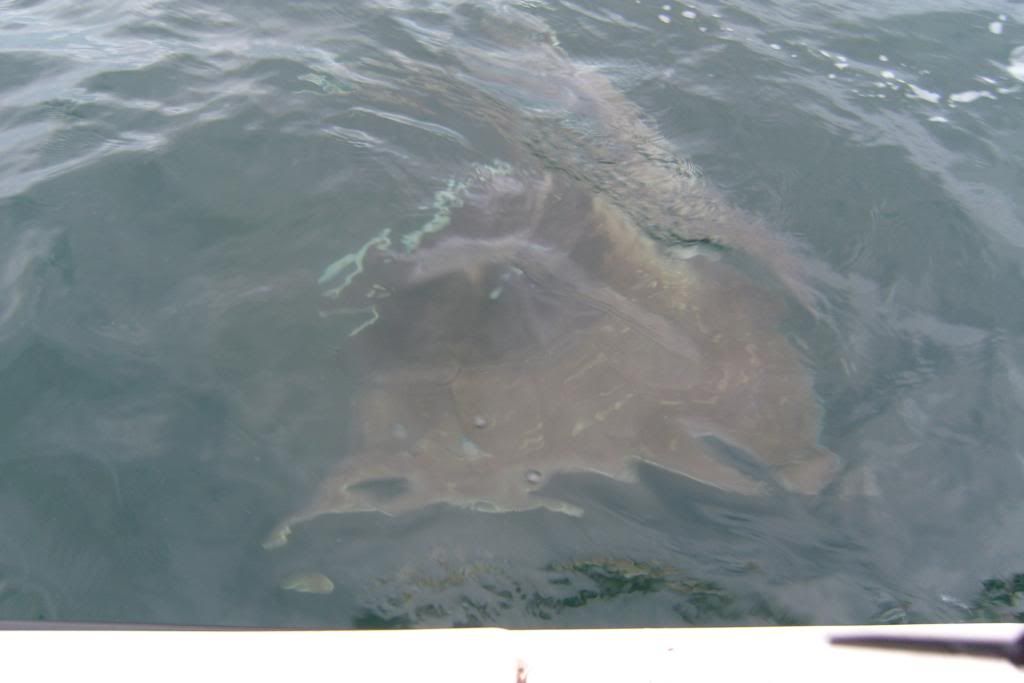 then low and behold Rabs into a fish this turns out to be a nice 30lbs conger .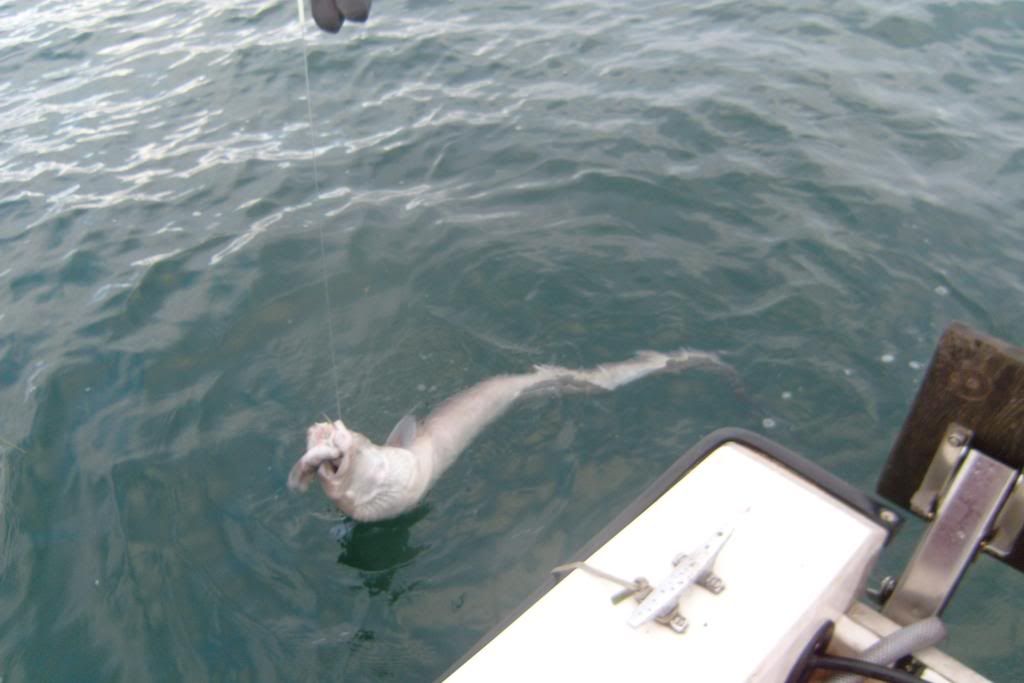 im not into these bloody things so Fin does the unhooking and it goes over the side ,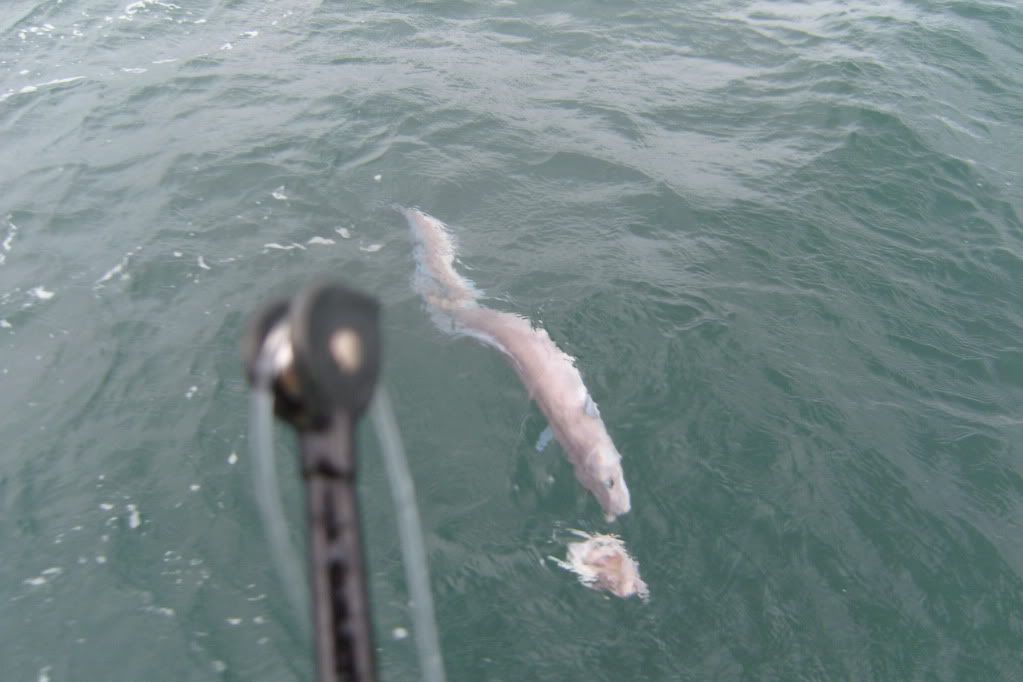 Rab then starts to catch doggies again im sat fishless and my mouth is as dry as a nuns crutch i ask Fin whats up with the cooker. its out of Gas I think no tea today boyo . ill sit down then shall i. with that my rod takes a dip and line starts peeling from my reel i get All clipped up sticks a the rod into the butt pad winds down leans back to set the hook And its fish on this is a good one Fin its giving me a good pull back for every inch of line i take the fish takes two back this goes on for about 15 minuets im getting the better of this fish im in low gear and winding this takes ages as low means low bloody hell my arms my back and legs have had enough this weekend im thinking is that worrior getting nearer bet the buggers round his Anchor rope when all of a sudden up she comes a fine female of 170lbs well lads that it for now i hope to go back to the( sound ) in march if not before its a 660 mile round trip for me there is also a Skate tagging event on in april that id like to fish so until next time tightlines Alain Thanks Rab & Fin for a Great weekend ,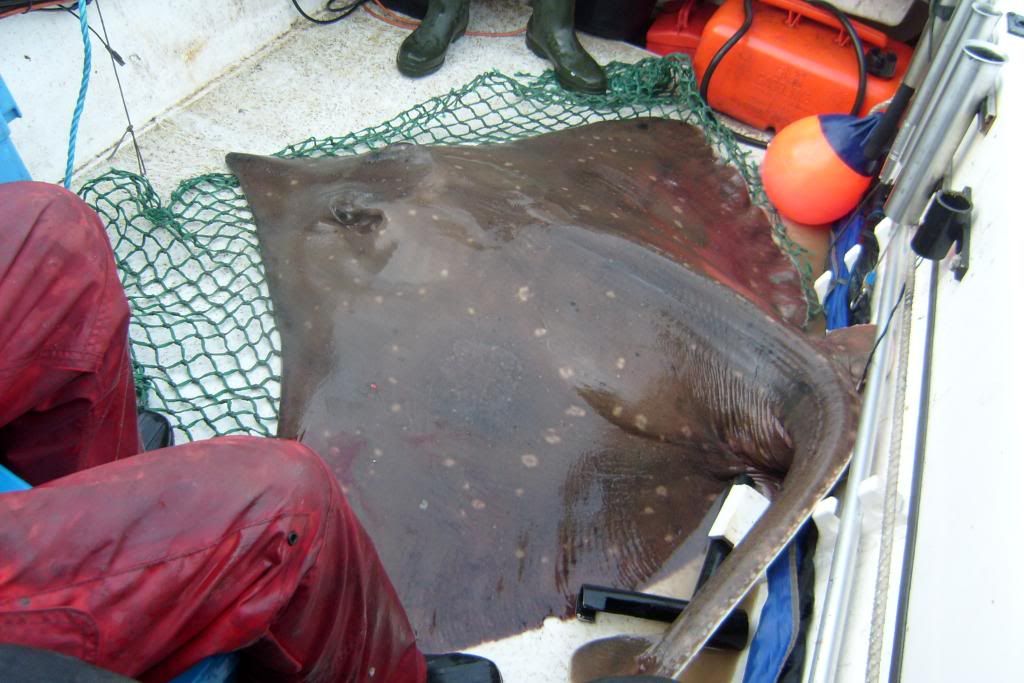 ,

,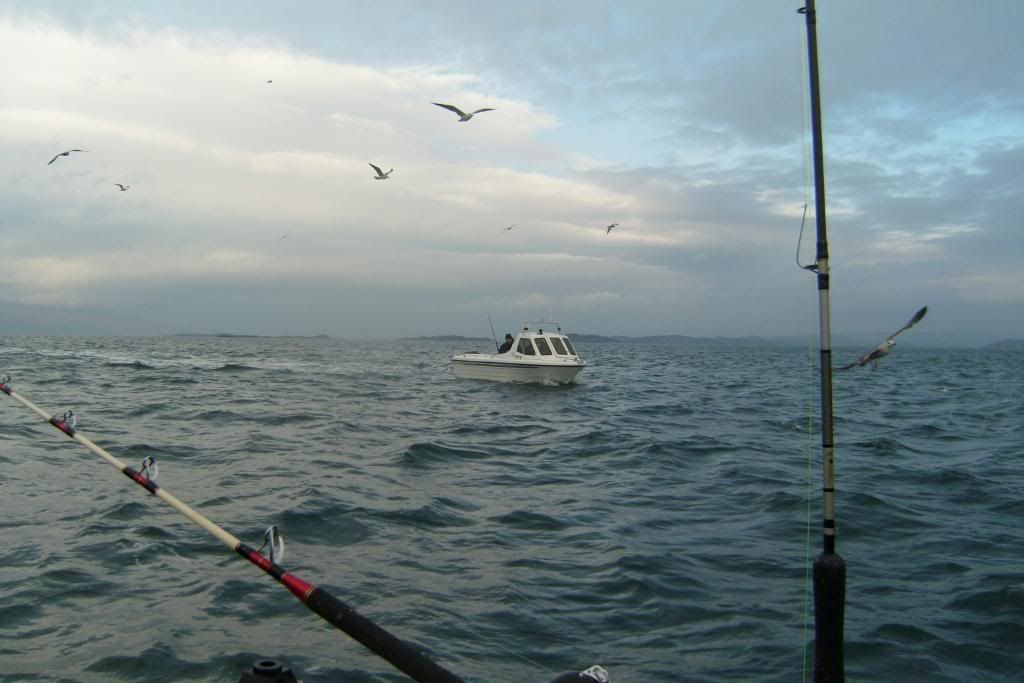 ,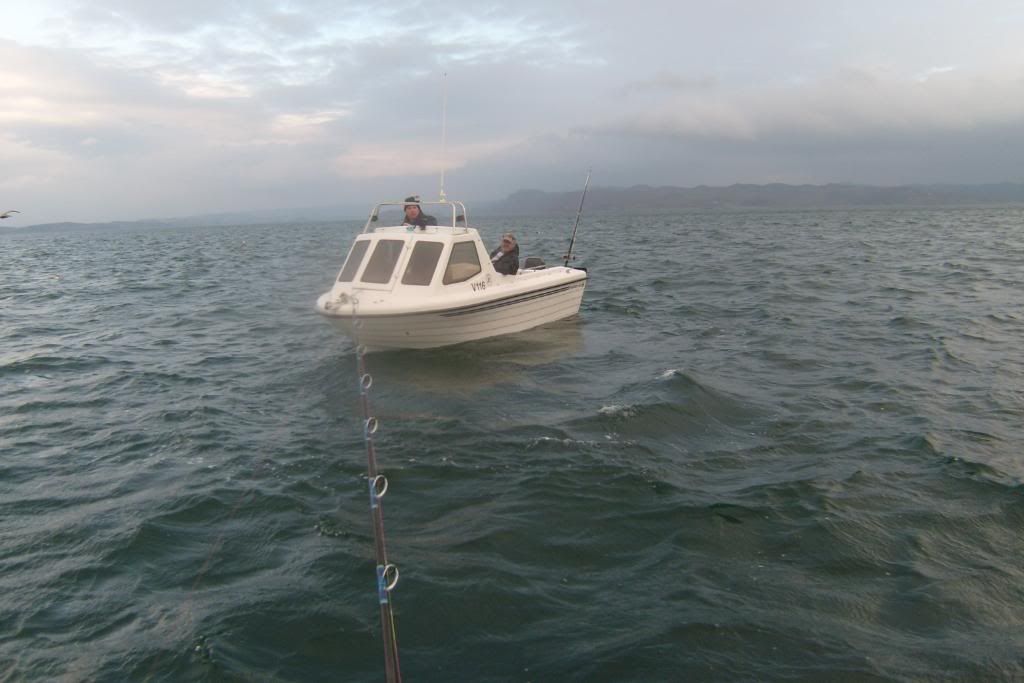 .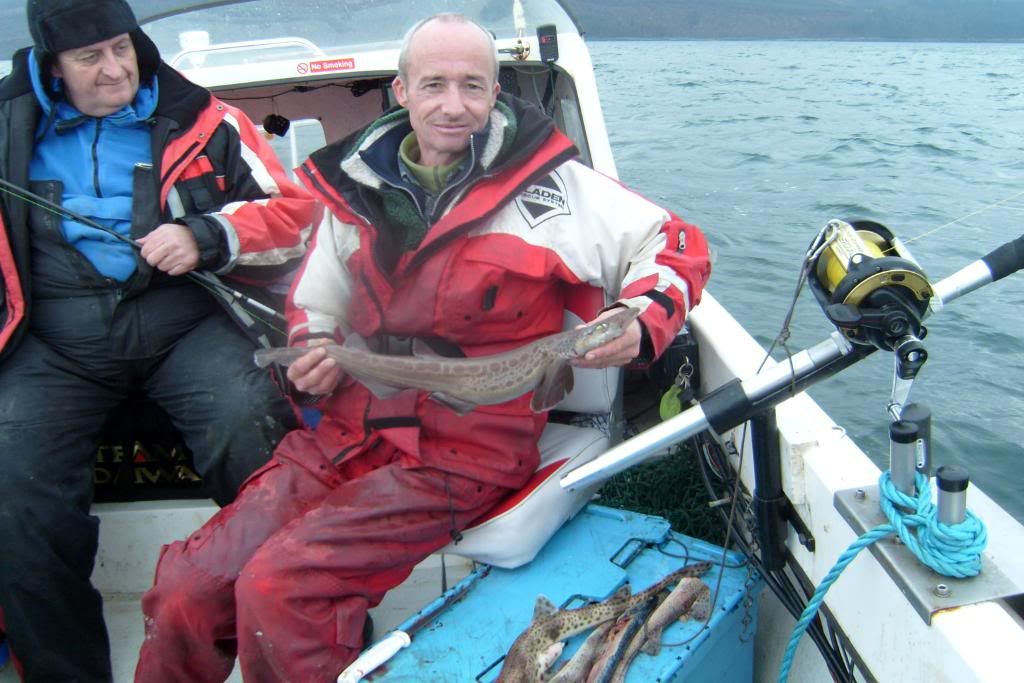 ,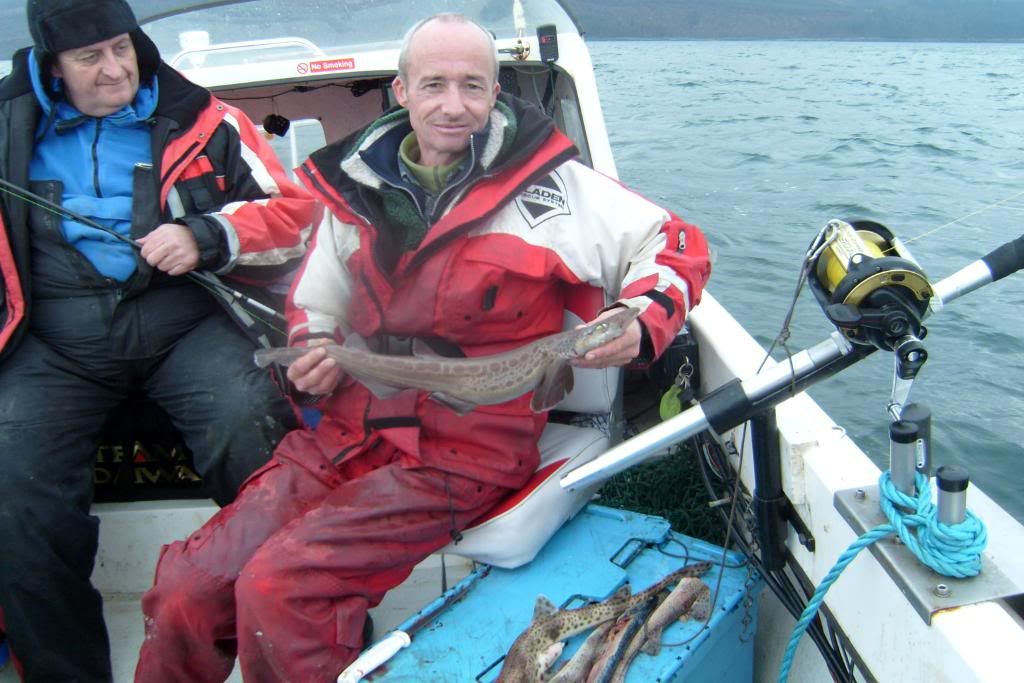 ,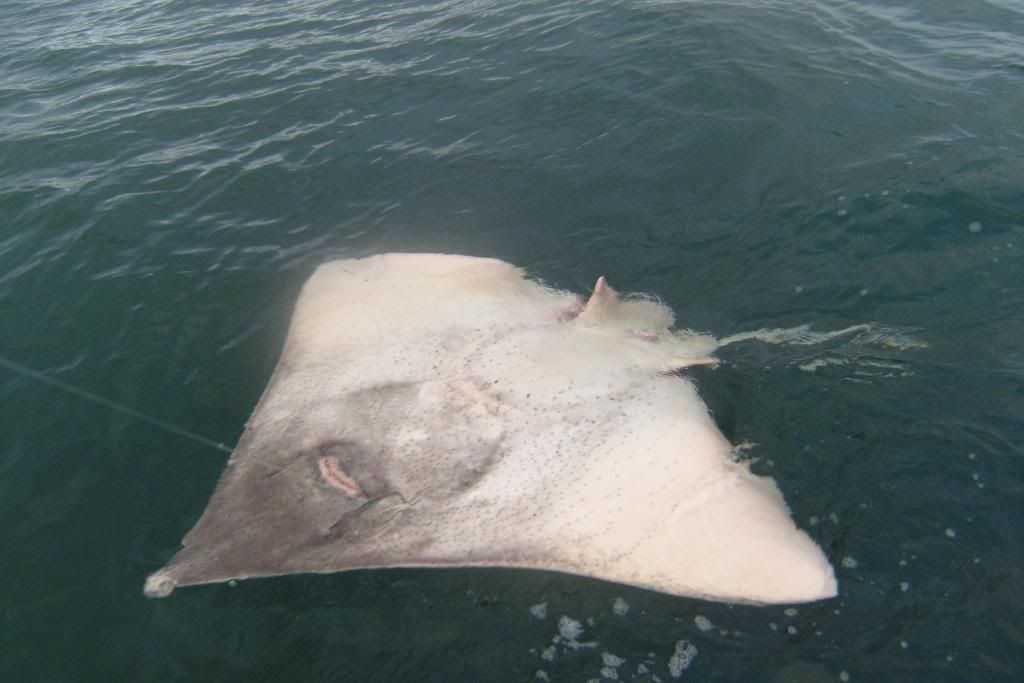 ,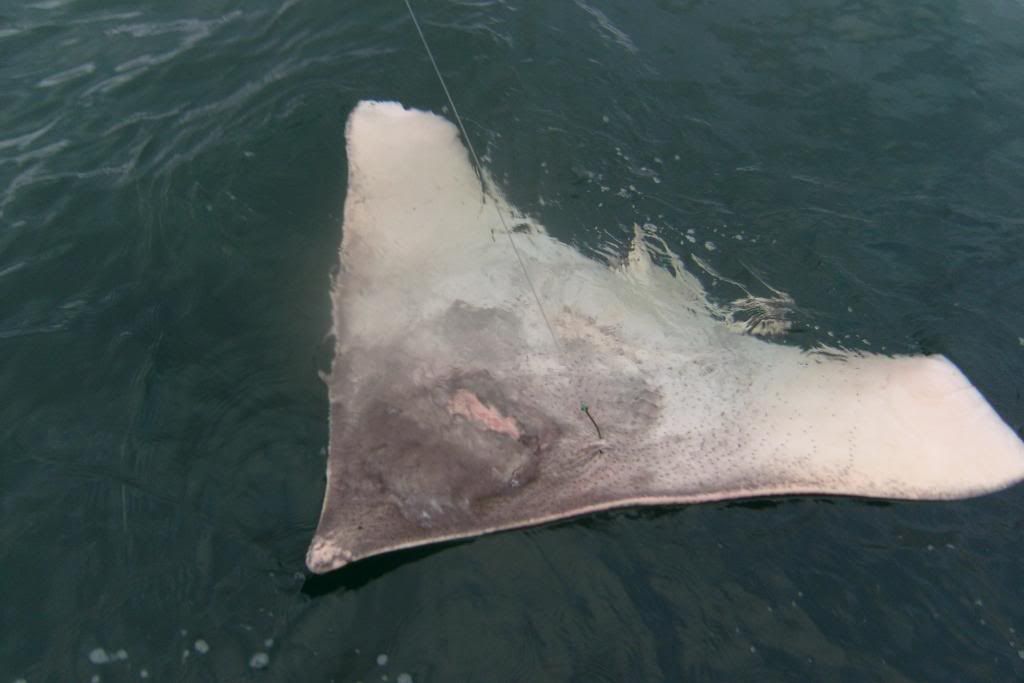 ,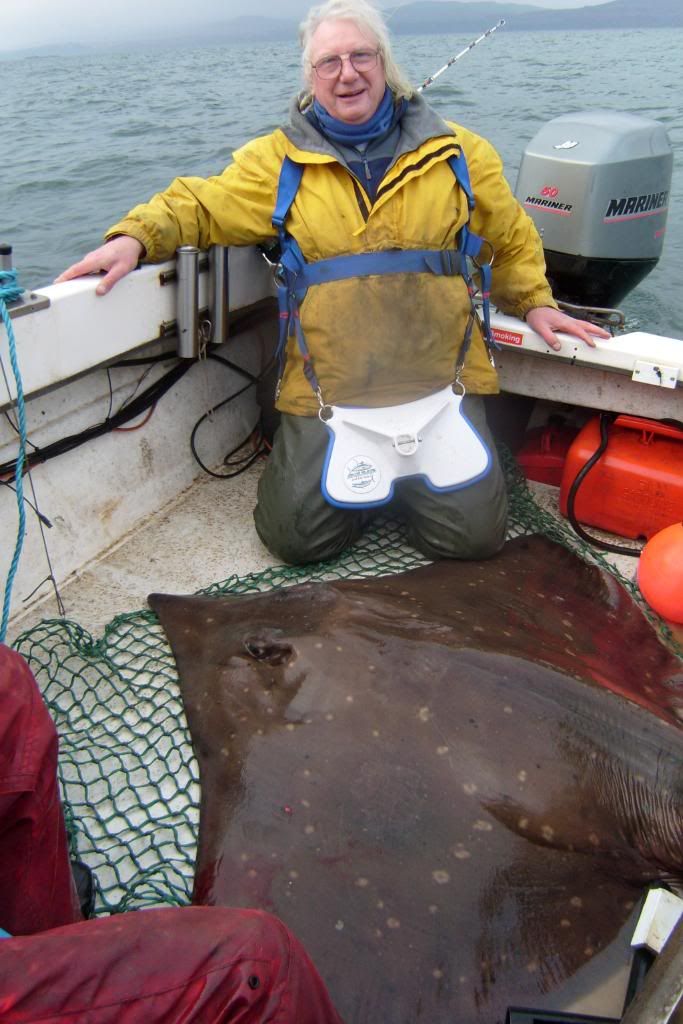 Related Articles
Share
About Author
(1) Reader Comment