I've been a bit of a plugger for a good few years now, and whilst my trusty satchel 'did the job' I was on the look out for a purpose made bag for my lures, and other bits and bobs we lure fishermen always think are essential.
A quick google session brought up a few alternatives, but the one that caught my eye was the Rapala Sling Bag…..
The blurb says "Designed for the mobile angler, the Sling Bag is a lightweight storage solution for your tackle, supported by a single shoulder strap. It has two zipped pockets each containing a 3600 size plastic lure box which also opens forward as a work tray, giving quick and easy access to your lures"
So far so good. Even better was the price…I paid £24.99 for mine 3 years ago, but even at today's £34.99 they still seem good value for what they promise….but are they any good?
Like I've said, I've had mine for 3 years now and it's had some serious hammer! Any one who knows me will realise that I haven't looked after it AT ALL!
A conscientious angler would give their gear the occasional wipe down or a wash under fresh water from time to time. Unfortunately for my long suffering tackle, it gets dumped in the garage immediately I get home, and left there until the next time it's required…and the Sling Bag has had no special treatment!
Review
Now for a no holds barred overview of the bag! Remember, this bag is 3 years old with no care shown for it! It has had more than its fair share of dunkings in salt water , as my main use for the Rapala Sling Bag is whilst plugging for Bass.
As it says in the sales pitch, the Rapala Sling Bag has an adjustable single shoulder strap which is well padded, surprisingly comfortable and supports the weight of the bag correctly. It moulds to the shape of your shoulder and feels unobtrusive whilst walking and fishing.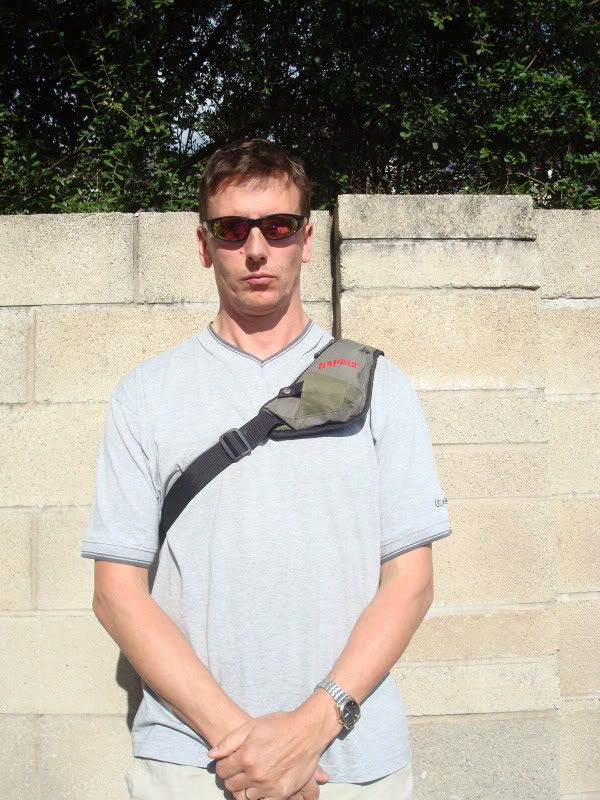 Incorporated into the shoulder strap are clever storage pockets which are ideal for those bits and bobs. Thankfully, Rapala have positioned these pockets either side of the crucial part of the strap which carries most of the weight of the bag on the shoulder, so they don't feel uncomfortable or pose a rubbing problem.

The really clever bit of the design of the bag comes when it's time to get access to your lures or when changing a lure. It's simply a case of swinging the bag round, unzipping the case which deploys the integral lure boxes in front of you. This provides a superb platform for you to swap and change your lures in some safety and comfort, even if you're stood up to your waist in water.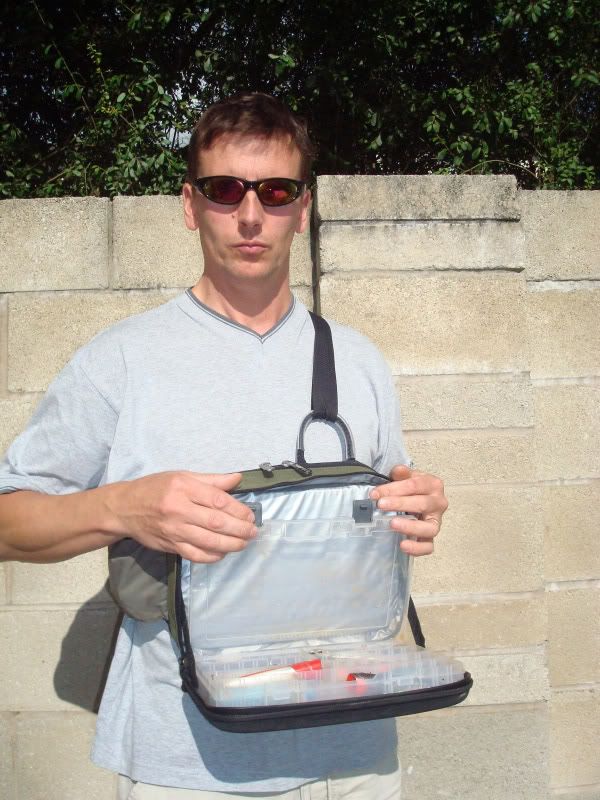 The bag itself is solidly constructed, all the stitching is sound with no concerns about fraying. The material is tough, waterproof 600D fabric which has a feel of quality about it.

Possibly one of the most pleasing features of the bag is the quality of the zips! Anyone who has used any tackle equipped with zips in a saltwater environment will realise how quickly they can corrode or even simply clog up and stop working. There were supposedly corroding issues with the zips on earlier models, but I can only vouch for my model, whose zips work as well today as when it was first bought with no lubrication or remedial work, top marks Rapala!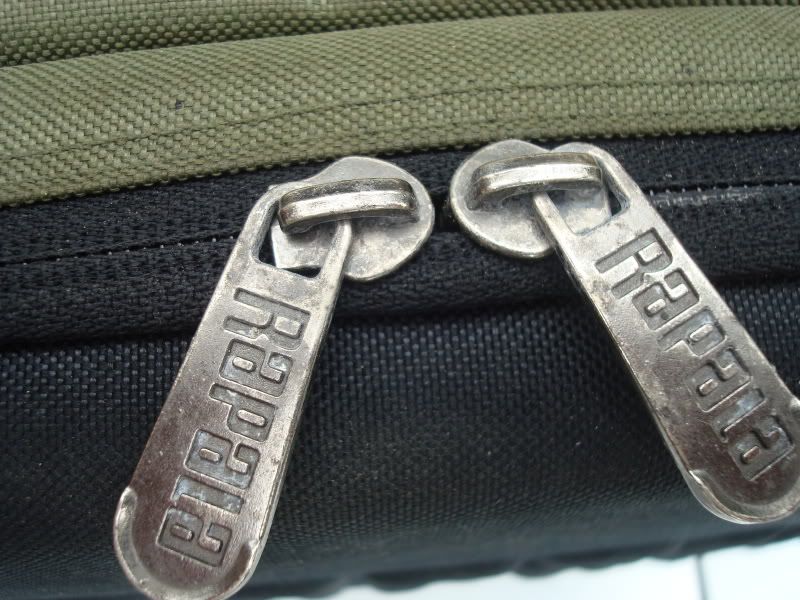 There is useful storage provided by the main pocket on the shoulder strap

I use this to hold a spare spool for my reel, a spool of spare line, a large float and a few spinners.

There's another smaller compartment on the other side of the shoulder strap.

It's not particularly big but comes in useful for storing the odd spinners or swivels/links.

Another small pocket is used to store a small lock knife.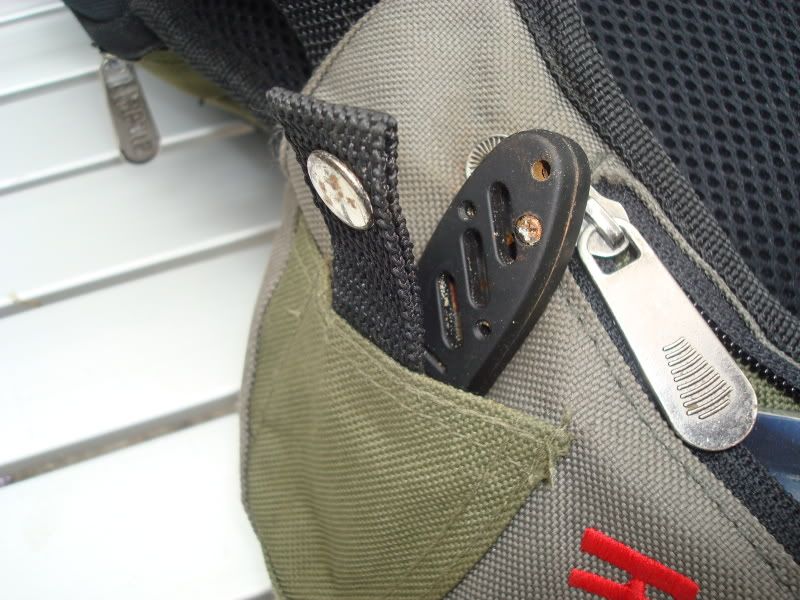 The button on this pocket is one of the few places on the sling bag where rust has taken hold, though in my view it is only cosmetic so far. Not too bad for an abused bag in saltwater.

Another disappointment, albeit a minor one, was the fixing on the end of the spiral retractors for line clippers. I think they gave up the ghost after 2 or 3 trips and were puzzlingly out of place quality wise on such a well made piece of kit. It was easily and cheaply remedied by adding my own clip which did the job a lot more robustly. The spiral retractor itself feels a bit 'cheap' too and aren't a feature of the bag I use very often. It's possible that after prolonged use they may break.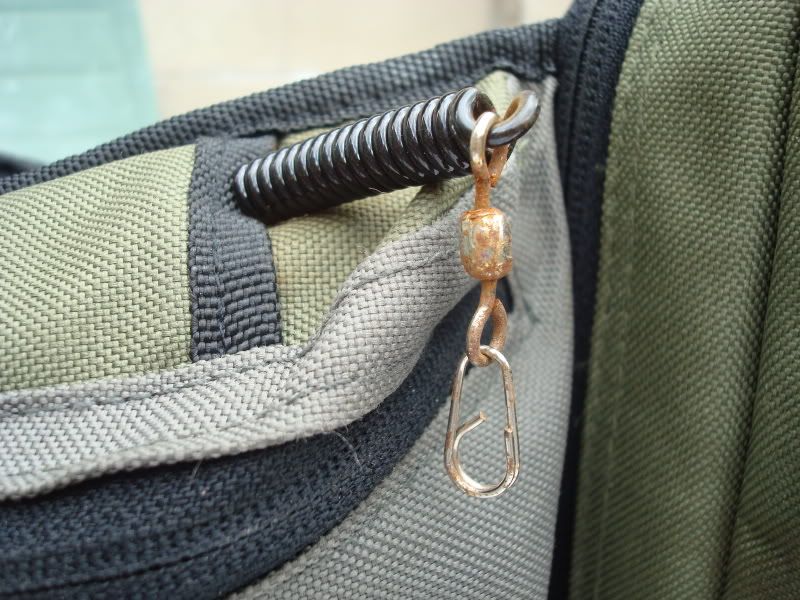 There's room in the two 3600 size lure boxes for 20+ lures, dependent on the size of lures obviously. I've fit over 20 of the bigger size lures in mine without too much trouble, with other essentials in the handy side pockets

To be honest though, how many lures do you actually use during a plugging session? I think the most I've ever used was 5, and yet I take 20+ with me every trip! In reality, we could probably manage a days plugging with a dozen carefully chosen lures in just the one lure box. This would free up the other 3600 size lure box to take other tackle or water delicate items such as your mobile and camera. Another option would be to remove the box completely (it's held in with strong velcro) and you could then easily fit in a drinks bottle and/or food if you so wished.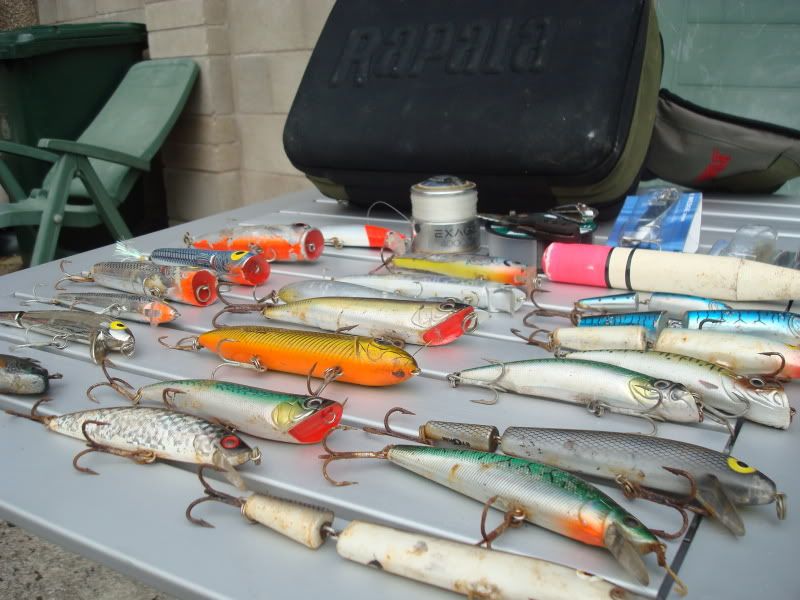 One improvement I possibly would suggest would be to incorporate a designated fully waterproof pocket/compartment for cameras/mobiles/car keys. On the downside, you would lose storage elsewhere. In the absence of such a compartment, the solution I use is to keep such 'perishables' in a zipped waterproof pouch in my jacket pocket.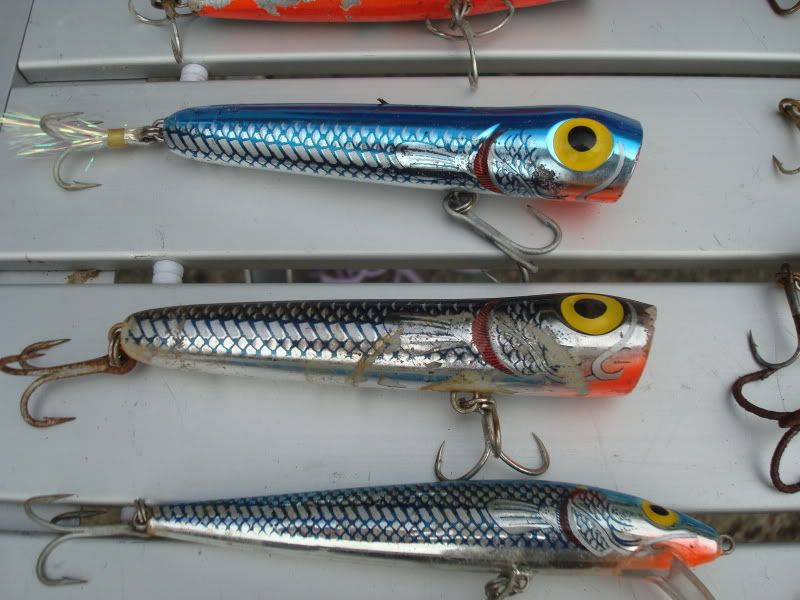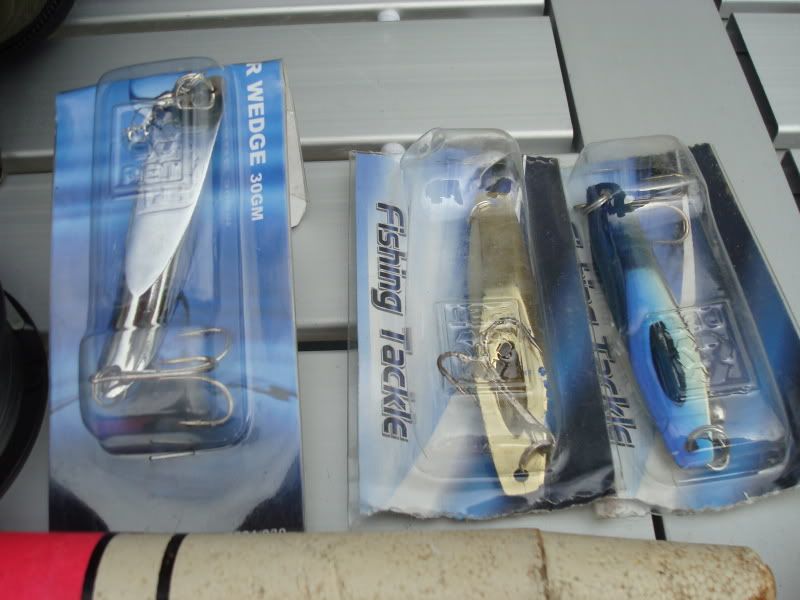 Conclusion
If you're the type of angler who likes to cover all bases and take everything but the kitchen sink, then maybe this isn't the bag for you. There isn't space for much more than your lures and a few peripherals in the pockets on the strap.There's no room specifically for a drinks bottle or your sandwiches and you can forget about stowing a spare reel anywhere.
With all due respect, if you feel these are unacceptable shortcomings…. you're missing the point of this bag.
Plugging is supposed to be about fishing light and on the move. No product is perfect, there is generally compromise to be found between practicality and usefulness and the sling bag gets the balance just about right in my opinion
The Rapala Sling Bag is a quality piece of kit, it's lightweight, comfortable and hard wearing. It holds just the right amount of lures and enough kit for a good days plugging, and at the price of one of those expensive Japanese lures you covet so much, it's great value for the money.
Would I buy another? Yes.
Would I recommend it to a friend? I think I just have!
Related Articles
Share
About Author
(2) Readers Comments